Found December 05, 2012 on Awful Announcing:
In some kind of strange crossover special along the lines of The Jetsons Meet The Flinstones, Bob Costas because the topic of the day on the cable news networks yesterday.  If you turned it on CNN, MSNBC, or Fox News, you were more than likely going to find a conversation about Bob Costas and/or gun control.  You can probably imagine which networks and cable news personalities fell on which side of the fense in looking at Costas' gun control essay. Costas himself has continued to speak out and expand upon his comments from Sunday Night Football, which were basically a re-telling of Jason Whitlock's Fox Sports column on the matter.  In terms of respectability, Costas and Whitlock are on two different planets, but it's just one once-in-a-lifetime subplot to this developing story to see their names linked so closely.  Whitlock himself became a discussion point yesterday as he chose to use his newfound notoriety to make the Whitlockian argument that the NRA is the new KKK. Costas has spoke to the New York Times standing by his commentary and appeared on MSNBC last night to further clarify the remarks.  In addition, he had an appearance on The Dan Patrick Show yesterday morning, which is worth the full listen if you're interested in this story.  Costas takes you behind the scenes on how and why he said what he did Sunday night, the intense reaction to his essay, and what he would do differently... There are a number of interesting takeaways from Costas' public appearances since SNF, especially how the time factor affected what he could say and the context he couldn't add in those 90 seconds at halftime of the SNF game.  Therein lies my fundamental issue with Costas' essay from Sunday night.  Saying "If Jovan Belcher didn't possess a gun, he and Kasandra Perkins would both be alive today" and ending his essay with that quote from Jason Whitlock left no room for the context Costas desired in retrospect.  And really, it's impossible to deliver that needed context and clarification in 90 seconds, especially when you're mostly quoting someone else's work.  (And honestly, I've always found Costas' essays to be superfluous to the SNF broadcast because it has always seemed to be just a way to give him 90 seconds of lecture time on the topic of the day, forgetting the events of this past week.) Lifting the one issue of the gun culture out of such a complex story that involves a murder-suicide, domestic violence, football, gun violence, and leaving an orphaned daughter behind is just asking for that particular essay to become bulletin board material and debate fodder and controversy.  Costas' comments to Patrick about opening up those other avenues of conversation is hopefully where the story goes in the coming days and weeks, once the partisan ideologues have time to go back to their respective corners.  Costas is one of the most respected voices in sports and broadcasting and is certainly someone who can lead that conversation.  As hard as it is to believe in the wake of his SNF commentary, sportscaster Bob Costas does not want to take away all your guns.  Once the hysteria settles down, there is still constructive conversation that needs to take place.  
Original Story:
http://www.awfulannouncing.com/2012-a...
THE BACKYARD
BEST OF MAXIM
RELATED ARTICLES
Click here to listen to the podcast The Jovan Belcher murder-suicide story continues to resonate across the sports world, as people attempt to make sense of this senseless tragedy. Bob Costas of NBC took the opportunity at halftime of Sunday night's Cowboys-Eagles game to speak to the issue of gun culture in America , reading liberally from Jason Whitlock's column on the...
In the wake of the Javon Belcher murder/suicide tragedy in Kansas City, last night Bob Costas decided to use NBC's Sunday Night Football halftime show as a medium to tell the world about his beliefs on gun control: Regardless of whether or not you agree with Costas, my guess is his message would have come across a lot better if it hadn't invoked memories of his self righteous...
It seems Bob Costas has a few more thoughts on guns and wouldn't mind getting those thoughts off his chest. Agree or disagree with Bob, you must admit this guy has giant nuts to say his peace, especially when he drops a, 'Why do you need a semi-automatic weapon?' quote on the Dan Patrick Show. Oh, and when Bob starts in about regular citizens arming themselves "as only the...
Bob Costas isn't backing down from his halftime comments on gun violence, but he wishes he had more time. The NBC sportscaster gave interviews Tuesday to Dan Patrick and Lawrence O'Donnell about his Sunday night halftime commentary following Kansas City Chiefs player Jovan Belcher's murder of his girlfriend and subsequent suicide. Both interviews were longer than the...
I find it very sad that NBC Sports allowed Bob Costas to go on the air during last night's Sunday night football halftime show and say that if former Chiefs linebacker Jovan Belcher didn't have a gun he would be alive along with his girl friend. If someone really wants to kill another person, he or she will figure out a way if they don't have a gun.  That's all it comes...
A recent review of Bob Costas's Tweets from Twitter.   **In case you grew up in a cave, this is all a parody and not to be taken seriously.**   @liberaldouche: @TedNuggent just called me and said if I was on NBC this time next year he would be dead or in prison. #redneck   [...]
In this episode of "Football Nation Today," Alex talks about the latest stories around the NFL:1st Down: With only one quarter left in the regular season, Alex looks at the biggest storylines across the league as we continue into December:*After the Redskins beat the Giants on Monday night, we are in for a race to remember in the NFC East.  Alex says which of the three teams...
The conversation that started with Bob Costas' SNF essay on the Jovan Belcher tragedy and guns is continuing on another one of Costas' programs - Costas Tonight.  Thursday at 9 PM, Costas will deliver his year-end Costas Tonight show that will include a roundtable discussion with Charles Barkley and John McEnroe that builds off the now famous halftime commentary from Sunday...
FN FolliesDuring halftime of the Philadelphia Eagles-Dallas Cowboys game on NBC's Sunday Night Football, host Bob Costas gave a commentary on the tragic story of Kansas City Chiefs linebacker Javon Belcher, who murdered Kasandra Perkins − his girlfriend and mother of their 3-month-old daughter, and later killing himself in front of Cheifs general manager Scott Pioli, head coach...
CHFF Radio is live each Wednesday 4 p.m. to 6 p.m. on Patriots.com, plus available on iTunes. Today: Steve DeOssie talks Patriots and "Texans Chick" Steph Stradley talks Texans. Plus, the Curse of Doug Flutie and the NRA responds to Bob Costas.
All Sports News

Delivered to your inbox

You'll also receive Yardbarker's daily Top 10, featuring the best sports stories from around the web. Customize your newsletter to get articles on your favorite sports and teams. And the best part? It's free!
THE HOT 10: Who's Trending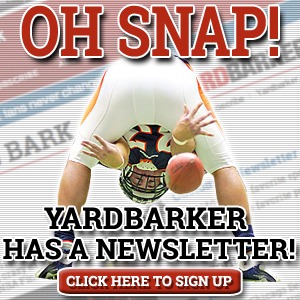 Latest Rumors
Best of Yardbarker

Today's Best Stuff

For Bloggers

Join the Yardbarker Network for more promotion, traffic, and money.

Company Info

Help

What is Yardbarker?

Yardbarker is the largest network of sports blogs and pro athlete blogs on the web. This site is the hub of the Yardbarker Network, where our editors and algorithms curate the best sports content from our network and beyond.