Found November 06, 2011 on The Sports Rocker:
Today Auburn University
made public documents
pertaining to the NCAA investigation in Cam Newton. In short, Auburn was able to successfully reinstate Cam by showing that he had no knowledge of his father's improper contact with former Bulldog Kenny Rogers. This should bring to a close the Cam-Auburn saga (although anti-Cam fans will probably never forget). But it still leaves me with a lingering question:
Have we given future student-athletes a way to skirt the system?
I've argued here recently
 that Cam deserves to be one of the Pro-Bowl representatives from the NFC. He's talented, he's the majority of the Panthers offense right now; these facts seem undeniable and, most importantly, entirely separate from this eligibility issue. What bothers me has more to do with college football as a business and nothing to do with his obvious talent.
To quickly recap: After news broke last year of Cam Newton's father (Cecil) having met with an ex-MSU player acting as an agent, the Tigers quickly declared Cam ineligible. He was without delay reinstated by the NCAA (who then began a probe into the situation). Auburn went on the went the SEC and the national championship and Cam won the Heisman and was drafted overall number one by the Carolina Panthers.
The thirteen month investigation concluded last month and Auburn and Cam were cleared of any wrongdoing.
However
, the investigation showed without dispute the following: 1) two representatives of MSU, John Bond and Bill Bell met with Kenny Rogers who 2) began to act as an agent (breaking Bylaw 12.3.3) by requesting between $120,000 and $180,000 to sign Cam Newton. He contacted Cecil Newton, Cam's father,
275
times over a 9-month period (by phone or text), to discuss signing Cam. Let that number sink in: Rogers called Cecil at least once a day, every day, for 9 months. That means business. But, let's also be clear, the trail stops there.
The findings declared that Cam had no knowledge of any of this. While I find that completely unlikely -- someone you're close to contacts a person hundreds of times to talk about your future and you never find out, it doesn't seem possible -- it doesn't matter at this point, mostly because Cam graduated. Even were he found guilty, the only punishment would be to the agent or a university. And likely MSU, not Auburn.
Instead, the crazy part of this saga is what is portends for future recruiting scandals. From this point on, the NCAA has essentially sent a message that regardless of the level of guilt of an agent or a player's family member, even if contact with the agent can be proven, the student-athlete need only claim lack of knowledge and the player will not lose eligibility. In other words, what is to stop a high school student from asking their dad (nothing in writing),
Find me the highest bidder, if we don't get caught, great; if we do, I'll claim I never asked you to do it
. If this case is a guide, there will be accolades all around.
I'll be interested to see going forward if the NCAA changes this stance. They have opened a Pandora's Box for cheating, basically giving agents and players a blueprint on how to get away with it. The student walks away clean, the dad gets a slap on the wrist. The agent gets a stern talking-to. But it's the NCAA that ends up with egg on its face.
Original Story:
http://thesportsrocker.blogspot.com/2...
THE BACKYARD
BEST OF MAXIM
RELATED ARTICLES
Former Auburn quarterback Cam Newton was eventually cleared of any wrongdoing in a pay-for-play scandal last month, but FOXSports.com has learned that he was briefly declared ineligible before a game against Georgia a season ago. Auburn compliance officials informed the NCAA that Newton was suspended on Nov. 10, according to an Auburn official with knowledge of the suspension. A...
Rookie quarterbacks this season have been thrust into starting roles and two of them have responded with more than favorable performances. Cincinnati Bengals QB Andy Dalton and Carolina Panthers QB Cam Newton have posted some very impressive first halves of the 2011 NFL season. Cam Newton has garnered the bulk of the attention early on this season, but could Andy Dalton...
(By Joseph Person, jperson@charlotteobserver.com) B+ QUARTERBACK: Cam Newton has exceeded even the Panthers' expectations. He is harnessing his huge arm and completing 60 percent of his passes. Newton is looking more to his second and third options as he progresses. Only negative - his 11 turnovers.C RUNNING BACKS: The Panthers spent a lot of money - $43 million - on DeAngelo...
Nov 13, 1:00 PM | Grass of Bank of America Stadium Tennessee Titans vs Carolina Panthers Odds 4-4TEAM RECORD2-6 The Tennessee Titans visit Carolina to face a rested Panthers team coming off its bye week and they are road underdogs on the opening Week 10 line. These teams have met only three times in their history and the underdog has covered the Titans Panthers spread...
With the season halfway gone (already!?!?!), we thought it was time to put out a few landmark pieces so that we could get a handle on who's doing what in the NFL. To that end, we rounded up all the regular Shutdown Corner contributes for the first in a two-part roundtable on some of the NFL's burning questions halfway through the 2011 campaign.   Who or what has been your...
Panthers News

Delivered to your inbox

You'll also receive Yardbarker's daily Top 10, featuring the best sports stories from around the web. Customize your newsletter to get articles on your favorite sports and teams. And the best part? It's free!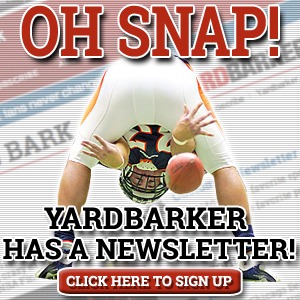 Latest Rumors
The Backyard

Today's Best Stuff

For Bloggers

Join the Yardbarker Network for more promotion, traffic, and money.

Company Info

Help

What is Yardbarker?

Yardbarker is the largest network of sports blogs and pro athlete blogs on the web. This site is the hub of the Yardbarker Network, where our editors and algorithms curate the best sports content from our network and beyond.