Found February 11, 2013 on Fox Sports:
PLAYERS:
Jon Garland
,
Jurickson Profar
,
Oscar Taveras
,
Mariano Rivera
,
Derek Jeter
,
Jed Hoyer
,
Ned Colletti
TEAMS:
Seattle Mariners
,
Colorado Rockies
,
Texas Rangers
,
New York Yankees
,
Chicago White Sox
,
Cleveland Indians
,
Chicago Cubs
,
San Diego Padres
,
Los Angeles Dodgers
,
St. Louis Cardinals
His last outing convinced him. Something was terribly wrong. History shows that on June 1, 2011, right-hander Jon Garland produced a quality start for the Los Angeles Dodgers against the Colorado Rockies. But almost immediately after leaving the mound, reality struck. "I ended up going inside and saying, 'Look, I can't do this to myself. I can't do this to this team,' " Garland recalled Sunday night. "When I was on the field, I was starting to anticipate the pain. If you're anticipating the pain, your mind is not even there." Garland needed shoulder surgery, the worst kind of surgery for a pitcher, surgery that sidelined him for the rest of 2011 and all of 2012. But now, more than 20 months later, he is on the verge of completing a minor-league contract with the Seattle Mariners -- and maybe regaining his place in the game. Pitchers and catchers report this week to Florida and Arizona, all with their own stories, their own hopes. We will talk about prospects such as Texas Rangers infielder Jurickson Profar and St. Louis Cardinals outfielder Oscar Taveras. We will talk about comebacks such as those by New York Yankees closer Mariano Rivera and shortstop Derek Jeter. And we will talk about guys like Garland, guys we thought had disappeared. From 2002 to '10, Garland averaged 205 innings, made an All-Star team, helped the Chicago White Sox win a World Series. But I had all but forgotten about him when a scout texted me the other day and said, "I think Seattle might catch something with Garland." The scout recently had seen Garland throw in an audition for major league clubs. I asked him if Garland, at age 33, finally was healthy. "Looked it to me," the scout said. "Looked good, honestly." Garland feels good, too, unlike a year ago at this time, when he agreed to a minor league deal with the Cleveland Indians, but couldn't bring himself to take his physical. Indians GM Chris Antonetti recalled Garland saying that he needed more time to recover, that he didn't want to take the team's money if he wasn't ready to compete. "Very classy," Antonetti said of Garland's decision. And quite necessary, according to Garland. "I got on the mound a couple of times before that spring training," he said. "And each time I got on the mound, I was going backwards. "I got out of the shower one night and I was just looking in the mirror. I said, 'You know what? I can't go to spring with this team and take their eyes off young guys that have a chance to make this team. I can't take a spot just because of my name, what I've done in the game, who I was, what I've accomplished. "I honestly think that might have been the best decision of my career." Garland said he took a month off after spring training started, resumed his physical therapy, decided in June that he wouldn't pitch at all in 2012. For the entire year, he was not part of any team. He was alone, working out at his home outside of Los Angeles. To those who know him, his determination was not exactly a surprise. "He's really tough," said the Chicago Cubs' Jed Hoyer, who had Garland in 2010 with the San Diego Padres. "He was hurt the last two months of that season and kept taking the ball." The Los Angeles Dodgers' Ned Colletti, who acquired Garland twice, offered similar praise, saying, "He loved to pitch, loved to compete." Still, competing on the mound is one thing. Fighting to salvage one's career without any support system is another. Garland's surgery was on July 11, 2011. Dr. Neal ElAttrache had cleaned up the pitcher's labrum, bursa and rotator cuff, and also reinforced his rotator cuff. Garland initially went to a rehab center favored by the Dodgers, then one at the Kerlan-Jobe Center, where ElAttrache is based. In 2012, he was on his own -- and actually preferred it that way. "I'm kind of at ease when I'm by myself, kind of in my own element," Garland said. "I like that. I like that serenity. "I built a gym in my backyard. Luckily baseball has blessed me with opportunity to do that," added Garland, who has earned $51.5 million in his career, according to baseball-reference.com. "I would just go out there. I'd be out there for a couple of hours a day. I would put my music on. There really wouldn't be anybody to bother me. I found that I would tend to do more work." Slowly, everything came back. "I was home in late July," Garland said. "I had never really paid attention when I heard other guys talk about, 'Feeling normal.' But I woke up one day and realized throughout the day that my shoulder felt normal. "I thought it did just because there wasn't the pain. But it almost just clicked. It felt exactly how it should feel -- eating, sleeping, walking around. Normal activities. It felt normal." He kept at it, kept working, kept pushing. Now, a year removed from his deal that never happened with Cleveland, Garland said the difference in his shoulder is "night and day." He said that for the past three weeks, he has been throwing off a mound two days a week, throwing 50 pitches -- all of his pitches -- in his session last Tuesday. Mariners officials will not discuss Garland until his signing is official, but they saw the same thing as everything else: Garland looked healthy. The ball came out of his hand easily. This time, Garland will not back out on his physical. On Monday, he will report to the Mariners' camp in Peoria, Ariz., ready to revive his career. He's excited. He thinks he can be the old Jon Garland. "Absolutely," he said. "There's no question in my mind."
Original Story:
http://msn.foxsports.com/mlb/story/sp...
THE BACKYARD
BEST OF MAXIM
RELATED ARTICLES
Who needs the Olympics? When the International Olympic Committee decided to vote baseball and softball out of the 2012 London games, the world baseball community was left in shock. Behind the scenes, though, the major world baseball powers were trying to organize a tournament to showcase all their talent. This began the World Baseball Classic. The WBC is a 16 team tournament where...
NOT SO FAST
Felix Hernandez and the Mariners $175 million dollar deal has reportedly been placed on hold due to concerns over the structural soundness of his elbow.
The Seattle Mariners signed free agent pitcher Jon Garland to a minor league contract, starting an attempted comeback of a pitcher who hasn't seen the MLB mound since the middle of the 2011 season. The Mariners have also added former Detroit Tigers RHP Jeremy Bonderman, who has not pitched in the major leagues since 2010. From the years of 2002 through 2010, Garland made 32 starts...
It was the same old story in 2012 for the Mariners. Another season of major disappointment including an embarrassing 17-game losing streak and pathetic offense sparked something of a sea change in Seattle who come into 2013 with a re-configured ballpark and a re-stocked, hopefully, lineup. They are still stuck in the ultra-competitive AL West, but the M's think they might finally...
What else can baseball fans do in January but dream of October? In You May Say I'm a Dreamer, the Outside Corner staff will imagine the route to a World Series in 2013 title for all 30 teams. While a World Championship for the Mariners seemed like a tall order coming into the 2013 season, Jack Zdurencik's squad managed to achieve the impossible and not only win the franchise...
In the This Is My Nightmare series, we'll take a look at what the absolute worst case scenario for each team would be in 2013. Think of it as the negative complement to our You May Say I'm A Dreamer series that we'll be running during our preview series. It's actually pretty easy to envision a nightmarish season for the Mariners. This is a team that lost 87 games...
In Seattle, all eyes are (justfiably) always on Felix Hernandez. He's one of the best pitchers in baseball, he's close to agreeing to a huge contract extension with the team, and he's the face of the franchise. There's also a lot of attention being placed on new acquisition Michael Morse, former top prospects Justin Smoak, Dustin Ackley, and Jesus Montero, and on...
  We alerted you to the framework of the $175 million deal that Felix Hernandez and the Seattle Mariners had agreed on a few days ago. The deal wasn't officially official though because of a pending physical that King Felix had to take. Reportedly, that physical has revealed elbow issues that have put a stop [...]
The words "pending a physical" give pause to any baseball player on the verge of signing a contract. The latest, reportedly, is Mariners ace right-hander Felix Hernandez.
It appeared as if Felix Hernandez was set to become the highest paid pitcher in all of baseball just a few days ago, but that has been put on hold due to an "elbow issue." The Seattle Mariners had reportedly agreed to a seven-year, $175 million contract extension with King Felix on Thursday, giving him a huge bump in pay from the 5-year, $78 million extension the two sides agreed...
• The 2013 Kate Upton SI swimsuit photos • 2013 SI Rookies: Get to know the girls • Gulp: Kate Upton nearly naked SI GIF • Buy 'Tebow for Pope' shirts • Otis Nixon running ATL jail scam? • 1-year, $175 million baseball contract • Chicks in lingerie battle Nemo blizzard • Canadian Model of the Day: Danielle   Blake Griffin Switches Hands Dunk of the Day Filed under: Daily Dump
The Seattle Mariners reached an agreement on what amounts to a seven-year, $175 million contract extension with right-hander Felix Hernandez last week. However, the deal was delayed when an elbow issue was discovered during an MRI taken on Friday. While the Mariners are seeking protective language in the agreement, a deal is "still on track" and may come in the next day or...
All Sports News

Delivered to your inbox

You'll also receive Yardbarker's daily Top 10, featuring the best sports stories from around the web. Customize your newsletter to get articles on your favorite sports and teams. And the best part? It's free!
THE HOT 10: Who's Trending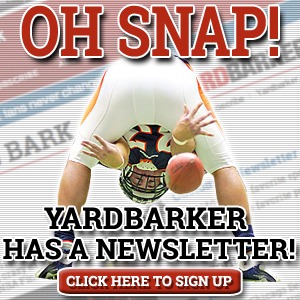 Latest Rumors
The Backyard

Today's Best Stuff

For Bloggers

Join the Yardbarker Network for more promotion, traffic, and money.

Company Info

Help

What is Yardbarker?

Yardbarker is the largest network of sports blogs and pro athlete blogs on the web. This site is the hub of the Yardbarker Network, where our editors and algorithms curate the best sports content from our network and beyond.