Found April 24, 2013 on Awful Announcing:
What in the superficial nonsense hell was CBS Houston thinking when they allowed this anonymous craptastic mess to be published? The Houston Rockets are playing the Oklahoma City Thunder in the playoffs right now and the local affiliate in Houston took it upon themselves to single out an OKC cheerleader by asking if she was "too chunky" in a poorly written, humiliating embarrassment to civilized society. The answer is no. No, she is not too chunky. Seriously though, why why WHY did this get published? How could this anonymous hot garbage make it through presumably multiple human beings to see the light of day? In a time when no one is ever satisfied with anyone else's appearance, this is the last thing we need to be reading.  Oh, but fear not, CBS doesn't want us to be offended, noting: "We're not trying to be ugly. We are just discussing what men like in women, specifically NBA cheerleaders." First of all, task not accomplished. If you have to write "we're not trying to be ugly" then you already failed. Miserably. Second of all, if you think she's beautiful, as you claim, what is the purpose of this entire article? Is it this ridiculous poll question including, and this is not a joke, the choice that the cheerleader "could use some tightening up in her midsection"? Third and FINAL of all, this is the only thing I have to say to you:   H/T SportsGrid
Original Story:
http://www.awfulannouncing.com/2013/a...
THE BACKYARD
BEST OF MAXIM
RELATED ARTICLES
Rockets point guard Jeremy Lin has come out of Game 2 of Houston's playoff series against Oklahoma City because of a muscle contusion in his chest. Lin was wincing as a trainer worked on his right shoulder near half-court during halftime. Lin lined up as though he was going to continue playing, but then pulled himself out of the game just before play was set to resume. Lin...
James Harden is the Houston Rockets' franchise player and the player that they will be building around for the next decade. That is without question, but he needs to be playing better, or more specifically, be shooting better. His numbers in the playoffs look flashy, 28 points, 8.5 rebounds and 4 assists per game, but he is only shooting 35% from the field and 15% from three. The...
The Houston Rockets are changing their starting lineup for Game 2 of their playoff series against Oklahoma City, inserting backup point guard Patrick Beverley in place of rookie power forward Greg Smith. The lineup turned in by the Rockets features three guards: Beverley, Jeremy Lin and All-Star James Harden. Chandler Parsons and center Omer Asik fill out the starting five. Beverley...
Houston's Jeremy Lin was not in the starting lineup for the Houston Rockets for Game 4 against the Oklahoma City Thunder. Lin, who has been struggling with a bruised chest muscle, was active for Monday night's game. The point guard was injured in the first half of Game 2 and didn't play after halftime. He started Game 3, but scored just two points in 18 minutes. Rookie...
Jeremy Lin's season with the Houston Rockets has been much less glamorous in comparison to his season last year with the New York Knicks. He has taken a bit of a back seat to star James Harden, who was acquired from the Oklahoma City Thunder right before the season. Linsanity was in full effect last season, where a no-name point guard came off the bench to produce big time numbers...
The Houston Rockets say an MRI confirmed Thursday that Jeremy Lin has a bruised chest, leaving his status is day-to-day leading up to Game 3 against Oklahoma City on Saturday night. Lin was sidelined for the second half of the Rockets' 105-102 playoff loss in Oklahoma City on Wednesday night because of the injury. Coach Kevin McHale says Lin ''is a tough kid, so for...
Houston point guard Jeremy Lin is listed as day to day with a bruised right chest muscle he suffered in a Game 2 loss to the Oklahoma City Thunder. Lin was injured in the first half of the 105-102 loss on Wednesday night and didn't return in the second half. He underwent an MRI on Thursday which did not reveal any damage beyond the bruise right chest muscle. The Rockets host...
Jeremy Lin suffered a chest contusion in the Houston Rockets' Game 2 loss against the Oklahoma City Thunder on Wednesday. Lin sat out the entire second half. Lin's status for Game 3 is uncertain. During last season's playoffs while with the New York Knicks, Lin said he was 85 percent healthy and yet unable to play. Lin later clarified that he meant he was 15 percent away...
Only a season ago, Houston Rockets star James Harden was coming off the bench for the Oklahoma City Thunder. So it probably felt like a little bit of deja vu as his Rockets take on the Thunder in the first round of the Western Conference playoffs. In the third quarter of game two, Harden was pitted against Oklahoma City's Thabo Sefalosha and blew by him for an easy one-handed slam...
Despite one hell of an effort from the Houston Rockets in Game Two, so far business has been taken care of by the Oklahoma City Thunder. The Thunder remain seated atop their No. 1 seed throne maintaining home-court advantage by going up 2-0 in the series with their two initial home games. This is obviously a great sign for OKC. Houston showed promise in Game Two as well, though...
Top 5 Players 1. Kevin Durant (Thunder) 2. Russell Westbrook (Thunder) 3. James Harden (Rockets) 4. Segre Ibaka (Thunder) 5. Chandler Parsons (Rockets) 3 X-factors 1. Jeremy Lin (Rockets) 2. Kevin Martin (Thunder) 3. Omer Asik (Rockets) Best scorer : Kevin Durant (Thunder) Best passer: Russell Westbrook (Rockets) Best shooter: Kevin Martin (Thunder) Best low-post scorer: Omer Asik...
Something interesting might be happening in the Rocket vs. Thunder playoff series.  These two teams are starting to hate each other and a rivalry is being born.  Hard fouls, stare downs, and a couple of technical fouls are helping fuel the hate.  A good rivalry needs to have three things to survive: 1) history, 2) bad blood, and 3) two competitive teams.         Looking...
All Sports News

Delivered to your inbox

You'll also receive Yardbarker's daily Top 10, featuring the best sports stories from around the web. Customize your newsletter to get articles on your favorite sports and teams. And the best part? It's free!
THE HOT 10: Who's Trending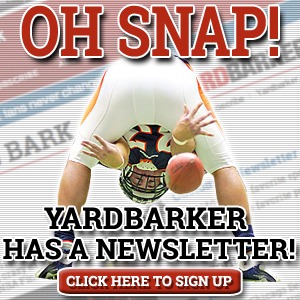 Latest Rumors
Best of Yardbarker

Today's Best Stuff

For Bloggers

Join the Yardbarker Network for more promotion, traffic, and money.

Company Info

Help

What is Yardbarker?

Yardbarker is the largest network of sports blogs and pro athlete blogs on the web. This site is the hub of the Yardbarker Network, where our editors and algorithms curate the best sports content from our network and beyond.