Found November 15, 2011 on Awful Announcing:
As you can tell by the tweets above from the CBS Evening News feed, the network heavily promoted an exclusive interview with Penn State assistant coach Mike McQueary, the man that allegedly walked in on Jerry Sandusky sexually assaulting a young boy in the shower. McQueary has been one of the key men in the Penn State scandal as one of the few eyewitnesses to Sandusky's alleged actions, and has also undergone criticism for his perceived lack of action in reporting the abuse. Until tonight, McQueary had not spoken publicly about the scandal, Sandusky, or his being placed on administrative leave by the university.
In light of Jerry Sandusky's in-depth, mesmerizing interview with Bob Costas, McQueary's interview with CBS's Armen Keteyian was heavily anticipated. Would McQueary try to defend his actions? Would he explain the e-mails he sent claiming he went to the police and stopped the rape? Would he respond to Sandusky calling him a liar the previous night and blaming him for fabricating the allegations of abuse in that shower? Given the outstanding interview Costas gave the night before, expectations were high that McQueary's answering of questions would be just as provocative and eye-opening.
Instead, we got this...
Keteyian: "Do you have any idea when you think you might be ready to talk?"
McQueary: "This process has to play out, I just don't have anything else to say."
Keteyian: "Ok, ok... and then just one last thing, just describe your emotions right now."
McQueary: "All over the place, just kinda, uhh... shaken."
Keteyian: "Crazy?"
McQueary: "Crazy."
Keteyian: "And you said what, like a..."
McQueary: "Snowglobe."
Keteyian: "Like a snowglobe."
McQueary: "Yes sir."
Keteyian: "All right."
LIKE A F*C&ING SNOWGLOBE?!?!!! THAT'S YOUR EXCLUSIVE, CBS?!?! THAT'S THE ENTIRE INTERVIEW??? THAT'S THE "WINDOW INSIDE HIS EMOTIONS?!?! WHAT THE HELL???
You can not pull a bigger bait and switch as a network. CBS's big exclusive with Mike McQueary was that his world is a snowglobe. The entire interview lasted 23 seconds. Keteyian asked "just one last thing" as his second question! 23 seconds! That's it!
Bravo, CBS, bravo.
The immediate reaction from Twitter was deservedly mocking and cut-throat from many notable sportswriters and bloggers...
ChrisMottram FYI, ABC World News also had an on camera "no comment" from McQueary tonight. They did the right thing and didn't lie about what they had.
JimmyTraina Kim Kardashian is laughing at the sham CBS just pulled.
darrenrovell The FCC should fine CBS for false advertising in the McQueary "exclusive."
PaulPabst CBS next exclusve interview will be Paterno chasing them off his lawn.
PeteThamelNYT So much for that McQueary interview. Bad job by CBS promoting it. That was a no comment.
CFBROCKER What an embarrassment CBS
PeterBurnsRadio: CBS did not Rick-Roll America with the McQueary Interview because Rick would have never let us down like that
AmyKNelson on CBS interview, top of mind: "Everyone in this room is now dumber for having listened to it."
WhitlockJason Wow. CBS just embarrassed all TV networks and TV journalists. Just embarrassing. Surprised Armen Keytenian would be part of that.
TiricoSuave BREAKING: CBS reporting Mike McQueary currently flying somewhere over Colorado in giant gas balloon.
This is an embarrassment for the network, for the CBS Evening News, and for Keteyian. What they promoted as an exclusive interivew was nothing more than a glorified no comment. We learned precisely nothing from an EXCLUSIVE 23 second interview. Hell, there was better and more detailed, more newsworthy material in the portion CBS replayed from the Sandusky interview on NBC! What does that say about you, CBS! Bob Costas and Rock Center gave us the interview America is still talking about. Costas gave us a relevant interview that asked tough, direct questions that captivated the country. The contrast to the traveshamockery CBS produced simply cannot be greater. CBS gave us nothing more than a small pile of hot garbage as an exclusive. But hey, at least that hot garbage was encapsulated in a pretty snowglobe.
[follow]
Original Story:
http://www.awfulannouncing.com/2011-a...
THE BACKYARD
BEST OF MAXIM
RELATED ARTICLES
Even Bob Costas is surprised that former assistant Penn State football coach Jerry Sandusky spoke to him about child sex-abuse allegations.
Accused child molester Jerry Sandusky took to NBC-TV to proclaim his innocence. His interview with Bob Costas did not go particularly well, as the commentary in the Twittervese illustrated. Here is a sampling of the instant analysis: Jason Whitlock: "Costas interview seems like Sandusky's suicide note. #24hoursandsanduskyisdone JJFromKansas: "You think maybe Sandusky...
The reclusive Sandusky joins Bob Costas by phone tonight on Rock Center, NBC's new newsmagazine show. From the release sent out by NBC, Sandusky declares himself innocent of the charges against him. More »
STATE COLLEGE, Pa. — Penn State interim coach Tom Bradley didn't watch Bob Costas' interview with former assistant coach Jerry Sandusky on Monday night.
The lawyer for one of former Penn State defensive coordinator Jerry Sandusky's alleged victims said he was "appalled" by comments Sandusky made in an interview earlier this week. Benjamin D. Andreozzi said his client, who he described as a man in his 20s, "fully intends to testify that he was severely sexually assaulted by Mr. Sandusky." Sandusky has been...
Since news broke just under two weeks ago of accusations made against former Penn State defensive coordinator Jerry Sandusky of sexual abuse, Crystal Ball Run has repeatedly harped that this will continue to be an ever-evolving story. That story took on a new evolution Monday night, when for the Sandusky spoke publicly for the first time about those accusations made in a Pennsylvania...
A New York City-based not-for-profit serving disadvantaged youth is investigating whether former Penn State assistant football coach Jerry Sandusky has hosted some of its program children at his home in the past. NBC EXCLUSIVE: "I shouldn't have showered with those kids," Sandusky tells Bob Costas on Rock Center The Fresh Air Fund connects New York City children...
All Sports News

Delivered to your inbox

You'll also receive Yardbarker's daily Top 10, featuring the best sports stories from around the web. Customize your newsletter to get articles on your favorite sports and teams. And the best part? It's free!
THE HOT 10: Who's Trending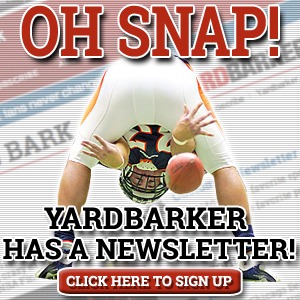 Latest Rumors
Best of Yardbarker

Today's Best Stuff

For Bloggers

Join the Yardbarker Network for more promotion, traffic, and money.

Company Info

Help

What is Yardbarker?

Yardbarker is the largest network of sports blogs and pro athlete blogs on the web. This site is the hub of the Yardbarker Network, where our editors and algorithms curate the best sports content from our network and beyond.