Found October 02, 2013 on HawkeyeNation.com:
Q: The Iowa defense is Top 20 in most major stats nationally and Top 10 in total, rush and third down percentage.  What are the differences you've seen this year to last and do you think, five games in, this is defense legit? Jared Clauss: Legit. I used to have a coach who would tell guys "You're actions are speaking so loud I can't hear a word you're saying". So long as they continue to produce results. Minnesota had a good running game, but I like our chances with the style of defense we play against any strong running team. With our front seven, I'm confident that gaps will be filled and guys will be getting off of blocks. Thus far, none of Iowa's opponents have been able to get a push on our front four and our linebackers are moving cleanly to the ball; they aren't getting caught up in a lot of traffic. It also doesn't hurt that they are usually in the right place at the right time. The competition is going to pick up and these next four games and that will tell you exactly who this defense is. They've done what they've needed to do so far. They've created turnovers, gotten decent quarterback pressure, made teams one dimensional by stopping the run and they've tackled well. They also haven't allowed the offense to dictate tempo; they are bringing more blitzes and they are getting off the field on 3rd down. We've also had an offense that has been putting together some drives and that keeps them fresh as well. Any defense is going to have a chance to be statistically productive if they know more of what to expect each play and the best way to do that is stop the run. Trinca-Pasat, Davis and Alvis have been active without having to run a bunch of DL games, so things are looking up. In terms of differences between this year and last, it's tough to put your finger on it. One thing I am seeing is we are bringing more pressure in passing situations. They haven't given up any big runs or allowed anyone in the end zone on the ground yet. I think it comes down to 3 senior linebackers leading the way and the team playing with more confidence. Q: Iowa went heavy on left side runs Saturday. Is Brandon Scherff looking like a first round draft pick? Clauss: I am not a pro scout so I can't tell you how he looks versus others in the country. I do know that pound for pound, defensive ends in the NFL are the most gifted athletes if you consider how big some of those guys are and how they move. In my opinion, cornerback is one of the toughest to play, but those ends are freaks. He hasn't seen anything like what he might see in the NFL yet this year. Having said that, he is blocking the guy they put in front of him and doing a heck of a job of it. I made a comment watching the Minnesota game that 'it sure seems like we are running everything to the left' and the next play they flashed the run chart on the screen. That is confidence in those guys. They clearly had a mismatch going and were taking advantage of it. If you can protect the blind side of a franchise QB you can do very well for yourself in the NFL. I think it's way too early to be talking about draft status; let's let these guys continue to develop and it will all sort itself out. I can tell you from experience having been around some guys that the good ones worry about improving every day and focus on details and the draft stuff just happens. People from the outside are going to tell these guys they are the greatest thing in the world. Their only interest is to have them get drafted sooner so they can make money off of them. It's the same type of person who once called for my highly drafted roommate in college at our apartment, when I told that person he wasn't in they asked "If I played football too" (I told them yes I have a jersey). We have a great tradition of offensive linemen in the NFL under Coach Ferentz and before he arrived. The staff at Iowa cares about the players and will give their honest opinion on taking the next step. Hopefully with his talent he can be another name on a long list of guys that have represented Iowa well at the next level. But having said that, the NFL will always be there and I think he should play out his career. Knocking heads in the Big Ten is what the majority of guys miss the most if you ask them about their playing careers. Q: Can you think of one thing on each side of the ball that Iowa needs to clean up, or has done well, or a combination of both? Clauss: Since coach Davis has come to Iowa, I know there's been a mixed bag in terms of success with the tunnel, bubble and running back screens, but I have to say they've been called at great times over the last two years. I don't know if it was a check this past weekend that they had or just great timing, but when you can call a screen versus a blitz where both linebackers are coming up the gut, you can have success like we did with Powell. We missed on a screen last year against Michigan State and a few earlier this year. I think the execution has been very close but the timing of the calls has been good. Whether it's a dropped pass or a lineman just being a bit too late to get out in space to make a block, we are close to more big plays like that. It's such a timing play and we're close. I'm excited to see that develop more because our offensive line has been pass protecting well this year and to get pressure teams are going to have to bring more line games and blitzes and that's when we can hit them with a good screen. Q: Is the thought of 'leave it all out there before the bye week' real or a fan thing? Clauss: I think it's more of a fan thing. Any player worth a darn leaves it out there every week. He doesn't think "I need to have something in the tank for next week so I better take it easy." The coaches will likely emphasize that they can heal up after this game but everyone knows it so it kind of goes without saying. More importantly, Kinnick is going to be rocking this weekend. They have played well but there are clearly things they can get better at, which should be the case at this point in the season. I am excited to see how they respond back in front of the home crowd. Michigan State has a heck of a defense; this will be our toughest test so far this season on offense. Over the past decade the Iowa – Michigan State games have been down to the wire and exciting contests for the most part. The post Clauss on the Hawkeyes appeared first on Hawkeye Nation.
Original Story:
http://www.hawkeyenation.com/football...
THE BACKYARD
BEST OF MAXIM
RELATED ARTICLES
The Iowa Hawkeyes (4-1, 1-0 Big Ten) will be facing some déjà vu when the Michigan State Spartans (3-1, 0-0) visit Kinnick Stadium on Saturday. Head coach Kirk Ferentz and company are off to their best start in four years and are riding a four-game winning streak. A win against the Spartans will be evidence that the Hawkeyes are ready to challenge no. 17 Northwestern and no. 19...
You like stats? Here are some for your Hawkeyes through five games. Iowa is 5th in nation in 3rd down conversions per game (8.8) 6th best in nation. Last year just 5.0/gm. HUGE jump — Jon Miller (@HawkeyeNation) September 30, 2013 Iowa is converting 53% of third downs. Last year, they converted 33.95%. Rudock has been Kid Cool on third and Shmedium. — Jon Miller (@HawkeyeNation...
(Eds: Updates, stands.) By LUKE MEREDITH AP Sports Writer There are a ton of reasons why Iowa has blossomed into a potential Big Ten contender. But the biggest one is the simplest one: Iowa is playing like Iowa again. Iowa is back to running the ball, stopping the run and excelling on special teams. All three of those phases have been crucial for the resurgent Hawkeyes (4-1, 1...
If there is one thing I have learned this season while writing this post every week, it's that Iowa isn't nearly as bad as I thought they were, and in making that note, I am done betting against them for…Read more →
Hawkeyes News

Delivered to your inbox

You'll also receive Yardbarker's daily Top 10, featuring the best sports stories from around the web. Customize your newsletter to get articles on your favorite sports and teams. And the best part? It's free!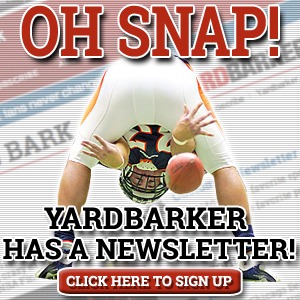 Latest Rumors
The Backyard

Today's Best Stuff

For Bloggers

Join the Yardbarker Network for more promotion, traffic, and money.

Company Info

Help

What is Yardbarker?

Yardbarker is the largest network of sports blogs and pro athlete blogs on the web. This site is the hub of the Yardbarker Network, where our editors and algorithms curate the best sports content from our network and beyond.