Found November 21, 2012 on Waiting For Next Year:
Like we did last year before it became fashionable, we'll take a seat each week in our very own WFNY Browns film room and break down a little tape from the game, with a specific focus.  Do enjoy. The Browns did something really positive in Sunday's loss to the Cowboys, and I wanted to focus on that this week. The defense was able to sack Romo seven times. That's a nice number. We've been saying for weeks that the young defensive lineman have been holding their own while Rubin and Taylor have been out. I was very excited to see what kind of rotation the Browns would use, as Winn and Hughes would be more than capable of giving plays off to Rubin and Taylor. As he has been doing all season (and we've been linking to in www), Chris Pokorny of Dawgs By Nature broke down the snaps and gives us the answer to that question- Winn appeared to get 4 snap of those 49 at defensive end, just to be clear. It's no surprise that in his first week back from major injury that Phil Taylor was limited a bit. We know the Cowboys' offensive line has had troubles, so what really happened for the Browns to get all those sacks? Did they bring the blitz? Did they employ stunts? Let's look at the plays. Here the Browns have 4 down linemen, 2 linebackers and 5 defensive backs. Craig Robertson is going to be the Brown that gets to Romo, coming straight up the middle. You can see Robertson coming free through the middle here, and the back making a terrible effort to get to him. Notice the illegal contact by the Browns defensive back at the top of the screen. A theme we remember too well from Sunday. So on this play the Browns do bring a blitz, but they aren't bringing more defenders than the Cowboys have blockers available. You do see Sheard is double teamed. As is the DT on the right side, I believe that is Winn. Next sack. Four man front again, with an extra defensive back. Sheard, Rubin, Winn and Parker are the defensive linemen. Both of Dallas' backs will be going out in the pattern. No stunt or blitz. Billy Winn does spin to the inside, which opens up a little space for Parker to pull an inside move. That's all Parker needs to break free and track down Romo. Again, no blitz, no stunt. Just Parker beating his man. Sack number 3. Base 4-3 defense for the Browns. John Hughes is the tackle lined up next to Sheard. Hughes blows through a double team block to get the sack. Sheard was a split second behind him. No stunts or blitz. Honestly, that was about the ugliest double team I've seen since coaching junior high. I don't know if the center and guard were confused on who was supposed to cover that gap or what, but both players stuck a chicken wing out there for Hughes to blow through. Next sack. Four man front for the Browns. Nickel defense. This is just a beatdown. Jabaal Sheard runs right around the tackle. Romo had no chance. Now this one is a little more involved. The Browns are in their base defense, but as you can see at the top of the line of scrimmage, they are bringing heat. That's Usama Young creeping up to the line of scrimmage. Not only are the bringing the safety, but they are bringing Maiava as well. The defensive end crashes down to give both blitzers plenty of room. Notice the reciever in the slot up top. He is the hot read with Young's blitz. Romo, instead of hitting the hot read, rolls away from the pressure. Not a good decision. Both Young and Maiava are credited with a half sack. Here's another. As the announcer mentioned, Sheard may actually be lined up offsides, or at least certainly in the neutral zone. We have a stunt! What do we mean by stunt? Well, Sheard is crashing hard from his outside position to the gap between the tackle and the guard. Rubin is going to disengage and scoot around the outside, taking Sheard's place. When you run a stunt, a couple of good things can happen. There is always the chance for confusion on the line as to who is responsible for blocking a gap or a player. The outside rusher, Sheard in this case could beat his man because he isn't expecting a hard inside move. The stunter, Rubin in this case could find himself free to the QB because the inside man is getting double teamed. The downside to the stunt is that it can take time to develop. Here the coverage was very good, and Rubin is able to get to the QB despite the slow developing stunt. Last one. The Browns have 4 down linemen, and are showing blitz with Ward and Johnson. It's hard to see, but we have a double stunt! This time Sheard is coming around his defensive tackle, and Rucker is stunting around his defensive tackle. It's so beautiful. You know the result of this play. Rucker gets the strip sack, which gave the Browns new life after the Weeden fumble. So what did we learn? To be honest, we probably see more deficiencies in the Cowboys offensive line than anything. But, the Browns have athletes up and down the defensive line that can beat you one on one. That has to be a positive right? We did see at the end of the game more stunts and blitzes. The Browns were taking more chances to get to Romo, you would think as a result of the secondary struggling. Next up are the Steelers, and aside from Pouncey, they have a pretty weak offensive line as well. Jauron, bring the heat. Until next week, the film room is closed.
Original Story:
http://www.waitingfornextyear.com/201...
THE BACKYARD
BEST OF MAXIM
RELATED ARTICLES
Some positive news from today's Browns practice: cornerback Buster Skrine and wide receiver Josh Cooper each saw increased reps as they battle their respective injuries. Skrine (concussion) was a limited participant Thursday after not practicing on Wednesday. Cooper (knee) was a full participant after being limited the day before. In other notable injury news, Joe Haden (olbique...
Cleveland Browns strong safety TJ Ward officially has $25,000 less to his name as the NFL levied a fine against the third-year safety for a hit which occurred in the fourth quarter of Sunday's loss to the Dallas Cowboys. When Ward put the finishing touch on an attempted pass to Cowboys wide receiver Kevin Ogletree, the team was handed a 15-yard penalty for what was deemed a hit...
You can't make these things up. Apparently the Browns are going to be handing out inflatable white flags with the Browns helmet on them for Sunday's game. Seriously. White flags. Did someone not think this through? Here is a picture of Chomps with the giveaway. The caption was added by @FakePatShurmur on twitter- Some jokes write themselves. [Related: Carlton Mitchell signs with Jaguars]
Browns safety T.J. Ward is appealing a $25,000 fine for a hit he maintains was legal under the NFL's rules on helmet-to-helmet contact. Ward received a letter from the league on Wednesday informing him of the penalty for hitting Dallas wide receiver Kevin Ogletree on Sunday. Ward said replays conclusively show he did not touch any part of Ogletree's head. Ward was called...
Browns safety T.J. Ward is appealing a $25,000 fine for a hit he maintains was legal under the NFL's rules on helmet-to-helmet contact. Ward received a letter from the league on Wednesday informing him of the penalty for hitting Dallas wide receiver Kevin Ogletree on Sunday. Ward said replays conclusively show he did not touch any part of Ogletree's head. Ward was called...
As if the Browns weren't enough of an embarrassment to the people of Cleveland, their latest idea is even is worse than usual. Pictures above, someone thought it'd be a good idea to hand out these white flags at this week's game against the rival Steelers. Maybe they don't know the universal meaning of "waiving the white flag"....
The Cleveland Browns continued practice preparations on Thursday for their Sunday game against the Pittsburgh Steelers and here now is the injury participation report. Not practicing on Thursday were cornerback Dimitri Patterson (ankle) and safety Ray Ventrone (calf). Limited were cornerback Joe Haden (oblique), defensive tackle Ahtyba Rubin (calf/back) and cornerback Buster...
As Steelers week continues here in Cleveland, we're hearing more and more from coaches and players about their thoughts on the latest iteration of our Pittsburgh rivals. Today, we bring you the latest quotes from the star rookies on offense for the Browns as provided by the team's media relations department. Trent Richardson, who said he beat up on himself after his performance...
Joe Haden, who has taken a lot of heat this year for his mistake that lead to a 4 game suspension (reported here first) and most recently for being seen "out all night" during the week in which he was battling an injury, is at it again. He ultimately pulled himself out of that game last week against the Cowboys too, by the way. Today, the Browns' meetings started at...
1) Somebody somewhere had to sign off on the latest promotion at Browns Stadium, which has the home team giving away inflatable flags sponsored by Ticketmaster, which are white. Yes, thats correct. The home team has a sponsorpartner giving away white flags for a Browns-Steelers game. This is almost too rich for words. Asking fans to wave white inflatable flags (with the Browns helmet...
Browns penalties must be hysterical to Ed Hochuli's crew I have a tough time explaining why my frustration levels fluctuate so much throughout a Browns season. Some weeks as the Browns lose, it barely registers on the imaginary frustrate-o-meter in my house. I kind of shrug my shoulders, write about the Browns game on Sunday and just move along with my week. Then other weeks I'm...
The Browns should smack this Batch up Photo Credit: Eldorado Owens At "Stream Pies," we are serving up gooey loads of knowledge. Here, we'll provide invaluable streaming advice on kickers and DEFs who are owned in less than 30-percent of Yahoo! leagues. We list the options in order of best option to "least-best" option (with the strongest recommendations starting...
Browns News

Delivered to your inbox

You'll also receive Yardbarker's daily Top 10, featuring the best sports stories from around the web. Customize your newsletter to get articles on your favorite sports and teams. And the best part? It's free!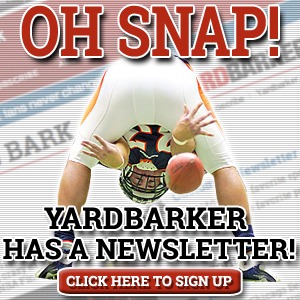 Latest Rumors
Best of Yardbarker

Today's Best Stuff

For Bloggers

Join the Yardbarker Network for more promotion, traffic, and money.

Company Info

Help

What is Yardbarker?

Yardbarker is the largest network of sports blogs and pro athlete blogs on the web. This site is the hub of the Yardbarker Network, where our editors and algorithms curate the best sports content from our network and beyond.