Found October 25, 2012 on Waiting For Next Year:
Like we did last year before it became fashionable, we'll take a seat each week in our very own WFNY Browns film room and break down a little tape from the game, with a specific focus.  Do enjoy. All week I've been hearing discussion about Trent Richardson. There's been talk about his injury. Talk about his lack of production on Sunday. Talk about sitting him for a few weeks. Even talk about him having a running style that doesn't work in the NFL. All this based off of 8 runs on Sunday? Let's take a look first at the runs before we run Richardson out of town shall we? The first run came on the second play from scrimmage. (The first play was a 9 yard catch and run by Richardson.) The Browns are strong to the left. Marecic is the FB lined up in front of Richardson. You can barely make out Marecic behind Lauvao the RG. The play is designed for Richardson to follow his FB through the guard/center gap. You may look at this still and think there is a hole between the RG and RT. I assure you, this is an illusion. The Browns are running to the weak side, and they are actually out-numbered. See how quickly the LB filled that space? Not only that, but the DT has outside position on Lauvao, which is exactly the way it is drawn up. Here's the broadcast angle. Richardson reads the LB and DT and follows Marecic into the 'A' gap. He hits the hole and bursts into the second level. Richardson will gain 6 yards on this play. If Angerer (great name by the way) doesn't get a good grasp on his waist, this could have been a big gainer. Ok, next run. Next run, balanced formation. The play is going to be a run left. Notice the defensive formation. There are 8 men in the box, plus a safety just behind the 10 yard zone. Think the Colts wanted to stop the run? There are 8 defenders and 7 blockers. And Lauvao doesn't get good position on his man. At this point where would you run? Richardson cuts to the right to avoid the DT. Unfortunately, he's headed for the same spot that the DB and LB are about to occupy. No real shot on this play. Here's the next run. The back in front of Richardson is actually Jordan Cameron the TE, who went in motion and settled in the backfield. The play is a delayed hand-off. Again, I ask you where you would run if you were handed the ball at this moment? Lauvao is on the ground. Not the best blocking position. DE is free on the right side. He's backed up by a DB. The DT on the left side has beaten Grecco. Just nowhere to run on this play. This ends up in a yard loss. Next run, and another delayed hand-off. Note again the defense. Seven defenders in the box, but like earlier, there are five on the line of scrimmage. They have taken away the edge by doing this. You aren't going to get outside. Trent receives the ball and look at the line of scrimmage. The blocking is decent, not much movement but there is an orange helmet in front of every defender on the line. The linebackers are unblocked though, and moving in on Richardson. Here is the different camera angle. Richardson eyes the linebackers and decides to try and head between Lauvao and Schwartz. He cuts through the hole and picks up three yards on a run where there wasn't a ton of room. Would a power back like Hillis have gotten more yards. Possibly. Had it been a third and one situation, I'm sure Richardson would have just put his head down and rammed the line. One thing Trent tries to do is find the right opening. His decision making will of course get faster as he gains experience and confidence in the NFL. Next play. The ball is on the three. Marecic is going to lead block to the outside. The Browns have all eleven players in tight. The Colts respond with 11 in the box. The ball is snapped and the play begins. Where would you run? I'm looking at that spot right behind Thomas and Watson, and hoping it doesn't get swallowed up by the collapsing interior line. That's exactly where Richardson heads. Unfortunately, as he gets there Watson's man has gotten around him and is plugging the outside. Richardson jumps inside and puts his head down. Here you see another view. The defensive end has Richardson by the knees, but he is still able to fall forward and pick up a couple yards. So how do I conclude? Richardson himself said that he is hurting more than people realize. Ok, if that is the case then sit. If the pain in the ribs changes your style, maybe it's best to let Hardesty have a shot. I don't see that taking place in the film from Sunday, but there has to be a reason that Richardson only played in the first two Cleveland drives. To say based on the eight runs that Richardson had Sunday that his "style" doesn't translate to the NFL game is ridiculous. Did he make moves in the backfield before getting to the line? Absolutely. Do I think he 'danced around'? Not even close. The cuts and jump cuts he made were necessary because there were defenders in the gaps he was supposed to run to. The Colts were game planning to stop the run. On top of that, they were motivated to stop the run from a particularly bad outing the week before. Let's give Richardson a little bit of slack. Even if he were healthy, this is just his 7th look at an NFL defense. Until next week, the film room is closed.
Original Story:
http://www.waitingfornextyear.com/201...
THE BACKYARD
BEST OF MAXIM
RELATED ARTICLES
Trent Richardson's transition to the NFL hasn't gone as well as expected. Many believed the former Alabama running back would excel in the NFL, but now Richardson isn't even playing like himself. Blame it on a painful rib cartilage injury, Richardson was embarrassed watching tape of himself. "It really didn't look like me," he said. – Yahoo Sports Richardson was...
According to Evan Silva of Rotoworld.com, ESPN's Ed Werder has reported that the Cleveland Browns are thinking about shutting down running back Trent Richardson for the next three weeks because … Continue reading »
BEREA, Ohio (AP) -- As he watched the film of Sunday's loss at Indianapolis, Trent Richardson barely recognized the running back in the white No. 33 jersey and orange helmet. The guy with the dreadlocks didn't hit the holes with authority. He didn't move the pile forward. He didn't make any of the Colts defenders miss. He didn't do much of anything. Richardson...
Cleveland Browns running back Trent Richardson participated in today's walk-through.  Head coach Pat Shurmur doesn't believe he suffered any setbacks by playing last week. Richardson's status remains up in the … Continue reading »
Cleveland Browns running back Trent Richardson has no plans to miss Sunday's game against San Diego. Coach Pat Shurmur said the rookie, who has damaged cartilage in his ribs, practiced Thursday and looked better than he did last week. "He did a lot of work and you just do as much as you can to get them as good and as ready as they can be for 1 o'clock Sunday,&quot...
Cleveland Browns running back Trent Richardson appears on schedule to play to play Sunday against San Diego, though head coach Pat Shurmur refused to make any promises. "I think today was his third good day of practice," Shurmur told reporters Friday. "He's better this Friday than he was last. I can't tell you exactly what's going to happen Sunday, but...
Browns running back Trent Richardson doesn't expect to miss any games despite being limited by rib injuries the past two weeks.Fantasy Spin:This report comes from Nate Ulrich of the Akron Beacon Journal. Even if Richardson does play he won't be at 100 percent. Backup running back Montario Hardesty has gotten 22 carries the past two weeks and could be in for another heavy...
According to team beat writer Scott Petrak, Browns coach Pat Shurmur said running back Trent Richardson (ribs) looked "way better" in Wednesday's practice than he did at the same time last week.Fantasy Spin:The Browns were contemplating shutting Richardson down for three weeks and having him return following the team's bye week. The running back has been more positive...
ESPN's Ed Werder reported on SportsCenter Tuesday afternoon that the Cleveland Browns are currently discussing the possibility of shutting down Trent Richardson (ribs) through their Week 10 bye. Werder termed Richardson's rib-cartilage injury "serious," and hinted it was aggravated on a "direct hit" in the second quarter of last week's loss to Indianapolis, a game where...
Cleveland Browns head coach Pat Shurmur was encouraged  from what he saw from running back Trent Richardson during Wednesday's practice.  He says Richardson looked better than he did last Wednesday. … Continue reading »
Browns News

Delivered to your inbox

You'll also receive Yardbarker's daily Top 10, featuring the best sports stories from around the web. Customize your newsletter to get articles on your favorite sports and teams. And the best part? It's free!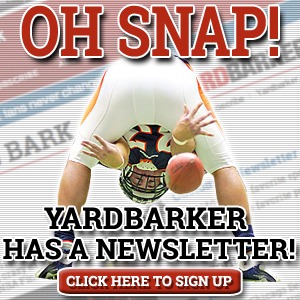 Latest Rumors
Best of Yardbarker

Today's Best Stuff

For Bloggers

Join the Yardbarker Network for more promotion, traffic, and money.

Company Info

Help

What is Yardbarker?

Yardbarker is the largest network of sports blogs and pro athlete blogs on the web. This site is the hub of the Yardbarker Network, where our editors and algorithms curate the best sports content from our network and beyond.