Found August 29, 2012 on NFL Draft Zone:
PLAYERS:
Walter Payton
,
Joe Montana
,
Kyle Padron
,
Alec Savoie
,
Anthony Oden
,
Sam Houston
,
Joseph LeBeau
,
Isiah Wiley
,
Rod Woodson
TEAMS:
Southern Utah Thunderbirds
,
Notre Dame Fighting Irish
,
Murray State Racers
,
Jacksonville St. Gamecocks
,
Indiana State Sycamores
,
Norfolk State Spartans
,
Jackson State Tigers
,
Texas State Bobcats
,
Alabama State Hornets
,
Texas Southern Tigers
,
Montana State Bobcats
,
Illinois State Redbirds
,
Missouri State Bears
,
Appalachian State Mountaineers
,
Alabama Crimson Tide
,
Portland State Vikings
,
South Carolina State Bulldogs
QB
Brad Sorensen – Southern Utah/BYU 6-5, 225 – Brad is by far the best QB in this class from the small school level. He is probably the best small school quarterback coming out since Joe Flacco. Keep an eye on the BYU transfer this year in Southern Utah. Last year Sorensen was a very good player, and an All American in his conference, look for him to be in running for the Walter Payton Award this year.
Nate Montana – West Virginia Wesleyan/Notre Dame (Joe Montana's Son)
Kyle Padron – Eastern Washington/SMU
Casey Brockman – Murray State
Nick Elko – Delaware State
RB
Washaun Ealey – Jacksonville State/Georgia 5-11, 215 – A Georgia Transfer who lit it up at the D-1 level, but came down to Jacksonville State. At JVille State, Watch out for the senior back to have a break out year this year. He will be looking for revenge when he plays Florida this year as he will get back in the SEC for another time.
Matt Denham – Eastern Kentucky
Daront'e McNeil – Elizabeth City State University
Miguel Maysonet – Stoneybrook
Shakir Bell – Indiana State
David Carter – Morehouse
Kaderius Lacey – Alabama A&M
Mike Mayhew – North Carolina A&T
Jordan Brown – Bryant
Terrance LeFall – Howard
Rodney Scott – Bethune Cookman/Ole Miss
FB
Eric Breitenstein, Wofford
Kendall Gaskins – Richmond
WR
Aaron Mellette – Elon 6-4, 212- Mellette has draftniks fighting, because this kid is special. If you have not seen film on him, then you need too. He will be the best WR out of the small schools this year. He had better stats than Brian Quick who was taking in the second round, but watch out for this kid as he could be a guy that really rises throughout the year. If he has a huge game versus North Carolina the first game of the season, his stock might continue to go up.

Nicholas Edwards – Eastern Washington 6-3, 200
Xaiver Boyce – Norfolk State/V-Tech 6-4, 220
Ryan Spadola – Lehigh 6-3, 205
Travis Tarpley – Delaware State
Justin Wilson – Delaware State
Eddie Poole – Bethune Cookman/Rutgers
Cordell Roberson – Stephen F. Austin
KJ Stroud – Bethune Cookman/Rutgers
Rodrick Rumble – Idaho State
Rico Richardson – Jackson State
TE
Colin Anderson – Furman
David Duran – Coastal Carolina
Chase Harper – Texas State
OL
Mark Jackson – Glenville State/Illinois – 6'5, 320 - Mark Jackson is a transfer from Illinois, and even though he is at little Glenville State, watch out for this kid. He is hungrier than any player coming out. He has the ability to play all the positions on the line, and is a very strong kid. Last year he threw players around left and right, it will be exciting to see what he can do this year, especially if invited to a All Star game like East/West Shrine Game.
Patrick Ford – Eastern Kentucky
Alec Savoie – McNeese State
Aaron Adams – Eastern Kentucky
Anthony Oden – Lamar
Terren Jones – Alabama State
Jamaal Johnson-Webb – Alabama A&M
Macon Allen – Missouri Western
Nail Muradymov – Delaware State
Blake Matthews – Norfolk State 6-4, 315 - Big Blake isa mauler, a mean, rough,gritty type of player who is dominating the MEAC division. Matthews is a guard who could step out and play tackle. Preferably Right Tackle, but he has good foot work and is a strong as a bull. Matthews will be one to keep an eye on, because he opens holes like crazy for NSU.
Earl Watford – James Madison
Evan Conrad – Southeast Missouri
Malcolm Boyd – Liberty
DE
David Bass – Missouri Western State 6-3, 258 - There are many good guys in this list but I am going to talk about David Bass. David is a very long and quick Defensive End. He has good moves and is quick off the blocks. I like his intensity on the field, and he will be ready to shine this year. Bass will have another big year and probably be on the All American List at the end of the season.
Ben Obaseki – Indiana State 6-3, 235
Marquis Jackson – Texas Southern/USC 6-5, 275
Willie Jefferson – Stephen F. Austin/Baylor
Cody Larson – Southern Utah
Frank Beltre – Towson
DT
Brent Russell – Georgia Southern 6-2, 287- Kyle Williams Jr, that is what Brent Russell looks like, he is a quick big guy, who can get around the players. He almost always draws double teams, because he is so hard to guard. Watch for Russell to have a break out year this year. He is very quick off the snap, and uses his hands as weapons, and can get the guy in front of him off. He gets separation and is a very smart kid in the film room.

Brandon Williams – Missouri Southern
Monton Hughes – Tennessee Martin/Tenn.
Emory Attig – Eastern Kentucky
J.T. Cleveland Sam Houston State
Zach Minter – Montana State
OLB
Keith Pough – Howard 6-3, 215- This is easy, Pough is the best small school linebacker in the country. He is very good off the edge, is a very sound tackler, and has good speed. Pough has been a starter since his freshman year, and was a runner up the last two years in the Buck Buchanan Award. There will be tons of teams looking at Pough this year, and he will need another huge year showing his production is legit.

Nate Palmer – Illinois State/Illinois
Joseph Lebeau – Jackson State
Zach Johnson – Eastern Washington
Greg Wilson – Arkansas – Monticello/Kentucky
William Hollis – Tuskegee University
Alvin Scioneaux – Wofford
Brandon Hepburn – Florida A&M
Blake Peiffer – SE Missouri State
Criag Wilkins – Old Dominion
ILB
Andrae Jacobs – Coastal Carolina
Derek Rose – Northwestern State (LA)
Evan Frierson – Illinois State/Illinois
Matt Evans – New Hampshire
Jeremy Kimbrough – Appalachian State
CB
B.W. Webb – William & Mary 5-11, 175 - B.W. is no joke at the corner position. This kid is talented, he has good hands, and is very speedy. Webb jumps routes and makes teams pay for throwing at him. I can see Webb blowing up this year, with a huge senior year. If he can do it one more year, he could be an early mid round pick.
Charles James – Charleston Southern 5-10, 175
Demetrius McCray – Appalachian State 6-0, 185
Jeremy Moore, Georgetown
Isiah Wiley – Belhaven University
Greg Reid – Valdosta State (Injured Out for Season)
FS
Malcolm Bronson – McNeese State 5-11, 192- When Janzen Jackson came to McNeese State from Tennessee as a big time starter for the Vols, he thought he would be automatic to touch the field as the starter. Well that didn't happen, you know why? Bronson wouldn't let him get on the field, as a Junior last year, Bronson out played Jackson at McNeese State and this safety with a good showing this year could raise some GM's eyebrows.

KeJuan Riley – Alabama State 6-0, 208
Jordan Dangerfield – Towson
Jakar Hamilton – South Carolina State
SS
Rontez Miles – Cal (PA)/Kent St. -6-0, 210 – Did you say Strong Safety? This kid defines Strong Safety to the T. He is a very hard hitting football player who is hungrier than ever. He reminds me of Josh Norman but at the Safety spot. He is not afraid of anyone, and he will go one on one with a #1 receiver as a corner. He has the speed and agility to shut out the best wide outs in his division, and he is ready to show teams that Cal (PA) players need to be drafted.
Ray Ray Armstrong – Faulkner University
Cooper Taylor – Richmond/G-Tech
Nick Williams – UNA/Georgia
Serge Kona, Duquesne
Rod Woodson – UNA/Alabama
Darnell Taylor – Sam Houston State
Jamaal White, Northwestern State
K
Zach Brown – Portland State
P
Jonathan Plisco – Old Dominion
Cory Kemps, Nicholls State
KR
Kevin Fogg – Liberty
PR
Gralyn Crawford – Stephen F. Austin
Original Story:
http://feedproxy.google.com/~r/nfldra...
THE BACKYARD
BEST OF MAXIM
RELATED ARTICLES
Jerry Rice and Joe Montana discuss the high expectations facing San Francisco after reaching the NFC championship game last season on ESPN NFL Live OT…
TAKE A KNEE
I don't know why or when "reporter getting pummeled in the middle of a hurricane" became a thing, but Jim Cantore is the Joe Montana of the craft. As he stands in the streets of New Orleans with Hurricane Isaac coming through, Cantore takes a moment to drop to one knee and say, "for whatever it's worth, I hope I'm making Tebow proud." H/T @bjack615
What's this you say?  A sportscenter clip having to do with the Broncos and it doesn't involve Tim Tebow?  That's right, and it's even worth watching.  Enjoy Broncotalk readers!  
NO BIAS HERE
Patriots owner Robert Kraft said he believes that his team's quarterback, Tom Brady, has surpassed the incredible success of NFL legend Joe Montana.
Legendary Notre Dame quarterback, Joe Montana, has never been shy with his statements about Notre Dame football. One of his most controversial statements (for Irish fans) was that he thought Notre Dame would only be able to compete for a National Title every 5 years or so. Below is from a ESPN chat. I present this to you without comment: Brent (Indy) : Joe, what...
Getty New England Patriots owner Robert Kraft believes that his beloved quarterback Tom Brady is better than 49ers great Joe Montana. "I think that Tommy, with all due respect, is better than Joe Montana," Kraft said. "I know that's a leap, but I really think he might already be the best of all time. I watch how involved he is, how driven he is. He's like Belichick, he's...
While most fans and media believe that Michael Jordan was the greatest NBA player of all time, there is far less consensus about who is the best quarterback of all time. Some say Johnny Unitas, others point to Joe Montana, both John Elway and Peyton Manning are in the discussion, and many believe Tom Brady is up there. Montana gets the nod in many debates because he went 4-0 in...
Robert Kraft has made it clear: He sees Tom Brady as a fifth son. So with that in mind, take a guess as to where he thinks Brady ranks among the NFL's all-time quarterbacks. Clearly forgetting that guys like Tim Tebow, Sage Rosenfels and Rex Grossman are still destined for greatness, Kraft immediately compared Brady to Joe Montana recently. The Patriots owner is hardly the first...
Robert Kraft has made it clear: He sees Tom Brady as a fifth son. So with that in mind, take a guess as to where he thinks Brady ranks among the NFL's all-time quarterbacks. Clearly forgetting that guys like Tim Tebow, Sage Rosenfels and Rex Grossman are still destined for greatness, Kraft immediately compared Brady to Joe Montana recently. The Patriots owner is hardly the first...
Looking for a sweet new spot to hang with your bros on Sundays? The NFL season is right around the corner, so look no further than these six sweet, multi-million dollar pads owned by NFL'ers. Sure, these money-holes have been on the market for quite a while now, but that benefits you! They've seen some serious price drops, so now is the perfect time for you to swoop in. Imagine...
Crimson Tide News

Delivered to your inbox

You'll also receive Yardbarker's daily Top 10, featuring the best sports stories from around the web. Customize your newsletter to get articles on your favorite sports and teams. And the best part? It's free!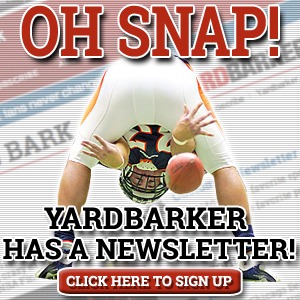 Latest Rumors
The Backyard

Today's Best Stuff

For Bloggers

Join the Yardbarker Network for more promotion, traffic, and money.

Company Info

Help

What is Yardbarker?

Yardbarker is the largest network of sports blogs and pro athlete blogs on the web. This site is the hub of the Yardbarker Network, where our editors and algorithms curate the best sports content from our network and beyond.