Found February 06, 2013 on Juiced Sports Blog:
When former Ultimate Fighting Championship (UFC) Heavyweight and Light Heavyweight champion Randy Couture signed a multi-year deal with Bellator MMA, UFC president Dana white was elated because that meant he never had to work with the Hall of Famer who, in Dana's words, "stops being a man when his big toes step out of the cage." So why the animosity? According to White, Couture was never honest with him when asked about the possibility of jumping ship to the UFC's former home, Spike TV. After it was discovered "The Natural" had indeed made the switch from the UFC and Fox to Bellator and Spike TV, White unloaded on Randy and his 'lies.' But, now that one Couture made his way out of the UFC, there is another ready to make his way in. Ryan Couture, son of Randy, will look to make his debut with the promotion sometime this year after he was one of the select fighters from the now defunct Strikeforce organization who received a contract with the world's leading mixed martial arts (MMA) promotion. So how will White's issues with Randy affect Ryan's future with the promotion? Not one bit, according to the Las Vegas fight boss. In fact, White revealed during his UFC 156 post-fight media scrum he actually talked to Ryan and gave him the option to honor his current contract with the UFC or follow his father's footsteps to Bellator. However, before he made his decision, White assured Ryan not to expect to see Randy cageside during his fights as a spectator and much less a corner man because "he won't be able to buy a ticket to a mother fu**ing event." "I called Ryan Couture and I said, 'Ryan, this is probably the weirdest conversation you are ever going to have with me. You signed a deal with us to fight in the UFC. I want you here if you want to be here. But I need you to understand this; me and your dad are not good. Me and your dad are never going to be good ever again as long as I walk this ******* planet. I know he's your dad and I don't want to call you up and tell you how much I don't like your father, but, if you want to leave the UFC,' because he, Randy, is not cornering him. Randy Couture can't buy a ticket to this mother ******* event. I said, 'He's not going to be around and I just wanted to be up front with you. I want to be honest and be up front. If you want me to release your from your contract so that you can go do a deal with Bellator, and have your dad maybe work with you and come up and do whatever, I will do that for you, too.' He said, ' Every kid that has ever strapped on a pair of gloves is dreaming about fighting in the UFC. And if they say they're not, they are either lying not they are stupid. This is my dream, I want to be with you guys. He's my dad and he's always going to be my dad. But, this is where I want to be, I worked my whole life to get here.' And I told him, 'This is your house, don't ever feel like it's not.' That was something that I had to do, I had to talk to him. The kid is either with us or he is not. And I don't mean, 'Oh, you're either with us or you're not with us,' I mean, I want him to feel like if he stays with us, he's with us and there is no hard feelings for him because of what's going on with me and Randy or anything like that. I want him to feel comfortable if he wanted to stay. And I wanted to give him the option to go with his dad, too. I don't want him to be in some situation where like he says, 'this guy is getting to fights with my dad and I'm stuck in a contract with them and I'd rather (not.)' That's the whole story, that's it, and I'd rather not talk about it again." At today's (Feb 5, 2013) Spike TV media conference, Randy talked about the pickle his son found himself in: "Ryan is his own man for sure. He's created his own style and it's a burden for him to drag around the same last name, but he's handled it all in stride. He's had some hard conversations about how it could affect his future in mixed martial arts but he's comfortable. I know how some of the other guys play, but I think Ryan is gonna be fine. He's a sharp kid and he's very diligent. Dana's made that transition easy and the media storm has been wonderful. You have to respect Dana's passion, it's very admirable. I don't have the answer to the question right now (about cornering Ryan). That's an athletic commission issue and we'll cross that bridge when we come to it." How about it Maniacs, are you surprised Ryan opted to stay with the UFC instead of joining his father in Bellator? Give us your take on this whole situation in the comments section below.
Original Story:
http://juicedsportsblog.com/2013/02/d...
THE BACKYARD
BEST OF MAXIM
RELATED ARTICLES
When former Ultimate Fighting Championship (UFC) Heavyweight and Light Heavyweight Champion Randy Couture put pen to paper last week and joined the ranks of Spike TV, UFC President Dana White said he was happy. Not happy as in "Good for him," happy as in "Don't let the door hit you in the ass on the way out." As it turns out, the Las Vegas fight boss already...
Before this season of "The Ultimate Fighter" started UFC President Dana White said that this season had the most brutal knockout he has ever seen in the UFC or an any other promotion. That's a pretty big statement from a guy who has seen hundreds of knockouts so it was taken with a grain of salt. After the knockout Hall became the most feared man in the competition according...
Is this the moment where we realize Rashad Evans is no longer at the top of the light heavyweight division, or is this the moment where the former champion turns himself around after an unprecedented two fight losing streak and decides he's still hungry for this game of MMA. After making a reported $300,000 for [...]
Dana White might be critical of his performance, but that didn't stop the UFC from making Rashad Evans the highest paid fighter at UFC 156.  In a losing effort Evans took home $300,000 (if he had won he would have earned another $210,000). Here is the official fighter purse info for UFC 156, released from the Nevada Athletic Commission. Read more ...
If you've been watching The Ultimate Fighter 17 Sonnen vs. Jones then you've seen this crazy knock out.  It was just the second fight of the season and Uriah Hall of team Sonnen knocked the crap out of Adam Cella on Tuesday's episode with a huge heel kick to the face.  Dana White said it was the craziest knock out he's seen in his fighting career.  Check out the...
No fight team had more on the line at UFC 156 than the talented Blackzilians. The squad's top two superstars were on display: Alistair Overeem (Pictured) returned from a nine-month steroid suspension would have earned a shot at Cain Velasquez's heavyweight crown with a win over Antonio "Bigfoot" Silva, while Rashad Evans could have found himself in a tango with middleweight...
The flirtation between Josh Barnett and Dana White ended exactly as you expected it would.
After losing another championship fight via decision where he thought he had done enough to win, a disappointed Frankie Edgar (Pictured) said it was too soon to decide whether he'd return to the lightweight division where he recently held the title or remain in the featherweight class. Unfortunately (or fortunately) for "The Answer," UFC president Dana White saw enough in Saturday's...
For more TUF Season 17 coverage visit the Talking TUF with Denise Tracey archive here. photo via tuf.com
Wow. Just, wow. The roundhouse kick that Uriah Hall planted right on the side of Adam Cella's head was one of the worst looking KO's we've seen in a long time. The fight was aired during last night's episode of The Ultimate Fighter 17. Hall, who has already been impressing UFC brass, showed no hesitation. A mere :06-seconds into the match and he had already connected with...
Alright, let me first introduce this as a new weekly staple here at HOV-MMA.  Every Monday I will write an editorial piece about what moves me.  It might be an amazing fight recap, interview or news item, but by and large it will be a forum for me to mouth off about whatever I want.  God bless America.  Dana White is as forgiving as a failed parachute.  Usually you can take...
All Sports News

Delivered to your inbox

You'll also receive Yardbarker's daily Top 10, featuring the best sports stories from around the web. Customize your newsletter to get articles on your favorite sports and teams. And the best part? It's free!
THE HOT 10: Who's Trending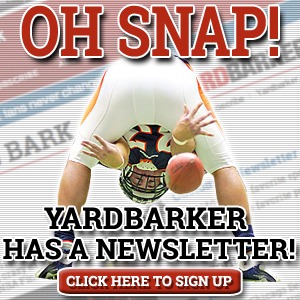 Latest Rumors
Best of Yardbarker

Today's Best Stuff

For Bloggers

Join the Yardbarker Network for more promotion, traffic, and money.

Company Info

Help

What is Yardbarker?

Yardbarker is the largest network of sports blogs and pro athlete blogs on the web. This site is the hub of the Yardbarker Network, where our editors and algorithms curate the best sports content from our network and beyond.