Found February 17, 2013 on Start 'N' Park Blog:
Danica Patrick, driver of the #10 GoDaddy.com Chevrolet, met with members of the media at Daytona International Speedway after leading the final practice session for the 55th running of the Daytona 500.  During the session she discussed what it would mean to win the pole tomorrow, her speed in practice and other topics. YOU WERE FAST IN BOTH PRACTICES HOW IS YOUR CONFIDENCE HEADING INTO QUALIFYING? "I mean I suppose being the fastest going into qualifying is as good as you could hope for.  But, I also understand that it's a whole different day.  We could go out there on the track and just for some reason not have as much speed as we had hoped for.  We could be in an unfortunate situation with wind or weather, temperatures, clouds, so I understand that.  We have done everything we can to prepare for it.  We all feel pretty confident, but tomorrow is a different day." YOU WERE FAST AT THE TEST HERE TOO SO IT'S NOT LIKE TODAY IS A SURPRISE: "We came here this weekend for the race with another car than what we tested.  We weren't sure if we were going to bring the same one back or not because it ran so well.  This other car was really good in the wind tunnel so we brought it.  You always hope that the numbers from the wind tunnel translate to speed on the track and it did.  I guess that is kind of the way that it has gone here at Daytona for us is that everything that we think is going to work a certain way works the way we expect it to.  What should be faster is and that is not always the case.  Everything just seems to be going really smoothly." ARE YOU HAPPY TO BE TALKING ABOUT RACING INSTEAD OF ALL THE OTHER STUFF THAT YOU HAVE BEEN TALKING ABOUT? "Well, I have always felt in my career that when things go well on the track the media responds to it.  So, I appreciate you all showing up here and thank you.  Make sure that you write about how good the crew is that made this car and the last car that was really fast and how strong the Hendrick engine is.  I think that is really important here at Daytona.  We are going to spend plenty of time the rest of the year talking about if a driver does something at tracks that aren't speedways. Here at Daytona and then at Talladega it is very much about the potential of the car and the engine." WHAT DOES 196.22 (MPH) FEEL LIKE ON THE RACE TRACK HERE IN THE NEW CAR? "I've never been someone that is thrilled or drawn in to racing by speed so for me I just want to be a little faster than the rest of them.  It feels like we were a little faster than the rest of them." DOES THIS GIVE YOU A GLIMPSE OF WHAT TO EXPECT TOMORROW?  DO YOU FEEL LIKE YOU ARE A STRONG CONTENDER FOR THE POLE? "Everything that we do is to make sure that we do whatever we can to be on the pole tomorrow.  That is what we all are shooting for.  As I said earlier tomorrow is a whole other day.  You've got to hope that the weather stays very consistent or perhaps better at the beginning when I'm going to go than at the end.  All those things play into it." YOU'VE DONE A LOT OF THINGS IN YOUR CAREER WHAT WOULD WINNING THE DAYTONA 500 POLE MEAN TO YOU? "I think it would mean a lot of work for Joe (Crowley) and Haley (Moore) with the media (laughs).  It would be really nice.  It is a very big pole of all of them in the year for attention.  Especially for GoDaddy who is on the car, people like that, that is who that helps the most.  I mean there are other races throughout the year that as a driver you feel maybe more pleased or proud of yourself to get.  This one is a whole team effort.  I understand I know I don't give much credit to myself about driving and turning left.  And that is true it's very much about the car and the engine.  It is a team effort I understand that the driver can make tiny little differences out there, be smooth, and nail your shifts and being smooth with the wheel.  The pole at Daytona is very much a team pole." DO YOU THINK IT SENDS A MESSAGE IN THE GARAGE WHEN YOU ARE THE FASTEST ON THE CHART? "I think being fastest on the chart, just being fast in general shows everyone else how dead serious Tony Gibson is with his guys and how he wants poles, he wants to give me the fastest car possible.  He is doing absolutely everything he can and is putting so much hard work into it.  I think that just shows his confidence in everyone including myself about what we can do." AFTER THE WRECK YESTERDAY DURING PRACTICE DID YOU GUYS HAVE A STRATEGY BEYOND SUNDAY AS FAR AS WHAT YOU WANT TO DO AS FAR AS LEARNING WHAT YOU NEED TO DO IN THE DRAFT WITH THE NEW CAR? "Tonight will be very telling in the Sprint Unlimited race there is no doubt.  I saw Juan (Pablo Montoya) as I was walking back from my bus last night.  I asked him how it was and he was talking about how it felt.  He said there are five cars out there he said it is going to be completely different when we get 20 of us out together.  I have a feeling that it's going to be what shows what you are going to see next weekend tonight.  I'm curious just like everyone else is.  I want to know how it feels and I will be listening on the radio and I will be paying very close attention to where the runs come, what the car feels like and the trouble zones.  You've got to get through all 500 miles to get to the end.  As I found out last year it's not a lot of fun to fall out of the race after a few miles." HOW ENCOURAGING IS IT AS A DRIVER FOR YOUR FIRST FULL SEASON IN CUP TO COME RIGHT OUT OF THE BOX AND BE FAST WITH THIS NEW CAR? "It feels good, it does.  There is a lot of year left and we are going to have a lot of challenging weekends.  I have no doubt about it.  But, we need to enjoy the good ones.  So far this has been a good one.  There is no better place to have a good race than the very first one of the year.  It sets the tone and gives the guys confidence and after we go away a good memory, which is nice to have too.  So far so good for us, however, all the stuff that counts is what's next.  Hopefully, that keeps going in the way that it has already." HOW ABOUT THE VALUE OF GETTING LOCKED IN AND THEN HAVING ALL WEEK TO CONCENTRATE ON RACE PREPARATION? "With the new qualifying scenario I think it would be really nice for all of us to know we were in the race for Sunday.  Obviously, there is not, there are only a couple of cars extra, but it's still a nice thing.  It's nice to know as a team, but it's also nice to know for your partners like GoDaddy and all the other people that are involved in the car.  That is who really pays for you to be out there on the track and have their name.  Being on the front row would lock in a front row.  Being in the top-six would lock in a start which both of those would be very good."
Original Story:
http://startnparkblog.com/?p=20719&ut...
THE BACKYARD
BEST OF MAXIM
RELATED ARTICLES
Danica Patrick pole position at the Daytona 500, sounds great to her fans doesn't it. This is historic so I'll say it again- Danica Patrick pole position. She became the first woman to secure the top spot for any Sprint Cup race, let alone the season-opening Daytona 500. So she'll lead the field at the "The Great American Race" and NASCAR season opener. Yesterday, Patrick...
Daytona Beach, Fla., is steeped in motorsports history. Known as "the birthplace of speed," land speed records have been set on its white sand...
It's been a perfect storm for the NASCAR Sprint Cup Series since they've arrived at the Daytona International Speedway this past week. The buzz around this season was big with a new sexy looking car as fans have been raving to see it. Then came the first two practice sessions of the season Saturday. In practice session No. 1, Danica Patrick was on top of the leaderboard for most...
Photo Credit: Credit: Chris Graythen/Getty Images By: Katie Copple – Follow on Twitter @Katie_Copple History has been made and NASCAR has been brought into the national limelight as Danica Patrick clinches the Pole position for the 55th running of the Daytona 500. As Daytona Speedweeks kicked off with NASCAR Media Day on Valentine's Day, it was no secret that Danica was going...
Danica Patrick made history today, taking the top spot for next Sunday's Daytona 500. Patrick put down a best speed of 196.434 mph (45.817 seconds). She'll lead the field to the green flag with Jeff Gordon, who turned a fast lap of 196.292 (45.850 seconds). Danica became the first woman to qualify for the pole in Sprint Cup history, and the first Cup rookie to sit atop the...
Danica Patrick is just a natural at Daytona International Speedway...
photo credit:  getty images DAYTONA BEACH, Fla. (Feb. 17, 2013) – Danica Patrick made NASCAR history today during Coors Light Pole qualifying for the Daytona 500, becoming the first female driver to win a pole at NASCAR's top level – the NASCAR Sprint Cup Series.   During qualifying for the sport's marquee event, Patrick turned a lap of 196.434 mph (45.817 seconds), giving...
Donovan McNabb clearly is not a big NASCAR enthusiast. Much like football, auto racing is not for everyone. On Sunday, Danica Patrick became the first female driver to ever win the pole in a Sprint Cup Series race. The fact that she accomplished the feat at the Daytona 500 makes it even more noteworthy. By topping 196 mph in one of her qualifying laps, Patrick earned the right to...
This is your daily link roundup of our favorite sports posts on the web for Feb. 18. • Danica Patrick won the pole for the Daytona 500. Maybe now...
Photo Credit: Credit: Chris Graythen/Getty Images By: Toby Christie – Follow on Twitter @Tobalical That just happened. Sunday afternoon in Coors Light qualifying for the pole for the Daytona 500, Danica Patrick bested 44 other drivers to take the of the Great American Race. In doing so Patrick becomes the first female driver to ever capture a pole in the NASCAR Sprint Cup Series...
• Snowball fight at Dayton (O.) baseball game • Mark Martin: Danica "sitting on the pole" • Video: Screamin' A. Smith on SNL • Ric Flair needs protection from crazy wife • A 64-player NBA one-on-one tourney bracket • Jenna Dewan in her bed wearing THIS! • Um, Sara Jean Underwood cleav-bomb • Kate Upton grabbing a boob Harlem Shake At A Denny's Video of the...
All Sports News

Delivered to your inbox

You'll also receive Yardbarker's daily Top 10, featuring the best sports stories from around the web. Customize your newsletter to get articles on your favorite sports and teams. And the best part? It's free!
THE HOT 10: Who's Trending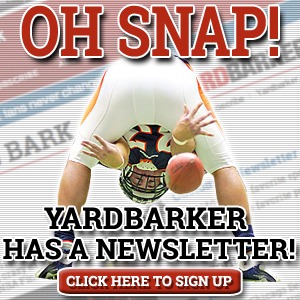 Latest Rumors
Best of Yardbarker

Today's Best Stuff

For Bloggers

Join the Yardbarker Network for more promotion, traffic, and money.

Company Info

Help

What is Yardbarker?

Yardbarker is the largest network of sports blogs and pro athlete blogs on the web. This site is the hub of the Yardbarker Network, where our editors and algorithms curate the best sports content from our network and beyond.