Found February 14, 2013 on Shutdown Line:
PLAYERS:
Cam Ward
,
Dan Ellis
,
Bryan Allen
,
Matt Moulson
,
Mark Streit
,
Brad Boyes
,
Jay Harrison
,
Jamie McBain
,
Tim Wallace
,
Frans Nielsen
,
Travis Hamonic
,
Josh Bailey
,
Jordan Staal
,
Jussi Jokinen
,
Joni Pitkanen
,
Eric Staal
,
Tim Gleason
,
Justin Faulk
,
Jiri Tlusty
,
Chad LaRose
,
Tim Brent
,
Drayson Bowman
,
Alexander Semin
,
Jim Rutherford
TEAMS:
Carolina Hurricanes
,
Anaheim Ducks
,
New York Islanders
There are a lot of things to like about this year's Hurricanes team. The offense is much better than it was last season, they have more depth and this team is a lot more fun to watch than last year's squad. The defense, however, has had it's share of problems and it's been very evident on the penalty kill. The Hurricanes penalty kill ranks third to last in the NHL, gives up more shots per 60 minutes than any other team in the league and has been partially responsible for at least three of the team's losses this season. There have also been a few games where the Canes PK has surrendered multiple goals, including last Monday's game where the Islanders tagged them for four goals. Even strength play is often what dictates success in the NHL and while the Hurricanes have been good in that department, giving up a goal more than once every five times they are on the penalty kill can easily put a team in a hole. The Hurricanes are somewhat lucky to be in a good position now despite this terrible penalty kill when you think about it. The worst part of it is that their PK woes haven't been due to bad luck, they've been giving so many shots on the PK that they would still be ranked near the bottom of the league even if Cam Ward/Dan Ellis weren't posting a combined .825 save percentage. An easy solution to a bad penalty kill is to stay out of the box, but I honestly think that penalties are unavoidable this season because the refs are calling basically anything borderline, so a better solution is to fix the penalty kill. How should the Hurricanes do that, though? They lost their best penalty killing defenseman in Bryan Allen and didn't replace him, so there isn't much they can do there with the current roster as far as the defense corps goes. They do have some fine defensive forwards and they should be able to help out, but it clearly hasn't been that way so far.  After the jump, we'll take a look at some of the mistakes the Hurricanes penalty killers have been making, who some of the biggest offenders are and what can be done to fix it. The lack of another shutdown defenseman is obviously one of the Hurricanes PK's main problems, but they have also been making a lot of mental mistakes on top of that. Two of the Islanders powerplay goals on Monday night are clear evidence of this, especially Matt Moulson's goal in the second period. Here we see Islanders defenseman Mark Streit prepare to fire a slap shot on net. The Hurricanes appear to be in good shape here with all four players in position to block or disrupt Streit's shot. The only issue here is that they left Matt Moulson standing right next to the net with no one around him, but this won't be much of a problem if Streit's either completely misses the net or is blocked. Streit isn't in great position to deliver a pass to Moulson, so the only way he could score from this position is on a rebound opportunity. The gamble did not end up hurting the Canes, as Streit's shot missed the net and Brad Boyes went to retrieve the puck behind the net. Jay Harrison then decides to try to knock Boyes off the puck to get a possible clearing opportunity. This still leaves Moulson open at the front of the net, but the Hurricanes now have two players down low and favorable numbers down low, so they should be able to cover him. Harrison eventually loses the puck battle and Jamie McBain decides to vacate his position in front of the net to help out his defense partner. The Islanders now have even numbers down low with Tavares coming to help out Boyes but the Hurricanes are still in good shape here with two more players covering the slot. Or at least you would think that, but the problem is that they are all watching the puck and paying no attention to Moulson who is still standing right next to the net unguarded. Now this becomes a problem. McBain eventually lost the puck battle and fell down in the process. Harrison is way to out of position to do anything and Boyes now has the puck with Moulson wide open standing right next to an open part of the net. Tim Wallace gets caught watching the puck and is now too far away to do cover Moulson, who he probably should have been covering after Harrison lost the puck battle along the boards. The only hope the Hurricanes have here is for Jokinen to make an aggressive play against Boyes to possibly disrupt him or hope that either he or Moulson makes a mistake on the play they are about to set up. Wallace tries to make up for this by trying to block the pass but it's too late and Moulson connects on a one-timer from Boyes. This is a classic case of players getting mesmerized by the puck and leaving guys open in the process. The Hurricanes also failed to recognize who is on the ice here, too because scoring is the only thing Moulson is good at, and they wouldn't have left him standing wide open in front of the net if they knew that.  Harrison and McBain are sort of at fault here for chasing the puck and vacating the front of the net, but it was an aggressive gamble on their part and it ended up not paying off. Wallace is also sort of to blame for not doing anything about Moulson. It was just an ugly play all around, though and a big mental mistake by the four Hurricanes players on the ice. A similar thing happened on Frans Nielsen's goal in the first period of the same game. Here we see Frans Nielsen try to send a pass to the winger on his right, but it fails and this ends up being what looks like a harmless dump-in by the Islanders. The Hurricanes, again, start this play out in good position with two defensemen behind the blue line and two forwards covering their respective forwards. There is also an Islanders player coming down the left wing, but he doesn't appear to be a threat right now. Islander defenseman Travis Hamonic tries to help out by pinching in and sending Nielsen's dump-in around the boards to Josh Bailey, who eventually makes his way to that area. Again, the Hurricanes aren't in bad position here with for forwards down low, Faulk covering baily, Gleason on Hamonic, Dwyer covering Nielsen and Brent in the slot. Faulk makes an aggressive play here by trying to intercept the pass by he is too late as Josh Bailey already has the puck. Gleason also makes an aggressive play on Hamonic's pass and now finds himself behind the goal-line, which leaves Brent alone to cover the slot. Brent is still in okay position but you can tell here that he is inching closer towards Bailey, which would then leave the slot wide open unless Dwyer covers that area. Brent decides to challenge Bailey's pass, which leaves the slot wide open and Frans Nielsen takes advantage of this by cutting right to the front of the net. Dwyer tries to get his stick on the pass but he's far too out of position to do anything and the only hope Gleason has to make a play here is to block the shot. Gleason doesn't make it over in time, as Nielsen already fired a shot on net and it ended up beating Ward's right pad to give the Islanders an early 1-0 lead. Again, this is what happens when too many players end up watching the puck and forgetting who is on the ice. Gleason initially went to chase the puck behind the net and found himself out of position while Brent also vacated the slot in an attempt to disrupt Bailey's pass. Neither gamble paid off for the Hurricanes and they ended up giving up another powerplay goal. Most of the mistakes coming from the Hurricanes penalty kill are due to bad judgment or mental lapses, so they are correctable with a little time in practice, but even after that it's going to be awhile before it gets out of its current sad state. Like I just said, it should get better with some pratice, but a few player personnel changes would not hurt either, as there have been quite a few players who have been getting torched on the PK in terms of giving up scoring chances and goals. Player PK TOI PK SCA PK SCA/2 min PK GA GA/2 min Tim Wallace 3.913 1 0.51 1 0.51 Alex Semin 3.153 1 0.63 1 0.63 Jordan Staal 30.56 14 0.92 4 0.26 Jussi Jokinen 20.87 10 0.96 2 0.19 Jamie McBain 9.77 5 1.02 4 0.82 Hurricanes 77.5 41 1.06 15 0.39 Joni Pitkanen 27.12 15 1.11 6 0.44 Patrick Dwyer 27.86 17 1.22 5 0.36 Eric Staal 11.28 7 1.24 1 0.18 Tim Gleason 43.78 29 1.32 7 0.32 Jay Harrison 30.01 21 1.40 4 0.27 Justin Faulk 39.81 28 1.41 6 0.30 Jiri Tlusty 14.65 11 1.50 6 0.82 Chad LaRose 3.5 3 1.71 0 0.00 Tim Brent 16.66 15 1.80 6 0.72 Drayson Bowman 12.813 12 1.87 2 0.31 PK SCA = Penalty kill scoring chances against, GA = Goals allowed As far as forwards go, the best regular penalty killers have been Jussi Jokinen and Jordan Staal. The latter has been on-ice for four powerplay goals against, but he is the team's best penalty killer when it comes to preventing scoring chances against. those who have been struggling are Tim Brent, Drayson Bowman and Jiri Tlusty. All three of these players are still getting regular time on the PK despite giving up a lot of chances and I can't figure out why. Brent and Bowman have been especially bad in this department. One could make the argument that the Hurricanes don't have any other forwards who can kill penalties to replace these three, but that isn't true. We've already seen Tim Wallace on the penalty kill the last couple of games and while he was guilty of making a mental mistake on the Moulson goal, he has been good so far. Another possible option is Alexander Semin, who has looked good during his short time on the penalty kill and has killed penalties in the past with the Captials. I know that he is more of an offensive player, but his two-way game is severely underrated and he can't possibly be worse than Brent and Bowman, who are giving up nearly two scoring chances for every two minutes they spend on the PK. That's brutal. The Hurricanes do not have such a luxury with their defensemen, so the only hope they have here with the current personnel is for them to play better. Gleason, Faulk and Harrison are all getting beaten up pretty badly on the PK and I'm not sure if Corvo or Sanguinetti will be much of an improvement. Pitkanen and McBain haven't been terrible but they haven't been great either and Pitkanen is going to be out at least a couple games with a lower-body injury. This is why I wouldn't be surprised to see Jim Rutherford make a move for a PK specialist sometime later in the year since that is the team's biggest need at the moment. Again, most of the issues with the penalty kill appear to be mental mistakes and correctable in time, but the Hurricanes are going to need the PK to improve sooner rather than later. I'm sure the team knows how big of an issue it is and will do something to correct it before it's too late.
Original Story:
http://www.shutdownline.com/hurricane...
THE BACKYARD
BEST OF MAXIM
RELATED ARTICLES
Carolina Hurricanes left winger Jussi Jokinen scored a power play goal in the second period of Thursday night's NHL game against the Toronto Maple Leafs, then fell to the ice as his teammates were coming to celebrate with him. It was Jokinen's second goal of the season as the Hurricanes won the game 3-1. Video via NHL.com. H/T Puck Daddy. Visit us at holdoutsports...
RALEIGH, NC --- The Carolina Hurricanes are the hottest team in the Eastern Conference. That isn't an aberration, they are a darn good club. After starting the season 0-2, the Canes are 8-2-1 and are 5-1-1 in their last seven games. The first six games of that stretch came on the road, a grueling 12-day trip that ended up serving the team well. Not only did they pick up nine...
NEWARK, N.J. (AP) -- Jiri Tlusty and the Carolina Hurricanes concluded a grueling six-game road trip with a satisfying win over the Eastern Conference leading New Jersey Devils. Tlusty scored two goals in the third period and Cam Ward made 26 saves as the Hurricanes beat the Devils 4-2 on Tuesday night, snapping New Jersey's five-game winning streak. The Hurricanes had every...
RALEIGH, N.C. (AP) -- Joe Corvo's confidence is growing for the Carolina Hurricanes. Corvo opened the scoring and assisted on the go-ahead goal in Carolina's 3-1 victory over the Toronto Maple Leafs on Thursday. The Hurricanes have won three straight and have gone 8-2-1 since starting the season 0-2. Corvo was a healthy scratch for three consecutive games earlier this...
The Hurricanes managed to put together one of their best defensive efforts of the season last night and they somehow did it with a depleted blue-line corps. They held the Maple Leafs to only seven scoring chances at even strength (six excluding empty net situations) and only 10 chances overall. Part of the reason for their success was having their top-nine be relentless on the forecheck...
Toronto Maple Leafs at Carolina Hurricanes 7 p.m., PNC Arena TV: FS-Carolinas, Leafs TV The Hurricanes finally return home after twelve long days on the road and they come into tonight's game against the Toronto Maple Leafs on a high note, winning four of six games on the road trip. Getting those wins were huge, but the Canes did not come out of this trip unscathed as...
Tonight's 4-2 victory over the Devils was easily the Carolina Hurricanes biggest win of this young season. Not only does it clinch a 4-1-1 record on their road trip, but they were also able to get a win over a team that has been at the top of the Eastern Conference for most of the year. As expected, the win did not come easy as they found themselves down 1-0 in the first period...
The Hurricanes managed to pull out a 4-2 win over the New Jersey Devils last night and they did it on the back of one of their weakest offensive performances of the young season. The Devils held Carolina to only nine scoring chances at even strength and 12 overall, which are season lows for the Hurricanes this season. New Jersey is also only the third team this season to outchance...
Tonight's game against the Toronto Maple Leafs had the makings of being one of those old fashioned, high scoring run-and-gun style contests where the winner would be determined by who had the last shot on net. The Hurricanes, who haven't been good defensively this year, were missing two top-four defensemen in Joni Pitkanen and Tim Gleason while the Leafs have injuries all...
All Sports News

Delivered to your inbox

You'll also receive Yardbarker's daily Top 10, featuring the best sports stories from around the web. Customize your newsletter to get articles on your favorite sports and teams. And the best part? It's free!
THE HOT 10: Who's Trending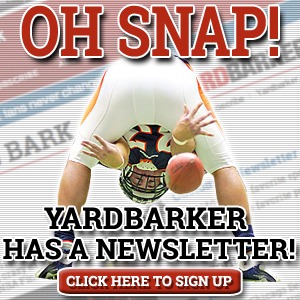 Latest Rumors
Best of Yardbarker

Today's Best Stuff

For Bloggers

Join the Yardbarker Network for more promotion, traffic, and money.

Company Info

Help

What is Yardbarker?

Yardbarker is the largest network of sports blogs and pro athlete blogs on the web. This site is the hub of the Yardbarker Network, where our editors and algorithms curate the best sports content from our network and beyond.