Found November 09, 2012 on Buzz On Broad:
Last night the NHL and NHLPA met for the third consecutive day.  Both Gary Bettman and Donald Fehr barely said anything to the media after yesterday's meeting.  TSN obtained the memo that was sent to all of the players in the NHL after last night's meeting: Today, we met with the NHL off and on over several hours. A number of matters were discussed, including our proposal for a new pension plan, revenue sharing, the players' share and salary cap issues, and the owners' "make whole" concept. Present today were Chris Campoli,Mathieu Darche, Ron Hainsey, Johan Hedberg, Manny Malhotra, andKevin Westgarth (David Backes was present for part of the day), as well as Mathieu Schneider, Joe Reekie, Steve Webb and Rob Zamuner. No new proposals were exchanged on pension issues, but we will discuss this issue again tomorrow (Friday). We did receive a proposal on revenue sharing in response to the proposal we made this week, but this subject still needs considerable work. In addition, we received a revamped proposal covering players' share and cap issues, their so-called "make whole", and player contracting issues. The owners finally did formally give us their "make whole" idea, which in dollar terms is similar to the discussions Bill Daly had with Steve Fehr a few days ago. While a step forward, a significant gap remains. Moreover, at the same time we were told that the owners want an "immediate reset" to 50/50 (which would significantly reduce the salary cap) and that their proposals to restrict crucial individual contracting rights must be agreed to. As you know, these include - among other things - losing a year of salary arbitration eligibility, allowing the team to file for salary arbitration in any year that the player can file, extending UFA eligibility to age 28 or 8 seasons, limiting contracts to 5 years, and permitting only 5% year to year variability in player contracts. Individually each is bad for players; taken together they would significantly reduce a player's bargaining power and give the owner much more leverage over a player for most if not all of his career. In short, the concessions on future salary we have offered (at least $948 Million to $1.25 Billion over five years, depending on HRR growth) are not enough. We are still being told that more salaries must be conceded, and that very valuable player contracting rights must be surrendered. So, while we are meeting again, and while some steps are being taken, there is still a lot of work to be done and bridges to be crossed before an agreement can be made. We will review today's discussions over night and tomorrow morning before meeting again with the owners. Following our meeting tomorrow with the league, we will be able to provide a broader update. As always, please contact us if you have any questions or comments. Best regards.Don  
Original Story:
http://www.buzzonbroad.com/2012/11/do...
THE BACKYARD
BEST OF MAXIM
RELATED ARTICLES
from Kevin Allen of USA TODAY, At best, an unidentified NHL official exercised poor judgment in accusing NHL Players Association executive director Donald Fehr of not fully informing his constituents of the NHL's offer. At worst, owners are embracing a misguided, counter-productive strategy Anyone who believes owners can bring about peace with players by trying to...
NEW YORK -- The NHL put the course of ongoing labor negotiations back in the hands of the players' association, and left union head Donald Fehr with "some things to consider" Friday night. The fourth straight day of negotiations provided few details, and the sides broke up in the early evening without knowing if they would reconvene later Friday, during the weekend...
NBC's Pro Hockey Talk has obtained a copy of NHLPA head Donald Fehr's memo to union members following Thursday's CBA meetings in New York, the third consecutive day the two sides had met. Unfortunately for players and fans, the letter, obtained by PHT from an unnamed NHL player, has a somewhat pessimistic tone and states "there is still a lot of work to be done." However...
from the CP at TSN, With the NHL lockout heading into its ninth week, a new issue has cropped up at the negotiating table. In addition to sorting out the division of revenue and player contracting rules, the NHL and NHL Players' Association must also decide how to deal with the financial implications of playing a shortened schedule once an agreement is reached. ...
NEW YORK -- The NHL and its players' union kept talking Wednesday, a day after they met for more than seven hours in an effort to end the nearly two-month-old hockey lockout. The sides negotiated on a new collective bargaining agreement past 10 p.m. Tuesday and immediately announced they would reconvene. They started up again at an undisclosed location, and were fully prepared...
NHL owners and players are back at the bargaining table for the second straight day. The sides are talking at an undisclosed location, looking for a way to end the nearly two-month-old lockout. The NHL and its players' association met for more than seven hours Tuesday in New York. Wednesday marked the 53rd day of the lockout. The sides are expected to discuss the ''...
from Scott Burnside of ESPN, Oblivion? Redemption?  Neither NHL Commissioner Gary Bettman nor NHLPA executive director Donald Fehr has distinguished himself thus far in terms of charting a course to a successful resolution to the current lockout of the NHL's players.  Strategies on both sides have been at best curious and at worst deeply flawed.  Were it...
At long last, the National Hockey League owners and players seem to be working toward resolving their labor dispute.Both sides have quit spewing fan-alienating rhetoric. Both sides have already proven their resolve and suffered massive economic losses, so perhaps it is finally time to quit posturing and get down to business.The NHL has already reaffirmed its Garage League status...
NEW YORK (AP) -- Negotiations between the NHL and the locked-out players' association ended after nearly six hours Wednesday. Just as they did a night earlier, the sides agreed to get right back to the bargaining table. Representatives for the owners and players will resume talks Thursday, marking the third straight day they will meet face-to-face. NHL deputy commissioner Bill...
NEW YORK (AP) No one on either side of the NHL labor fight stormed out of the room, broke off negotiations, or made inflammatory remarks as they left the building. Quite the contrary, actually. While negotiators for the league and the union declined to say whether significant progress was made on Day 54 of the lockout, owners and players agreed to return to the bargaining table...
All Sports News

Delivered to your inbox

You'll also receive Yardbarker's daily Top 10, featuring the best sports stories from around the web. Customize your newsletter to get articles on your favorite sports and teams. And the best part? It's free!
THE HOT 10: Who's Trending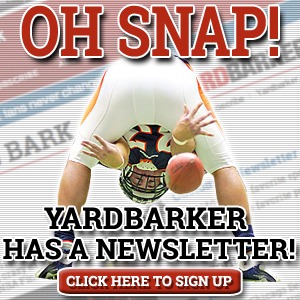 Latest Rumors
Best of Yardbarker

Today's Best Stuff

For Bloggers

Join the Yardbarker Network for more promotion, traffic, and money.

Company Info

Help

What is Yardbarker?

Yardbarker is the largest network of sports blogs and pro athlete blogs on the web. This site is the hub of the Yardbarker Network, where our editors and algorithms curate the best sports content from our network and beyond.