Found February 10, 2013 on Jocks and Stiletto Jill:
The spotlight's glare can be a bit harsh in LA. it takes a different sort of individual to be able to flow and not let it wreak havoc in one's mental. The Lakers soap opera has added another character. Dwight Howard's dad jumped into the fray to chastise Kobe Bryant and head coach Mike D'Antoni on how they've handled Dwight in this recent round of media confessions. "I told him before he said it publicly, 'It's your career. No person can say what you need to do or not do. You can't worry about what Kobe or anybody else says,'" the elder Howard said. "Nobody can say what Kobe said — that's stepping into another man's shoes. I understand what Kobe was trying to do, but he went about it the wrong way. He's trying to win a championship. But Dwight has to tell Kobe, 'I appreciate your opinion, but that doesn't matter. We're two men on this team. We need to be reasonable about this.'" Dwight Sr. said he believed Bryant was trying to motivate his son, but that the advice was misplaced, adding: "The problem is the coach. (D'Antoni) needs to step in and say, 'You guys have got to be quiet. We're trying to secure something here. Dwight is probably looking at the coach, thinking, 'What are you going to do?' I promise, if that had been Stan Van Gundy, that wouldn't have happened. (Howard) wouldn't have been admonished publicly. I think the coach has a lot to do with who controls Kobe's mouth right now." Ummm Dwight Howard Sr., did you miss the Lakers identity over these past 17 seasons? Nobody really controls Kobe's mouth. Maybe Phil Jackson but  Also, I find it interesting that Stan Van Gundy is being brought up because that situation was REALLY ugly at the end. And I distinctly recall Stan making public statements about Dwight. The reflection of it all certainly seems warmer when you're playing with someone who wants you to be accountable. Mike D'Antoni mentioned that there was a "rat" leaking out info to the media but he didn't have an issue with a father defending his son. That's what he's supposed to do after all. D'Antoni said, "We're good," when asked about the state of things between him and the two Lakers' All-Stars, and shrugged off the comments made by Howard's father. "That's cool," D'Antoni said. "He should, he's the father, he should defend his son. But I thought we had that [meeting] in Memphis. Maybe we have to do it again." Thursday morning in Boston after the story broke that Kobe was admonishing Dwight for not playing injured, Kobe immediately said that his statement was taken out of context. So now he's blaming this latest controversy on the media.  "people have been trying to hang on to stuff. He's just got to go do his job, man. Just rebound, defend and we do our jobs and [fulfill] our roles on what we have to do to help us win. It's not rocket science." I think this final statement sums up Dwight's experience in LA thus far. "L.A. has been like humble pie for him," he said. "When you go from being the man in one city (Orlando) to second or third tier, it takes a toll on you mentally." Dwight got exactly what he wanted, just in a different package. Sometimes being "The Man" isn't all it's cracked up to be.
Original Story:
http://jocksandstilettojill.com/2013/...
THE BACKYARD
BEST OF MAXIM
RELATED ARTICLES
MIAMI -- The dust certainly didn't settle after the Lakers eked out a win against the lowly Charlotte Bobcats, not when Dwight Howard's father injected himself into his son's awkward relationship with Kobe Bryant. The elder Howard said his son needed to sit down with Bryant to hash out their differences. He also said Coach Mike D'Antoni wasn't being assertive...
Dwight Howard has some type of inherent flaw. I won't pretend to be an avid NBA fan. When the big games are on, I watch and enjoy. I soak in a player's greatness and watch him flourish. During the playoffs, I make a conscious effort to catch the contests at hand. I don't dislike the [...]The post Dwight Howard's Inherent Flaws Prove Troublesome appeared first on The Sports Fan Journal.
The Lakers pulled it out in Charlotte on Friday night to bounce back from the beatdown that the Celtics gave them – must be something going on that says LA teams had to suffer an embarrassing nationally televised drubbing because that's also what happened to the Clippers in Miami on Friday night. Kobe decided when he got to Miami that he wanted to show you that his skills on...
Kobe Bryant replied to a Twitter user yesterday who used the term 'gay' as a put down. Just letting you know@PacSmoove @pookeo9 that using "your gay" as a way to put someone down ain't ok!... Full story at Bob's Blitz ~ http://www.bobsblitz.com
In Dwight Howard's mind, the support level from his Los Angeles Lakers has been lacking.
In a very interesting take by Lakers beat writer Kevin Ding of the Orange County Register, the problem that continues to plague the Los Angeles Lakers is Dwight Howard.  During [...]
As the Los Angeles Lakers prepare to play the Miami Heat on Sunday, Dwight Howard was asked to respond to comments his father made about his situation with the Lakers. 
Kobe Bryant shrugged off a scoreless first half to finish with 20 points, eight assists and seven rebounds Friday night as the Los Angeles Lakers overcame a 20-point second-half deficit and beat the Charlotte Bobcats, 100-93. The Lakers avoided a costly defeat to the NBA's worst team and pulled within three games of .500. Bryant attempted only two shots in the first half and...
MIAMI A new Kobe Bryant supposedly has emerged in recent weeks for the Los Angeles Lakers. But not for LeBron James. He believes hes the same old Kobe. James, the Miami Heat star, couldn't care less that the Lakers star recently had a run of 39 assists in three games and 56 over five. Hes doesnt buy that Bryant all of a sudden has become a facilitator. Do I buy that? No,...
Photo courtesy of Mike Ehrmann, Getty Images Here's a line you haven't read this season: The Lakers could have won it. Okay fine, we've actually said that before…a lot, because goodness knows the Lakers have come close to winning a lot of games this past season but have always found a way to falter in the end. If we re-watch those 28 losses, I guarantee at least half of them...
  See All Of Katherine Webb's SI Swimsuit Issues Pics At Cosby Sweaters. Sports Greatest Girls' High School Basketball Shot Ever: One-Handed, Full-Court, Bounces Once, Goes In The Hoop (The Big Lead) The 50 Sickest Throwback Jerseys Ever (BroBible) Les Miles Is Struggling To Figure Out This Twitter Thing (Awful Announcing)  Kobe Bryant Scolds Fan On Twitter...
Lakers News

Delivered to your inbox

You'll also receive Yardbarker's daily Top 10, featuring the best sports stories from around the web. Customize your newsletter to get articles on your favorite sports and teams. And the best part? It's free!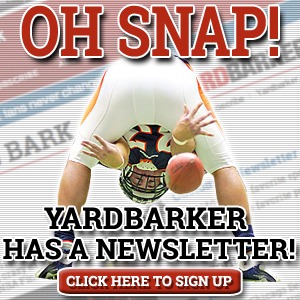 Latest Rumors
Best of Yardbarker

Today's Best Stuff

For Bloggers

Join the Yardbarker Network for more promotion, traffic, and money.

Company Info

Help

What is Yardbarker?

Yardbarker is the largest network of sports blogs and pro athlete blogs on the web. This site is the hub of the Yardbarker Network, where our editors and algorithms curate the best sports content from our network and beyond.