Found April 25, 2013 on Red's Army:
How bad is the situation in Los Angeles for Dwight Howard? Not only are the Lakers down 2-0 to the Spurs, but Howard is getting blasted by the media for the lack of impact he's had in the first two games: Dwight Howard, who could soon sign a $118-million contract to become the Lakers' next Shaquille O'Neal, is not playing like Shaquille O'Neal. There have been times in the last two games, in fact, when he looks more like Jermaine O'Neal. The Lakers took the floor at the AT&T Center on Wednesday exhausted and hurting, their man purses filled with ready excuses. No Kobe Bryant. No Jodie Meeks. Barely Steve Nash. Howard, however, could soon be paid to ensure there are no excuses. He is supposed to be the excuse eliminator, the momentum creator, the giant shoulders upon which his teammates can survive nights like this. Instead, with the Spurs surrounding and poking and prodding him, he crumbled into a giant purple ball upon which his teammates gratefully collapsed. He had five turno...
Original Story:
http://feedproxy.google.com/~r/RedsAr...
THE BACKYARD
BEST OF MAXIM
RELATED ARTICLES
Like many other superstar professional athletes, there are a lot of rumors and gossip that surround the life of Los Angeles Lakers center Dwight Howard. For lack of a better term, Howard appears to have a lot of baby mama drama. Earlier this month, a fan apparently got a rise out of Howard when she brought a sign to a game against the Portland Trailblazers telling him she is willing...
LIKE 'HAHA' FUNNY?
Los Angeles Lakers center Dwight Howard had the following to say on finishing 14th in Defensive Player of the Year voting: "It's funny."
Some fans will do the most to get noticed. One female Laker fan who is obviously an avid blog reader decided to create a sign to get Dwight Howard's attention. When she wasn't sure if he noticed her at the game, she decided to hit him up on Twitter and he responded.   Interesting, Dwight's reply was to show the young lady the error of her attention seeking ways: Hmmmm....
Dwight Howard had an off year in his first season with the Los Angeles Lakers. He was not the same dominant force that we saw during his eight seasons with the Orlando Magic. In particular, Howard was not given as much recognition for his defensive play. Howard battled injuries all season long and did not establish himself as a dominant post presence until late in the season. After...
Ok.  Down 1 versus the Spurs.  No surprises there... howver this time - right here, right now - is a perfect place for Dwight Howard to step up and be the player that he once was, that we all thought he could be. That's not to say he hasn't been the guy that we Lakerfans thought we were getting pretty good, but it's absolutely fair to think that he isn't quite...
Heading in to the playoffs, most observers looked at the big man match up between the San Antonio Spurs and Los Angeles Lakers as advantage Lakers.  Dwight Howard was finally starting to resemble Dwight Howard again and Paul Gasol had been on a tear the last week of the season.  However, Tim Duncan played better than either Laker big in game one and Tiago Splitter played good...
  In tonight's game 3 Lakers-Spurs match-up, Lakers big man Dwight Howard reminded us all of why he was voted defensive player of the year on three separate occasions. How so, one may ask, did Mr. D-12 pose this friendly reminder? Enjoy the clip below to find the answer to said question as Dwight Howard rises up to block a Tim Duncan drive early in the 1st quarter. Note the distance...
  Dwight Howard is the gift that keeps on giving. According to a story courtesy Pro Basketball Talk, Howard, who finished 14th in Defensive Player of the Year voting, said that he found it amusing that Memphis Grizzlies center and brother of his teammate, Marc Gasol, won the award. The news caused Dwight Howard to say "it's funny," but he wasn't offering his signature smile...
A mere seven-something minutes into tonight's Lakers-Spurs matchup, Dwight Howard took it upon himself to connect on a monster dunk over the head of an unexpectant Tim Duncan (after receiving a stellar assist from Steve Blake, of course). Check out this slam in the video below..can you say vintage Dwight Howard??
Los Angeles Lakers center Dwight Howard is a 4-time winner of the Defensive Player of the Year award in the NBA. So perhaps this is just a little salt that he wasn't in contention to win the award again. But when Marc Gasol was named the winner of the award, Dwight's thoughts on it were [...]
ON GUARD?
Steve Blake is out indefinitely and Steve Nash and Jodie Meeks both are doubtful for Game 3 against the San Antonio Spurs on Friday at Staples Center.
When Memphis Grizzlies center Marc Gasol was named Defensive Player of the Year, it was met by some surprise and skepticism from fans and players alike. Lakers center Dwight Howard let it be known that he found it funny and now we find out that the second place winner wasn't happy either. LeBron James is on his [...]
Lakers News

Delivered to your inbox

You'll also receive Yardbarker's daily Top 10, featuring the best sports stories from around the web. Customize your newsletter to get articles on your favorite sports and teams. And the best part? It's free!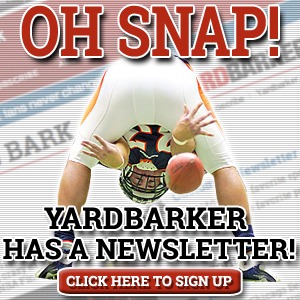 Latest Rumors
Best of Yardbarker

Today's Best Stuff

For Bloggers

Join the Yardbarker Network for more promotion, traffic, and money.

Company Info

Help

What is Yardbarker?

Yardbarker is the largest network of sports blogs and pro athlete blogs on the web. This site is the hub of the Yardbarker Network, where our editors and algorithms curate the best sports content from our network and beyond.