Found March 22, 2012 on Fox Sports:
Football's deeply violent nature is under attack. NFL commissioner Roger Goodell ushered in a New World Order with the unprecedented penalties he levied against Saints coach Sean Payton and defensive coordinator Gregg Williams for their bounty program. I'm not sure you can fix tackle football. Barbaric violence is its oxygen. It's one thing to say that. It's something else to understand it. The sad case of Jamaal Bass might help you fully grasp my point. Bass is the Northern Illinois linebacker who was recently charged with one felony and one misdemeanor count of assault for trampling two University of Toledo band members as the Huskies took the field during the pregame ritual of exiting the locker room and storming the field. Bass leaped in the air, dipped his shoulder and took out one band member. Based on the video I've seen, Bass never looked back. He kept right on trucking to the Husky sideline, satisfied with his bullying of two physically weaker human beings. At least one of the band members suffered a slight concussion. Both were checked out at a hospital. The next day, when Northern Illinois head coach Dave Doeren was made aware of the incident, he suspended Bass for one game. After school officials from NIU and Toledo consulted with each other and with the Mid-American Conference commissioner, Doeren elevated the suspension to three games. Apologies were extended. NIU offered to pay any and all medical expenses. The Huskies won the MAC. Bass returned to play in the bowl game. Everyone assumed the sad affair was deep in the rearview mirror. It wasn't. It isn't. One of the band members and his parent convinced an Ohio prosecutor to pursue assault charges. Last week a grand injury indicted Bass on a felony and a misdemeanor. The charges carry a maximum eight-year sentence. It's an indication of the times we live in. We have a love-hate relationship with athletes. We love the entertainment they provide. We hate the arrogance and sense of entitlement we perceive in them. We're also in an era where victims of bullying are justifiably fighting back. We have been awakened to the psychological damage inflicted by child bullies. The bully is getting bullied. The weird thing is, Bass might not be a bully. As best I could learn this week, Bass is a good kid, a passionate Christian. He did something remarkably stupid in a momentary burst of energy and rage in the buildup to the three hours he was supposed unleash his energy and rage. This column is not intended to excuse Bass. His act of cowardice and stupidity deserved harsh punishment, and I believe he received it. However, he does not deserve a felony -- or even a misdemeanor -- conviction on his resume or to be placed on criminal probation. What happened before the NIU-Toledo game was a tragic accident. A band was exiting the field moving in the direction of a crazed football team taking the field. Because the game was televised, the team was instructed when it was supposed to charge onto the field. I'm shocked more band members weren't trampled. Football takes your mind to a very dark place. In the hours leading up to the game, a good football player will focus his mind on the darkest, most painful things his mind can remember or imagine. If your father beat you, you think of that. If your brother was shot, you imagine your opponent pulling the trigger. If your girlfriend cheated on you, you convince yourself the opposing linebacker was the guy she hooked up with. You remember the movie "Training Day"? Denzel Washington's character shouted: "King Kong ain't got (expletive) on me!" That's the mentality you want when you exit the locker room just before kickoff. If you don't have it, you won't play as well. It's one of the main reasons poor kids from tough backgrounds excel in football. They have an abundance of emotional pain to tap into. You spend your childhood missing meals, getting teased for not having the cool clothes and wondering why your daddy left, it gives you a deep well of bitterness to unleash on football Saturdays and Sundays. You've seen Ray Lewis' pregame dance? Ray-Ray was once on trial for murder. That will get you through a 16-year NFL career. Some guys are filled with enough pain that they tap into their well all week during practice. They're called "high motor" players. They can't turn it off. I had a low motor. Worst thing about my childhood was I never made out with Janice Toth and I rarely had enough cash to buy an extra slice of pizza at lunch. As long as football allows tackling and blocking, you're never going to stop the best football players from tapping into their darkest real or imagined memories. You can stop the bounties, you can unfairly criminalize a good kid for unveiling his rage two minutes early, but you can't stop the barbaric violence. The game dies without it.
Original Story:
http://msn.foxsports.com/nfl/story/NF...
THE BACKYARD
BEST OF MAXIM
RELATED ARTICLES
I think I left my position as vice president of officiating in the NFL too early. Why? Because I used to love to see commissioner Roger Goodell when he was angry, I mean really pissed off! I liked it better when others made him mad, but God knows I made him angry more than once. He would hold me accountable if there was an officiating mistake that happened on the field -- especially...
With the University of Toledo marching band exiting the field, Northern Illinois University's team was trying to take the field. The result of that many people all trying to occupy the same space was disastrous for one young band member, and could mean prison time for NIU freshman Jamaal Bass. Bass, a linebacker on the Northern Illinois' football team, is facing felonious...
The New Orleans Saints paid for their foolish bounty program in unprecedented fashion!If players, GM's and coaches across the NFL thought that commissioner Roger Goodell was playing around when he said that he was going to protect his league's players from undue harm – they may want to think again after seeing Goodell lay down the hammer on the suddenly-dysfunctional New Orleans...
Following the New Orleans Saints win in Super Bowl XLIV, NFL Commisioner Roger Goodell handed the Lombardi Trophy off to a clearly victorious Sean Payton. On Wednesday, Goodell handed down a very different fate to the Saints' head man. Payton and the Saints, who were recently accused of placing bounties on opposing teams players, were finally dealt their penalty for the alleged...
NFL Commissioner Roger Goodell finally made his ruling on the Saints Bounty Scandal, handing out a severe punishment. New Orleans Head Coach Sean Payton will be suspended for the entire 2012 season. Goodell also suspended General Manager Mickey Loomis for eight games and former defensive coordinator Gregg Williams indefinitely. The Saints will be fined 500,000 dollars and will...
Updating a 2011 throwback college football season story, Toledo band geeks are still weak. On the far right of the screen when the trucking occurs, you will witness just another band geek getting pushed around by a jock, freshman linebacker Jamaal Bass, as he finishes up warm-ups for the huge MACtion game. Well, those three years he has remaining with Northern Illinois are in...
SCOTT JACOBS The wait is over! And for the Saints, the punishment fits the crime. After a bounty scandal investigation uncovered lying and cheating over a 3 year period in New Orleans, Roger Goodell hit the Saints hard today for going against everything he wants the league to be. Citing safety as his chief concern, with the simple goal of extinguishing bounty programs not just...
The NFL finally handed down its punishment for the Saints bounty program today, and it's about as severe as you'd expect from a commissioner trying to clean up the league's violent image.  Head coach Sean Payton has been suspended for one year without pay, and former defensive coordinator Gregg Williams (now with the Rams) has been suspended indefinitely for their part in...
When word first broke of the Saints bounty program several weeks ago, many around the league felt that commissioner Roger Goodell would likely come down hard on those involved, potentially suspending head coach Sean Payton, general manager Mickey Loomis, and former defensive coordinator Gregg Williams for a significant amount of games. As it turns out, that projection was understated...
(AP) -- New Orleans Saints head coach Sean Payton was suspended without pay for the 2012 season by NFL Commissioner Roger Goodell, and former Saints defensive coordinator Gregg Williams was banned indefinitely on Wednesday because of the team's bounty program that targeted opposing players. Handing down sweeping and serious punishment for a system that paid out thousands of...
NFL Commissioner Roger Goodell came down hard on the New Orleans Saints bounty scandal. Earlier this month, it was revealed the Saints defense paid bonuses to players for deliberately knocking opposing players, violating league rules, salary cap and endangering others well being. Master mind and former Saints defensive coordinator Gregg Williams was suspended indefinitely and head...
All Sports News

Delivered to your inbox

You'll also receive Yardbarker's daily Top 10, featuring the best sports stories from around the web. Customize your newsletter to get articles on your favorite sports and teams. And the best part? It's free!
THE HOT 10: Who's Trending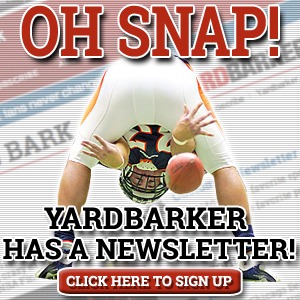 Latest Rumors
The Backyard

Today's Best Stuff

For Bloggers

Join the Yardbarker Network for more promotion, traffic, and money.

Company Info

Help

What is Yardbarker?

Yardbarker is the largest network of sports blogs and pro athlete blogs on the web. This site is the hub of the Yardbarker Network, where our editors and algorithms curate the best sports content from our network and beyond.