With guys like Russell Wilson, Colin Kaepernick, and Robert Griffin III, it's easy to see why you would want a mobile quarterback. As I think through some of the possible options for Chip Kelly's next quarterback, several names come to mind. Let's take a look at Chip Kelly's options. Nick Foles This seems to be the most realistic choice in my mind for several reasons. In limited action in his rookie season, Foles definitely showed a lot of promise. Nothing he did really blew you away, but you have to look at the situation he was thrown into. Four out of the five offensive lineman, and DeSean Jackson were lost to injury, and the team as a whole was just a complete and utter mess when he was handed the keys. At 6'5″, 245lbs, Foles has the size and a skill set that the Eagles haven't seen on a consistent basis since the days of Ron Jaworski. He is a true, prototypical pocket passer, and he can make all the big NFL throws. What's good about Foles is that he already has a year under his belt with the skill position players, and Chip Kelly has already expressed that he likes Foles after getting gashed by the Napolean Dynamite stunt double while at Oregon. Nick Foles is also extremely smart, which you have to be running an up-tempo offense. You need to be able to read a defense in about 3 seconds, and also call plays and protections on the fly from the line of scrimmage. Not all quarterbacks can do that well, as evidenced by Michael Vick. The obvious downside of Foles is his lack of mobility, which would seriously limit some of the things Chip Kelly does offensively. Personally, with the talent and speed we have on offense, I'd rather have the ball in their hands than Nick Foles' anyway. I'm sure Chip Kelly would agree. During Kelly's tenure at Oregon, his QB's averaged just 8 carries per game which is far less than people make it out to be. What made Kelly's offense so dangerous wasn't a running quarterback, it was the tempo at which they ran plays. Tom Brady, who is basically a statue in the pocket, has already shown that you don't need to have breakaway speed to run a hurry-up style offense. Chip Kelly has already said he doesn't need a mobile quarterback. What's more important to him is a quarterback who can make plays with his arm. Foles can do that. Michael Vick I don't buy the fact that Michael Vick is over the hill. I just don't. I think it's the popular thing to say, especially given his age, and especially if you already hate Michael Vick, but folks, listen, at the age of 32 (33 at the start of the season), Michael Vick is still plenty fast to play in a Chip Kelly offense. His arm is still plenty strong. Personally I think Michael Vick got a bad rap last year. Sure he held onto the ball at times, and made some terrible decisions, but lets face it–the Eagles had the absolute worst offensive line in football last year. I've been watching football for a long time, and I can't remember seeing a guy get destroyed over and over again like Vick did last year. I felt bad for the guy at times, but you know what, the dude is a warrior. He kept getting back up. To compound that problem, Andy and Marty did absolutely nothing to help protect him with the play calling. They called the same stupid **** over and over again, knowing damn well defenses were going to blitz him. Where was the max-protect? It's impossible to function as a quarterback under those circumstances, and Michael Vick showed us already in 2010 he's fully capable of making plays from the pocket when he has protection. If Kelly wants to bring the "full" Oregon experience with him, then he should seriously consider Michael Vick. Of course, the decision is not all his due to Vick's contract status. If Vick agrees to restructure his deal, it would make the decision easier. I can't think of one team that would want Michael Vick as a starter next season. Not one. Can you? If I'm Michael Vick, I'm restructuring my contract and staying with the Eagles. Dennis Dixon Naturally, a lot of people are talking about Dennis Dixon since he played for Chip Kelly at Oregon, and honestly, the move to bring him in would make a lot of sense. At Oregon under Chip Kelly, he was an absolute stud. Drafted in the 5th round in the 08′ draft by the Steelers, Dixon is now a practice squad QB for the Ravens and has done very little in the NFL. However, Dixon already knows Kelly's offense, and is mobile with a huge arm. The trouble is, he hasn't played the position against NFL talent in a long time. But, if the Eagles wanted to bring him in, they could probably do so on the cheap, and if nothing else, it'd be a good idea to bring him in as training camp fodder, just to see what he has in the tank. Vince Young Vince Young will have no room for error against Tom Brady and the Patriots Not many people are talking about this, but Vince Young would actually make a decent fit if Kelly planned to go with a mobile QB. Young who has been unemployed since the Bills released him early this season was absolutely terrible with the Eagles in limited action, and is more famous for his "dream team" comment than his play on the field. I can't see the Eagles resigning him, but, if Vick doesn't agree to restructure his contract, they could probably sign Young to a 1 year contract on the cheap just to see what happens. Geno Smith This guy could be something special. At 6'3″ 215lbs, Smith is an amazing athlete. He's also a very good quarterback. In 2012 at West Virginia, Smith threw for over 4200 yards, 42 TD's, with only 6 INT's. He also had a 71% completion percentage and rarely made mistakes with the ball. He knows when to slide and/or get rid of it. Although some view Smith as a "running" QB, he is actually nothing of the sort. In 2012, he only had 66 rushing attempts for 151 yards and 2 TD's. The problem is, Geno Smith isn't going to be available at the 4th pick because Andy Reid is going to draft him with the 1st pick. So…. If I had to pick, I'd try first to work with Nick Foles, and grab a guy off the street or in the draft who can run a little bit. As creative as Chip Kelly is, it wouldn't surprise me one bit to see him use a two-quarterback system though. Who would you like to see as the Eagles next quarterback?
Original Story:
http://feedproxy.google.com/~r/thebro...
MORE FROM YARDBARKER
All Sports News

Delivered to your inbox

You'll also receive Yardbarker's daily Top 10, featuring the best sports stories from around the web. Customize your newsletter to get articles on your favorite sports and teams. And the best part? It's free!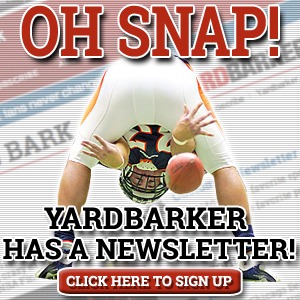 Latest Rumors
Best of Yardbarker

Today's Best Stuff

For Bloggers

Join the Yardbarker Network for more promotion, traffic, and money.

Company Info

Help

What is Yardbarker?

Yardbarker is the largest network of sports blogs and pro athlete blogs on the web. This site is the hub of the Yardbarker Network, where our editors and algorithms curate the best sports content from our network and beyond.