Found June 10, 2013 on Start 'N' Park Blog:
PLAYERS:
Greg Biffle
,
Joey Logano
,
Trevor Bayne
,
Marcos Ambrose
,
Brad Keselowski
,
Carl Edwards
,
Aric Almirola
,
David Gilliland
,
Ricky Stenhouse
,
Josh Wise
,
Timmy Hill
,
David Ragan
,
Michael McDowell
,
Scott Riggs
,
Ricky Stenhouse Jr.
GREG BIFFLE – No. 16 3M Ford Fusion ON HIS RACE: "It was a pretty good day for us. We just kept fighting and getting better and better track position. This car likes clean air. We've really struggled this season, but once we got some track position we were pretty good. The 48 was definitely in a league of his own today. I was just hoping I could get up to his rear bumper or something would happen and I could get close enough to race with him, but we just needed a few more adjustments. We probably need to work on our car a little bit better. We need a couple more weeks before we're gonna run like that." THE LAST RESTART YOU MADE A BIG MOVE. "Yeah, I made a mistake the restart before. I couldn't see. That was the first time I started on the inside and I was a little slow on the gas, but I was ready for it on the outside and once I shoved the 48 and got him going, I was hoping he would do what he did the last restart when he went to the bottom to block the 88 and I could have pulled up beside him, I think, but I shoved him too good. I gave him too good of a push to get out front." YOU WERE HAPPY ABOUT THAT CAUTION. "Yeah, we were really good on the top and really good on restarts for some reason, so I was really excited because it gave me another chance. I knew I was gonna start behind the 48. The only thing I could do was give him a little shove or tap and wiggle him and try and get going. That's the only way somebody was gonna beat him today and I was willing to try anything I could, but I just didn't get close enough." JOEY LOGANO – No. 22 Shell/Pennzoil Ford Fusion ON HIS RACE: "It was frustrating. I really wish we had qualified because you think 400 miles would be enough time to get up there and it really wasn't. It was just so hard to pass today. I felt like we had probably a seventh or eighth-place car and we about got to where we needed to be. We were up there at one point and then we'd get a bad restart or something happens in front of you and you lose them back and you try to get them back again. I think what you saw were the restarts being so chaotic because it's so hard to pass after four or five laps into a run. Everyone was gonna make everything the could in one or two laps, which makes it entertaining. It's entertaining for all of us out there, but you've just got to make it happen in two laps. After that, you've got to try to out-strategize them as far as pit strategy and try keeping that clean air on your nose. I feel like we were better than we finished with the Shell/Pennzoil Ford, but, overall, a top-10 isn't the end of the world but it's not what we wanted." DID ALL OF THE CAUTIONS AT THE END HURT YOU? "No, I think we were 14th and then we got up to maybe eighth and then we lost a couple and went back to 11th and then back to 10th. If you started on the inside, you'd usually lose a spot or two and then if you're on the outside it was the other way. The thing is that every driver out there gets so frustrated, myself included, because it takes a whole fuel run to pass a car, and then when you have the opportunity to pass a car now, it's gonna be crazy. That's what happens because we're all so frustrated out there that we want to make everything happen, so you're gonna see wrecks and see people pushing the envelope a little more than what they typically would on a normal restart at any other track." YOU WERE BEHIND BOTH SPINS WITH THE 2 AND 14 AND THE 20 AND 42. "Yeah, I did good missing the 20 and the 42, and then the 2 and 14 got loose in front of me and I checked up and I lost like four spots because they both saved it. It was a heck of a save by Brad, though. I had an in-car camera, so it was probably pretty cool to watch, but, unfortunately, we lost a few spots on that one." KYLE PETTY SAID ON TV AT ONE POINT THAT YOU GUYS WERE 43 WIDE. DID IT FEEL LIKE THAT AT TIMES? "I think what you see is the draft in these new Gen-6 cars is huge and the hole it puts in the air is huge, so you get this big run and then you get two-wide with a guy and you stall out. Then the third-place car gets a bigger run and he's gonna go three-wide, so you keep stacking and then you go into the tunnel turn, where you can barely go two-wide – you really can't go two-wide, but we all try our guts out. We're not usually gonna fit, so it's a huge funnel, in effect, into the corner and someone has to give eventually. If not, you see the wreck." AT DOVER LAST WEEK YOU SAID YOU WANTED TO GET FORD'S 200TH NATIONWIDE WIN, BUT IT DIDN'T WORK OUT THIS WEEKEND AT IOWA DUE TO WEATHER. "Yeah, we put the effort into it, but I didn't get to race. Flying back and forth is always difficult. I've done that a couple times going to Kentucky, but it's a two-hour flight to Iowa, so you get back here around 1:30 in the morning every night. It was difficult and you don't even get to race, so that was the bummer part of it. It's funny because we were sitting there in the rain last night and Ryan Blaney was our back-up driver, just in case. He's a good kid and doesn't talk much. He's kind of a quiet kid and all of a sudden it started raining and he's happy and talking and joking around. I was like, 'What the heck?' So it was funny. He's hilarious and we had a good time up there joking around." THE BAD NEWS IS YOU WON'T HAVE A CHANCE AT 200 NATIONWIDE WINS BECAUSE TREVOR BAYNE WON TODAY WHILE YOU WERE ON THE TRACK HERE AT POCONO. "Did he really? Good for him, but that sucks for me (laughing). I wanted that, so that's a bummer." FORD IS AT 999 ALL-TIME NASCAR WINS, SO YOU CAN GO FOR 1,000 NEXT WEEK AT MICHIGAN. "That's what we'll go for then. I can't wait." MARCOS AMBROSE – No. 9 DeWalt Ford Fusion ON HIS RACE: "That's probably what we deserved. We had a 17th-place car and we finished 17th with it, so we'll take it. We fought all day and rallied hard. We couldn't quite get track position there at the end on those restarts, and then I got checked there on that last restart and we lost a few spots."   Ford Finishing Order: 2nd – Greg Biffle 10th – Joey Logano 16th – Brad Keselowski 17th – Marcos Ambrose 18th – Carl Edwards 21st – Aric Almirola 22nd – Casey Mears 24th – David Gilliland 26th – Ricky Stenhouse Jr. 34th – Josh Wise 35th – Timmy Hill 37th – David Ragan 40th – Michael McDowell 41st – Scott Riggs  -Ford Racing PR
Original Story:
http://startnparkblog.com/?p=27766&ut...
THE BACKYARD
BEST OF MAXIM
RELATED ARTICLES
No, Greg Biffle will not drive for Richard Childress Racing next season. Biffle, 43, began his NASCAR career in the Truck Series with Jack Roush in 1998 and remains under contract through 2014. When the driver of the No. 16 3M Ford read the rumors on Twitter, he was equally surprised. "I'm hit or miss with Twitter, right," Biffle said. "I follow it quite a bit...
NASCAR took a trip to Pocono Raceway to run 160 laps around the Tricky Triangle this past weekend for the Party in the Poconos 400. Jimmie Johnson dominated the race cruising to his third victory of the season. Below is our take on winners and losers from the 2.5 mile track [...]
THE MODERATOR: We're joined by our third-place finisher Dale Earnhardt Jr., driver of the No. 88 National Guard Chevrolet, fighting for the win there at the end on that last restart. Take us through what happened there, Dale. DALE EARNHARDT JR.: We knew we had a good car. The last restarts were kind of tough. Being on the inside on the front row, really ain't the catbird seat...
There's a reason Jimmie Johnson has won five NASCAR Sprint Cup championships and leads the points battle again this year: He, crew chief Chad Knaus and the rest of the No. 48 Hendrick Motorsports team are simply better than everyone else right now. Johnson won Sunday's Party in the Poconos 400 presented by Walmart at Pocono Raceway, utterly drubbing the field by leading...
Jimmie Johnson came back with a vengeance at Pocono Raceway on Sunday. After losing the lead -- and the race last weekend at Dover Downs when he was penalized for jumping the restart -- Johnson received a gift at Pocono when qualifying was rained out on Friday. As the Sprint Cup Series point leader, Johnson started from the pole on Sunday and was able to select the first pit stall...
All Sports News

Delivered to your inbox

You'll also receive Yardbarker's daily Top 10, featuring the best sports stories from around the web. Customize your newsletter to get articles on your favorite sports and teams. And the best part? It's free!
THE HOT 10: Who's Trending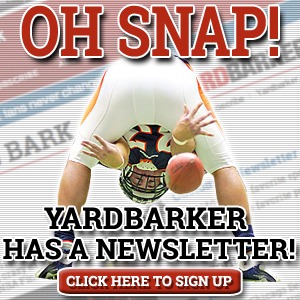 Latest Rumors
The Backyard

Today's Best Stuff

For Bloggers

Join the Yardbarker Network for more promotion, traffic, and money.

Company Info

Help

What is Yardbarker?

Yardbarker is the largest network of sports blogs and pro athlete blogs on the web. This site is the hub of the Yardbarker Network, where our editors and algorithms curate the best sports content from our network and beyond.