Found June 11, 2012 on Start 'N' Park Blog:
Here's a recap of how the Ford Racing drivers faired in the Pocono 400 by #NASCAR from Pocono as well as some quotes from the drivers. Drivers quoted are Greg Biffle, Matt Kenseth, Carl Edwards, Marcos Ambrose, and Reed Sorenson. Also quoted is Roush Fenway Racing owner Jack Roush.
GREG BIFFLE – No. 16 3M Ford Fusion – "It's unfortunate.  We've been on the edge with these engines all year and it's just such a fine line with oil temperature, and you come here shifting and it just didn't make it.  It's unfortunate.  It's a good thing we just lost a cylinder and could make it to the finish."
THOUGHTS ON LOSING THE POINTS LEAD.  "It's unfortunate we fell back that far, but the points are so tight we knew that if we had an issue we were gonna drop a lot – if we got in a wreck or had an engine problem or a mechanical issue or flat tire.  You're vulnerable when you're only one point or 10 points ahead, but that's racing.  As long as it doesn't happen in the Chase I'm happy."
HOW WAS THE TRACK?  "I thought the racing was pretty good.   It's still gonna be hard to pass.  My car was so-so when I was by myself.  When I was around traffic I wasn't that good, but I think it'll be a good race track as we get more and more races on it."
MATT KENSETH – No. 17 Ford EcoBoost Fusion – "It was up-and-down.  It's probably the best we've ever performed at Pocono.  That was the positive part because we went up there and led some laps under green and thought we were pretty competitive, and then at the end we had to restart fourth after that pit sequence.  I slid a little long in my stall and I guess that must have goofed them up and I came out of the pits fourth.  And then on that second-to-last restart somebody got outside of me three-wide and we got down in turn one and we just had to stop and by the time they all got by me I couldn't catch back up."
HOW WAS THE TRACK?  "The track is awesome.  There's not a great outside groove yet, but that's to be expected.  I think the track was a lot better than anybody expected or hoped for.  I thought it was great."
ANY ISSUES WITH SPEEDING?  "No, we stayed out that first run to lead a lap and get our bonus point and they told me there were a whole bunch of people busted, so I just made sure I was a few hundred over and was just careful."
THOUGHTS ON TAKING THE POINTS LEAD.  "It's better than being second, but I'm just kind of disappointed right now because I thought we had a shot to win under the right circumstances.  Us and the 88 were pretty strong when we were out front and it just didn't happen.  I couldn't go on restarts.  I thought I was getting a good roll at them, but they would just kind of drive by me.  That's frustrating.  We'll keep working on it, but I'm happy we got a decent finish and took over the point lead.
CARL EDWARDS – No. 99 Kellogg's/Cheez-It Ford Fusion – "I just didn't do a very good job on the restarts.  I had a little bit of damage and I think that hurt us a little bit, but I was really frustrated out there.  I'll let the guys at NASCAR explain it to me, but I truly right now don't know a better way to do it other than to wait.  I backed up as far as I could and when they threw the green the guys were all waiting 100 yards behind me, so I didn't think I was supposed to have to go behind the guys who were purposely letting the faster guys go."
WHAT ABOUT YOUR RESULT?  "We should have had a little bit better result if I'd have done a little better job on the restarts, but that's still pretty good.  That first lap, I'm not sure who hit me.  I think Denny hit me and I thought, 'Man, this is just perfect,' and we ended up saving it, so that was pretty cool."
THOUGHTS ON THE TRACK?  "I don't know.  It feels like the same Pocono it's just faster.  You can't move around quite as much, which I like moving around more, but I think it's gonna age.  It's got a couple of bumps and I think as we come back here year after year it'll be better."
DID YOU HAVE ANY SPEEDING ISSUES?  "I've had enough issues, so I just backed her way down.  I was not gonna push it."
MARCOS AMBROSE – No. 9 DeWalt Ford Fusion – "We just got off sequence a little bit and had some bad luck, but that's the way it goes.  We had a strong day going, but we made a couple of bad choices and paid the price.  I ran guys pretty hard too, which is unfortunate, because I was trying to make so many positions back and it just didn't go our way."  HOW WAS THE TRACK?  "I thought it raced pretty good.  It's going to get better as time goes on, but I thought it was a pretty good first race here."
REED SORENSON – No. 32 Herr Foods/Hero Energy Shot Ford Fusion – "I have no idea.  I don't know if we blew a tire or if something broke.  I have no idea because we weren't even in the corner yet and it just completely turned around.  It didn't even get loose, so I'd like to see a replay, but something happened."
JACK ROUSH, Car Owner, Roush Fenway Racing – "It looks like we had some kind of a valvetrain failure on the 16 car and that was unfortunate.  He had a good car that they were making adjustments on and making better.  For whatever reason, the 17 kept getting jumped on during restarts and shuffled back.  He had a car, I think, as good as the 20 car or anybody else in the field, but he wasn't able to hold his position on restarts for reasons I don't understand.  We'll take that apart and try to understand if there's an issue.  The 99 got hit on lap one and arguably had the best of our three team cars.  That damaged the quarter panel and he lost track position and had to go to the back, and then he didn't go back far enough to suit NASCAR so  they brought him down pit road and that set up a long, frustrating day to gain track position.  All in all, I think our Fords ran pretty well, but things just didn't break for us so that we were able to realize the result."
Ford Finishing Order:
7th – Matt Kenseth
11th – Carl Edwards
13th – Marcos Ambrose
23rd – David Gilliland
24th – Greg Biffle
27th – David Ragan
28th – Aric Almirola
34th – Michael McDowell
35th – Casey Mears
41st – Reed Sorenson
42nd – Josh Wise
Original Story:
http://startnparkblog.com/?p=7511&utm...
THE BACKYARD
BEST OF MAXIM
RELATED ARTICLES
Here's a twist: Once the track's harshest critic, points leader Greg Biffle is raving about Pocono Raceway. Biffle famously complained two years ago ''they're going to kill somebody there,'' if needed safety improvements weren't made to the track. Pocono listened to Biffle and the rest of the NASCAR community. The facility completed a multimillion...
Greg Biffle, driver of the #16 3M Ford Fusion, continues to lead the NASCAR Sprint Cup Series point standings.  Even though he only has a one-point lead over Matt Kenseth, Biffle remains confident his team will be competitive this weekend at Pocono. YOUR THOUGHTS ON THE WEEKEND.  "I'm really excited about what Pocono has been able to do here.  One is shorten the race a little...
All Sports News

Delivered to your inbox

You'll also receive Yardbarker's daily Top 10, featuring the best sports stories from around the web. Customize your newsletter to get articles on your favorite sports and teams. And the best part? It's free!
THE HOT 10: Who's Trending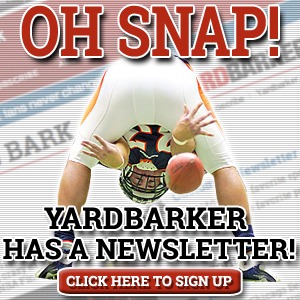 Latest Rumors
The Backyard

Today's Best Stuff

For Bloggers

Join the Yardbarker Network for more promotion, traffic, and money.

Company Info

Help

What is Yardbarker?

Yardbarker is the largest network of sports blogs and pro athlete blogs on the web. This site is the hub of the Yardbarker Network, where our editors and algorithms curate the best sports content from our network and beyond.