Here's a recap of how the Ford Racing drivers faired in the SportClips Help a Hero 200 from Darlington as well as some quotes from the drivers.
Ford Racing Finishing Order:
6th – Ricky Stenhouse Jr.
14th – Michael Annett
16th – Timmy Hill
25th – Josh Richards
28th – Matt Frahm
RICKY STENHOUSE JR. – No. 6 Cargill Beef Ford Mustang – "It was frustrating.  It was a good points night because they had a bad night and not because we had a good one.  We've got to do a little bit better at that because we were just way off.  It was loose.   It was tight.  It was never great.  We need to look at what we're doing here because that's the way we've been the last couple times here, but the motor ran great.  The horsepower was there, but we just couldn't use it because we were too loose there most of the race.  We were able to rebound and get a sixth-place finish after having a right-rear go down and losing a lot of track position.  That didn't help us either and probably threw us off a little bit, so it might not all be the car. We just need to make sure we stay up on the changes that we need to for when a right-rear goes down or something like that happens.  All in all, it was a decent day.  I wish we could have got another top-five to keep those going, but sixth isn't terrible."
WHAT WAS YOUR THOUGHT PROCESS ON THOSE LAST COUPLE OF RESTARTS BECAUSE YOU OBVIOUSLY DIDN'T WANT THE SAME THING HAPPEN TO YOU THAT HAPPENED TO THE 2 CAR?  "I probably could have got a top-five if I had really gone after it, but I think the smart thing to do was to take what we were given and that was a sixth-place tonight.  We'll go after them again. This isn't a terrible run, we just need to get a little bit better."
YOU GOT INSIDE THE 3 CAR ON THE NEXT-TO-LAST LAP, BUT COULDN'T PASS HIM FOR FIFTH.  WHAT HAPPENED?  "Yeah, I got to the inside of him.  I was a little too tight on that last restart because we didn't put fuel in it and the car was really, really tight.  That was probably a bad move, but we wrote that down and will learn from it.  I just couldn't get to the throttle to clear him.  I had him passed, but couldn't quite clear him."
MICHAEL ANNETT – No. 43 Pilot/Flying J Ford Mustang – "Our night started off really promising.  I think we had one of the fastest cars on the track and was coming back from a poor qualifying effort.  On that first pit stop we needed a little bit more turn, but not much and just got really loose from that point on.  Then we lost our brakes and on that last green-white-checker it was impossible to be racy because you had to give up so much getting into the corner.  I couldn't slow down and we couldn't be as aggressive as we wanted, but the car doesn't have a scratch on it so we can go home and make it better at the shop rather than putting a new side on it."
Original Story:
http://startnparkblog.com/?p=6337&utm...
MORE FROM YARDBARKER
All Sports News

Delivered to your inbox

You'll also receive Yardbarker's daily Top 10, featuring the best sports stories from around the web. Customize your newsletter to get articles on your favorite sports and teams. And the best part? It's free!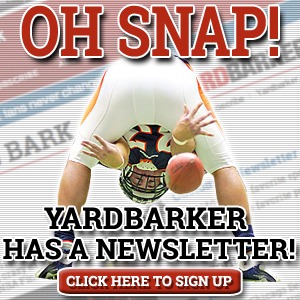 Latest Rumors
Best of Yardbarker

Today's Best Stuff

For Bloggers

Join the Yardbarker Network for more promotion, traffic, and money.

Company Info

Help

What is Yardbarker?

Yardbarker is the largest network of sports blogs and pro athlete blogs on the web. This site is the hub of the Yardbarker Network, where our editors and algorithms curate the best sports content from our network and beyond.