Found October 20, 2012 on New York Sports-Kings:
The gloomy air surrounding the New York Yankees after their embarrassing ALCS loss at the hands of the Detroit Tigers isn't going away any time soon. The blame for the Yanks letdown is all over the board, from Joe Girardi to Alex Rodriguez. Reports now indicate that the Yankees plan to bring back manager Joe Girardi, and will once again rely on GM Brian Cashman to assemble a team for next season that can reach the World Series: "We fell short of our singular and constant goal, which is a World Series championship," owner Hal Steinbrenner said. "However, I am proud of the accomplishments of this year's team. We earned the best record in the American League and were one of the four teams to advance to the League Championship Series, despite having to overcome and fight through a series of long-term injuries to a number of our key players." On the other end of the spectrum, a recent poll on nypost.com indicated that out of 461,000 voters, 77% would like to see A-Rod kicked to the curb. Personally, how can you blame them after his lackluster performance in the playoffs clearly showed that A-Rod is not the player he once was. It is unlikely, however, that the Yanks will pull the plug on him. Nick Swisher, on the other hand, may not be so lucky. The once fan favorite has now become the favorite whipping boy for Yankees fans, and they may get their wish to have Swisher gone as he is due to hit the free agent market. This will leave a void in the outfield for Cashman to fill, and the rumor mill has circulated names like Justin Upton and Torii Hunter as possible replacements. No matter what happens, the brass of the organization has vowed to do everything in their power to put together a team that won't falter on the big stage next season. That is, assuming they get to the big stage.   The post Girardi and Cashman will return to Yankees, fans want A-Rod and Swisher gone. appeared first on New York Sports Kings.
Original Story:
http://nysportskings.com/girardi-and-...
THE BACKYARD
BEST OF MAXIM
RELATED ARTICLES
The New York Yankees are now focused on the 2013 season, and GM Brian Cashman has a ton of work to do this off-season.Like every other GM, Cashman's goal is to put a World Series caliber team on the field but the pressure he is under is much greater, as this franchise and its fan-base expect to win their 28th championship; or the season is considered a bust.The only difference...
Alex Rodriguez is no longer a superstar, and while a trade is "unrealistic," all offers for the high-priced slugger will be considered, Yankees GM Brian Cashman said Sunday. Cashman, speaking on "Sunday Morning with Ian O'Connor" on ESPNNewYork 98.7 FM, said there's "no doubt" in his mind that Rodriguez will be the Yanks' starting third...
SIRIUS' Chris 'Mad Dog' Russo grabbed Yankees GM Brian Cashman today. The two discussed what went into the benching of Alex Rodriguez, if a coach will be 'scapegoated' in the off season, and how BC... Full story at Bob's Blitz ~ http://www.bobsblitz.com
From John Harper: ...while A-Rod blamed two weeks of postseason futility at the plate, saying it "sucked the energy out of us," another player privately made a far more indicting observation: that the ballclub was affected by the hostility from the fans at Yankee Stadium last weekend. "I really think the booing spooked a lot of guys," the player said. "A lot of...
Brian Cashman is going to get asked a lot of questions this offseason. Some will be about the New York Yankees' postseason struggles. Some will be about the future of Robinson Cano and a new contract. Some will revolve around the return of Andy Pettitte. Some will center around the health of C.C. Sabathia. But the majority of questions Cashman will be forced to deal with on a daily...
New York Yankees general manager Brian Cashman said during a radio interview on Sunday that trading Alex Rodriguez would be "unrealistic," and he expects Rodriguez to be the Yankees' starting third baseman next season. During his interview on ESPNNewYork 98.7 FM, Cashman admitted Rodriguez is no longer a superstar and also said he would listen to offers for Rodriguez...
Brian Cashman is going to have his hands full when he starts working the offseason phones this winter.  But, if it were up to New York Yankees fans, he could start by dumping Alex Rodriguez, Nick Swisher and Curtis Granderson right off the bat and nary a fan would cry — at least around 75% wouldn't. In two separate New York tabloid polls, The New York Post and the New York...
Roger Angell:Here's what we saw around home plate, starting in late September: Curtis Granderson spins to the right, drops his head, and becomes suddenly smaller as he turns toward the dugout. Nick Swisher makes a little backward lean as an inside fastball goes by, throws up his head as the ump punches him out, then smiles knowingly as he heads back to the bench. Robbie Cano, grounding...
English: CC Sabathia (left) and Mark Teixeira (Photo credit: Wikipedia) Most baseball fans probably read this already either in the NY Daily News, NY Post or any national newspaper that New York Yankees fans ace CC Sabathia has an appointment with Dr. James Andrews this week. The doctor's visit is to get answers about why Sabathia's left elbow, the one that landed on the 15-day...
New York Yankees general manager Brian Cashman said Saturday that left-handed pitcher CC Sabathia will have his left elbow examined by Dr. James Andrews. Sabathia, 32, reportedly needs to have a bone spur cleaned out, an injury that occurred while played for the Cleveland Indians (2001-08), ESPN New York reported. He was placed on the disabled list in August after having elbow...
The New York Yankees are coming off of their first postseason sweep in over 30 years following an embarrassing loss against the Detroit Tigers in the 2012 ALCS. In fact, although they were able to defeat the Baltimore Orioles in five games to get past the ALDS, it was a disappointing performance overall for New York in the 2012 MLB Playoffs. The Bronx Bombers, they were not. The...
MLB News

Delivered to your inbox

You'll also receive Yardbarker's daily Top 10, featuring the best sports stories from around the web. Customize your newsletter to get articles on your favorite sports and teams. And the best part? It's free!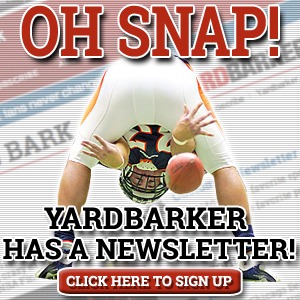 Latest Rumors
Best of Yardbarker

Today's Best Stuff

For Bloggers

Join the Yardbarker Network for more promotion, traffic, and money.

Company Info

Help

What is Yardbarker?

Yardbarker is the largest network of sports blogs and pro athlete blogs on the web. This site is the hub of the Yardbarker Network, where our editors and algorithms curate the best sports content from our network and beyond.