Posted September 24, 2013 on AP on Fox
NFL Commissioner Roger Goodell says the NFL's overseas success doesn't mean the Super Bowl is crossing the Atlantic or that the league is going back to continental Europe. Goodell said the expansion from two to three NFL regular-season games starting next season has the league exploring how to continue growing its International Series brand. More games could come to London, which will need a franchise before it can even dream of hosting the Super Bowl. And that is some time away. ''We don't have a timetable for (a London franchise). We want to continue building interest, and if it continues to go well we believe a franchise could be here. The Super Bowl won't be played anywhere where we don't have a franchise,'' Goodell said on Saturday. Goodell also discussed the league possibly returning to Los Angeles. "I'd love to be back in Los Angeles. But it has to be done the right way, we have to do it successfully ... "I want both [London and LA], but it doesn't matter which one is first." The NFL created a European league in the 1990's that had teams based in in the United Kingdom, Germany, the Netherlands, and Spain, before it folded in 2007. ''Right now, our focus is on the U.K. since the European fans can get here. We want to build on our success here, and whether it leads to a permanent franchise or not, then we can see. What happens here will dictate that.'' Goodell said demand from NFL teams to play in London was more than it could handle, and that a game could be held in Sunday prime-time hours next year. Monday and Thursday night games in London have been ruled out, as has holding preseason games or the Pro Bowl overseas. Goodell applauded the Jacksonville Jaguars for embracing the International Series, with the Florida-based team signed up to play four regular season ''home'' games at Wembley Stadium over four years. The first is on Sunday against the San Francisco 49ers. ''Jacksonville is an interesting experiment. I think fans there see that it's good for their community, that it's putting Jacksonville on a global stage,'' Goodell said while addressing some Jaguars fans complaints about losing one home game over these four seasons. ''Whenever there is going to be change, there is going to be resistance to change.'' Goodell met with a selection of NFL fans alongside 49ers great Joe Montana and former Jaguars offensive lineman Tony Boselli on Saturday. The enthusiasm of overseas NFL fans was palpable inside the Grand Ballroom of the Landmark Hotel, with a scattering of NFL team jerseys in the audience featuring names such as Brady, Kaepernick, Bettis and even Tebow. So while local fans are enjoying the experiment, they are not expecting a London-based franchise to arrive any time soon. ''It's a minority sport here, you don't see people out in the park throwing an American football around. It's all about this spectacle. I won't wear this jersey unless there's an event on,'' said 42-year-old Jonathan Gardner, clad in his orange Denver Broncos jersey featuring John Elway's No. 7. While Gardner was beaming at being in a room surrounded by so many fellow football fans and the presence of Montana, he was weary that the future would feature anything beyond regular season visits. ''I don't see a franchise coming here,'' said Gardner, who played amateur football in his native Belfast as a teenager. ''Football still has to overcome a load of prejudices here, many people think they aren't real athletes and compare them to rugby players, who are just as physical but don't need pads.'' Goodell fielded questions about the Washington Redskins name controversy (''we have to listen to people with a different viewpoint and we are doing that''); the idea of women being involved in the NFL (''there will be a woman official on the field in the next year or so''); and the prospects of a Los Angeles franchise (''we've got to it right, we're not going to go back there until it's ready''). But it was Montana who won fans over when asked what he would do if appointed NFL commissioner for a day. ''I'd put a franchise over here,'' Montana said. --- AP NFL website: www.pro32.ap.org --- Follow Paul Logothetis on Twitter at (at)PaulLogoAP
Original Story:
http://msn.foxsports.com/nfl/story/ro...
THE BACKYARD
BEST OF MAXIM
RELATED ARTICLES
NFL Commissioner Roger Goodell Politics makes strange bedfellows, but to really flip the political script, throw a football under the covers. Senator Tom Coburn's effort to remove the tax-exempt status of the NFL is such a nit of an issue that we wonder what he is really after. Coburn, a fiscal conservative from Oklahoma is oddly all in on raising taxes on the NFL. Specifically...
Roger Goodell probably has Adam Jones on speed dial at this point. The Cincinnati cornerback was cited for disorderly conduct early Monday morning, according to USA Today. Pacman was the passenger in a car originally pulled over for speeding, and the driver was arrested for operating a vehicle under the influence. During the arrest, Jones was reportedly "making offensive comments...
Earlier this morning Football God and worldclass TV host/joke-stealer Mike Florio reported that Roger Goodell is "secretly" trying to push for a 18-game regular season again, or at least as secret as you can be while still contacting a NFL journalist who will literaly print anything you tell him if it has the words "Goodell, revenue, or 'distraction'" in it. Well we all...
The Redskins are again under scrutiny for their perennially unpopular name. The difference this time around is that Roger Goodell and the NFL are no longer throwing total support behind the Redskins organization, a change no doubt aided by the urging of ten members of congress. If forced to abandon their American Indian insensitive identity, Ad Age is reporting that creating and...
Dear London, I apologize. When NFL Commission Roger Goodell announced two games in London this season, we were under the impression that he was trying to create overseas interest in the National Football League. Then, we saw the teams he … Continue reading →The post Dear London, On behalf of the NFL…I apologize. appeared first on Pigskin 'N Pearls.
Tonight, Fox Sports 1 aired a rare sitdown interview with NFL commissioner Roger Goodell. The Q&A, which spanned two separate days -- one before the NFL paid former players $765 million to settle concussion-related lawsuits, and one afterwards -- was conducted by former hard-hitting safety John Lynch. Here, Lynch gives Awful Announcing his post-interview thoughts.  Awful...
NFL commissioner Roger Goodell is widely considered to be the most powerful man in sports. So whenever he talks, a lot of people are certainly going to be there to listen. Now, just weeks after it was announced that the league will pay $765 million to settle lawsuits brought by more than 4,000 former players who accused the NFL of hiding the dangers of brain injuries, Goodell has...
If I didn't know any better, I'd assume those who make the rules for the National Football League were bipolar. Fortunately, I do know better. Injuries will continue to happen in the NFL, no matter how much "player safety" rhetoric Roger Goodell and friends will undoubtedly continue to throw at us. Then you read a story like this one and start to wonder: with the...
What's that? Brits aren't queuing up by the millions to see two winless teams stage an epic derp-off this coming Sunday? In fact, some of them are RETURNING tickets?NFL TICKET ALERT! A very limited number of tickets have been returned to us. Buy yours now http://t.co/ksIBCqXLWv #NFLUK @Vikings @steelers— nfluk.com (@nfl_uk) September 25, 2013Heavens!Our own Sarah Sprague just...
Cincinnati Bengals cornerback, Adam Jones, was arrested for disorderly conduct, a misdemeanor, reports Michael David Smith of NBCSports.Early Monday morning, Jones was a passenger in a car that was stopped for speeding.  The driver of the car was arrested for operating a motor vehicle under the influence after the driver refused a field sobriety test.Arrested for disorderly conduct...
All Sports News

Delivered to your inbox

You'll also receive Yardbarker's daily Top 10, featuring the best sports stories from around the web. Customize your newsletter to get articles on your favorite sports and teams. And the best part? It's free!
THE HOT 10: Who's Trending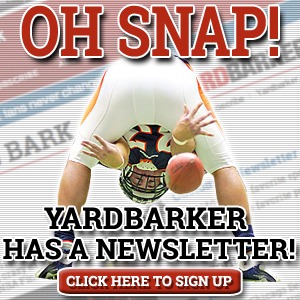 Latest Rumors
The Backyard

Today's Best Stuff

For Bloggers

Join the Yardbarker Network for more promotion, traffic, and money.

Company Info

Help

What is Yardbarker?

Yardbarker is the largest network of sports blogs and pro athlete blogs on the web. This site is the hub of the Yardbarker Network, where our editors and algorithms curate the best sports content from our network and beyond.