Found November 13, 2012 on Fox Sports Arizona:
PLAYERS:
Goran Dragic
,
Carmelo Anthony
,
George Karl
,
Steve Nash
,
Alvin Gentry
,
Ty Lawson
,
Shannon Brown
,
Luis Scola
,
Marcin Gortat
,
Jared Dudley
,
Markieff Morris
,
Michael Beasley
,
Andre Iguodala
TEAMS:
Denver Nuggets
,
Phoenix Suns
,
New York Knicks
,
Los Angeles Lakers
,
Chicago Bulls
,
Miami Heat
PHOENIX With no ordained star power available, the Denver Nuggets have embraced the group approach in their struggle for NBA glory. This inspired-by-circumstance strategy inspired one national magazine to anoint the Nuggets as Western Conference favorites to reach the Finals. It still seems farfetched, but things have been pretty swell in Denver lately. The Nuggets endured a slow beginning to this allegedly-promising season and hauled a four-game winning streak into U.S. Airways Center for Monday night's date with the Phoenix Suns. The Nuggets shot 54 percent from the floor, had five players reach double digits, scored 100 points and lost. The Suns, who due to circumstance have borrowed the Nuggets' by-committee template and finished their eighth game of the season at 4-4 by having seven players score 10 or more points. "If everybody plays like that," Suns point guard Goran Dragic said while surveying his team's locker room, "it's a lot easier." If everybody approached each work shift with Dragic's relentless enthusiasm, the Suns' group approach might have a shot at a playoff ticket. As it stands, the Nuggets' circumstances acquiring a chunk of the New York Knicks' supporting cast because star forward Carmelo Anthony was preparing to bail on Denver created a Noah's Ark-style roster. Coach George Karl no longer has any so-called stars, but does seem to have two pretty decent players at almost every position. The Suns didn't have an in-his-prime star to convert into critic-approved assets, so in the aftermath of parting with Steve Nash they've had to cobble together a few solid players into a competitive squad. They may remain unable to eclipse the Nuggets (and others) in this season's playoff chase, but the Suns did demonstrate how a committee can thrive by doing the little things. These included burping up only six turnovers against Denver's defensive pressure and collecting 15 offensive rebounds. That's how a team can lose the marksmanship battle by 9 percentage points and still win by 10. For Suns coach Alvin Gentry, taking down the Nuggets is pretty gratifying. "We've obviously struggled with that team the last couple of years," Gentry said. "It was a good win against a good, quality team." The catalyst was Dragic, who bagged 10 points to keep Phoenix in the game during a typically-sideways first quarter. The Dragon finished with a game-high 21 points (making 7 of 12 shots) and 7 assists. But perhaps more important was his stellar defense against the elusive Ty Lawson. Lawson scored a dozen points and handed out 8 dimes, but 10 of those points occurred with Dragic on the bench during the second quarter. "It's not just the point guards," Dragic said in reference to keeping Lawson relatively in check. "Our big guys did a great job. They were getting up in pick-and-roll and he (Lawson) couldn't penetrate to the basket or get good shots." Between Dragic's scoring bursts early and late, the Suns received timely contributions from several sources. Shannon Brown contributed another 19 points, giving the Suns an 8-point shot in the arm during the fourth quarter. Luis Scola and Marcin Gortat each scored a dozen points, but combined to miss 14 of 23 shots. Jared Dudley added 15, Markieff Morris supplied Phoenix with his best game of the young season (13 points) and Michael Beasley rallied for 16. With 6-foot-6 Nuggets stopper Andre Iguodala assigned to guard the 6-9 Beasley, the Suns ran a couple of first-quarter sets designed to get the big lefty some paint touches. But a soft approach to finishing produced a 2-for-9 performance in that period. It was nice to see Beasley going to the rim, but equally disturbing to watch him avoid playing to contact. "I just wanted to be aggressive," Beasley, who was awarded two free-throw attempts the entire game, said. "Lately I've been shooting too many jump shots, not getting to the line, not putting any pressure on the opponent." OK, so the guy wasn't quit there in the first quarter, but he did make 5 of his last 6 shots. It didn't get him on the floor in the fourth quarter, but the committee had Beasley covered. "The more we play with each other, the more we learn about each other and the better we get," Beasley said. There's more learning to be had as this week rolls on. Between Friday's potentially interesting rumble with the Lakers in Los Angeles, the Suns will play the Chicago Bulls here on Wednesday and return from L.A. to play the Miami Heat at USAC on Saturday. The group will need to continue pulling in the same direction.
Original Story:
http://www.foxsportsarizona.com/11/13...
THE BACKYARD
BEST OF MAXIM
RELATED ARTICLES
The Nuggets have assigned rookie forward Quincy Miller to the Iowa Energy
I'll be completely fair and put a few facts in perspective; this was the Nuggets 5th game in 7 nights with three being on the road and the last road game was a double OT thriller combined with the fact poor late game lineups, botched free throws, and abysmal play from the starting point guard [...]The post Denver Nuggets Show Inconsistency Against Phoenix Suns In A Loss; 110-100...
PHOENIX - Goran Dragic led seven Phoenix players in double figures with 21 points, and the Suns overcame another sluggish start by hitting seven of 12 three-pointers to snap Denver's four-game winning streak with a 110-100 win Monday night. Shannon Brown had 19 points off the bench and Michael Beasley added 16 for the Suns, who have trailed by at least 10 points in seven of...
PHOENIX - With three new starters and nine new players, the Phoenix Suns are still getting to know each other, and the shooting touch they expected to have has yet to materialize. But the hard work and teamwork aspects of the equation are keeping things interesting eight games into the season. Goran Dragic led seven Phoenix players in double figures with 21 points, and the...
TWICE AS NICE
Last night, Denver Nuggets center JaVale McGee decided to throw down a couple of nasty dunks against the Phoenix Suns. Watch as he skies over Marcin Gortat for the slam and then a possession later, JaVale catches an alley-oop from Andre Miller:
Here is the local media outlets following the PHOENIX SUNS. Newspaper-  The Arizona Republic is the largest newspaper in the region.  It's online newspaper is part of AZCentral.com, which does do a good job using newspaper content on its sports section.   They have special content dedicated to the Suns.  Beat writer Paul Coro (Twitter) also maintains
A general lack of accuracy has kept the Denver Nuggets from being the scoring machine many thought they'd be, but they've still managed to win four straight after opening the season with three consecutive losses. Perhaps they'll find their shooting touch against the Phoenix Suns. Denver has shot better than 50 percent and averaged nearly 120 points during a six-game...
Luis Scola may be a professional basketball player, but having started out as a goalkeeper, he still keeps an eye on the world of football, as he told FIFA.com.
Pinkie favorite and former Morehead State standout has been named NBA Player of the Week for the week of November 5th through 11th. The second year player for the Denver Nuggets averaged 16.8 points, 12.8 rebounds, 1.8 blocks, 1.0 steals, and shot 56-percent from the field. He had 18 points, 17 rebounds, three blocks and two steals in a 107-101 win at Golden State to close the week...
Dwight Howard is to shooting free throws as I am to dunking; we both are horrible at it. So what does the best center in the NBA have in common with the Denver Nuggets? Free throws, folks or lack thereof. Dwight Howard is a 58.7% career free-throw shooter; enthusiasts often see the Hack-A-Howard strategy when [...]The post 2012 Denver Nuggets: The Dwight Howard Of Free Throws appeared...
A general lack of accuracy has kept the Denver Nuggets from being the scoring machine many thought they'd be, but they've still managed to win four straight after opening the season with three consecutive losses. Perhaps they'll find their shooting touch against the Phoenix Suns. Denver has shot better than 50 percent and averaged nearly 120 points during a six-game...
Faried is fast becoming a well known commodity around the NBA.
All Sports News

Delivered to your inbox

You'll also receive Yardbarker's daily Top 10, featuring the best sports stories from around the web. Customize your newsletter to get articles on your favorite sports and teams. And the best part? It's free!
THE HOT 10: Who's Trending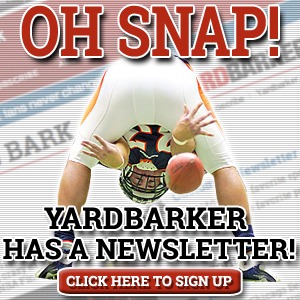 Latest Rumors
The Backyard

Today's Best Stuff

For Bloggers

Join the Yardbarker Network for more promotion, traffic, and money.

Company Info

Help

What is Yardbarker?

Yardbarker is the largest network of sports blogs and pro athlete blogs on the web. This site is the hub of the Yardbarker Network, where our editors and algorithms curate the best sports content from our network and beyond.