Found March 25, 2013 on All Sports Everything:
photo via NYTimes.com Before Florida Gulf Coast University shocked us all by beating the University of Georgetown, if someone would've mentioned FGCU, our collective response would've been, "FGCU who?"  Yet, when the Eagles knocked out the Hoyas by playing shutdown defense, going on large runs, and high flying dunks, they earned the attention of a nation; only to follow up that performance with a more impressive victory over San Diego State.  After another dominant performance, we remain enchanted by this year's Cinderella team who's become the first 15 seed to reach the Sweet 16 in the tournament's long history. But not everyone slept on FGCU.  A very small percentage of brackets predicted the Eagles' historic rise in their first NCAA Tournament appearance ever. According to Yahoo Sports, · 47,950 brackets (1.5 percent) picked #15 FGCU to win their game over No. 2 Georgetown · 18,583 picked them to also win their Round of 32 game and make the Sweet 16 · 4,982 picked them to also win their Sweet 16 game and make the Elite 8 · 1,591 picked them to also win their Elite 8 game and make the Final Four · 696 picked them to also win their Final Four game and make the Championship · 337 picked them to also win the NCAA Championship In ESPN's Tournament Challenge, out of 8.15 million brackets, "Just 0.95 percent of brackets picked the Eagles to reach this round, and a whopping 2,354 brackets have them winning it all. Interestingly, 0.3 percent of brackets predicted the Florida-Florida Gulf Coast matchup in the Sweet 16." Right now, FGCU are the darlings of the dance, but don't let the media hype fool you.  According to BetVega.com, FGCU went from 1000/1 odds to 100/1 odds of winning it all.  This proves their stock is rising, however, Vegas hasn't completely abandoned the Louisville, Indiana, or Florida bandwagon just yet.  Respectively, the odds of them winning it all are 3/1, 5/1, and 5/1.  If you played it safe with any of those three teams, it seems you were smart to do so because you have a greater chance of receiving a payout than FGCU's risk takers.  And at the end of the day, isn't that what keeps us vested in the tourney year after year?  The thrill of watching david slay goliath is cool, but nothing beats cashing out.  Whether it's 100/1 or 3/1 odds, winning it all is priceless. FGCU's next big test comes on Friday at 9:57PM/ET when they face their state 'rivals', the No. 3 seed Florida Gators. -@sdotrenee Need more basketball action? Check out Watch Like A Champion and get all of your hoop updates, trivia, and tournament talk! Then enter to win a Samsung 60″ LED TV, Galaxy Note Tablet, Panasonic Cordless Phone System, and One Year of Free Service through the Cox Ultimate Entertainment Sweepstakes! http://shout.lt/gD9t/
Original Story:
http://allsportseverything.com/2013/0...
THE BACKYARD
BEST OF MAXIM
RELATED ARTICLES
I am sure when ESPN went live to the Florida Gulf Coast Pep Rally, they didn't expect a "F*ck the Gators" chant to start, but it is live TV, anything can happen.  They should have invested in a seven second delay. Check out the old man asking his wife what they are chanting half way through the video. Need to get that hearing aid fixed Old Timer. I am sure the Gators are chomping...
FGCU is off to the Sweet 16 to face the might home-state Florida Gators. Eagles fans have a message for the Gators: "We are coming for you."
The Florida Gulf Coast University Eagles are one of the hottest stories in recent years and are enjoying their record setting run into the Sweet Sixteen in this year's NCAA Tournament. The Eagles coach Andy Enfield has grabbed the media's attention, conducting multiple interviews after their win last night and sharing stories on the national stage about dating his model wife...
When you make history like the boys from Florida Gulf Coast University have it is understandable that the fan base get a little cocky and maybe even arrogant. The national attention has to be pretty cool, although I would question making the school too popular; that awesome beach might have a few too many dudes on it next semester... Anyway...the fans were out in full force...
AUSTIN, Texas The Gators need Mike Rosario if they are going to reach the Final Four and have a shot at a national championship. But they need the good Rosario, not the bad Rosario that sometimes drifts into his own world and causes Florida coach Billy Donovan to wonder if he is dealing with an imposter in a No. 3 jersey. "There's times where he can be a little carefree...
The Florida Gulf Coast Eagles are the sweethearts of the NCAA Tournament, as they have made it to the Sweet 16, marking the first time that a No. 15 seed has ever reached this point in the dance. However, the team for the Atlantic Sun champs is going to be coming to a close this week against the No. 3 Florida Gators, one of the favorites to win March Madness.
SCOTT JACOBS Let 'em dance. Let 'em sing. To quote those Archer voiced Coke Zero commercials, let em 'Enjoy Everything.' Because in a world where irrelevance is the norm, FGCU should treasure every moment they're allotted center stage. They're the biggest story in the sport's most explosive time of year; They have made fans from all of over the world of high flyers...
AUSTIN, Texas (AP) Mike Rosario scored 25 points and Florida used an overpowering first half to roll past Minnesota and into the NCAA tournament round of 16 for third consecutive year with a 78-64 win Sunday in the South Regional. The No. 3 seed Gators (28-7) shot a blistering 65 percent in the first half and led by 21 by halftime. The win earns Florida a return trip to the Lone...
Seniors Mike Rosario and Erik Murphy outscored the entire Minnesota team at halftime. The game changed quickly in the second half, but the barrage of points the two laid out on the line allowed Florida to leave with a convincing victory over Big-10 stalwart Minnesota. The two talked a great deal with the media following the 78-64 victory that propelled them into the Sweet-16.
After knocking off #2 seed Georgetown 78-68 on Friday, the Eagles of Florida Gulf Coast University just beat seventh seeded San Diego State (81-71) to become the first #15 seed in the history of the NCAA Tournament to reach the Sweet Sixteen.  FGCU has only been in existence for 16 years, and moved up to Division 1 just two seasons ago.  When they take on the Florida Gators in...
All Sports News

Delivered to your inbox

You'll also receive Yardbarker's daily Top 10, featuring the best sports stories from around the web. Customize your newsletter to get articles on your favorite sports and teams. And the best part? It's free!
THE HOT 10: Who's Trending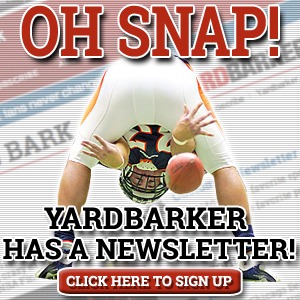 Latest Rumors
Best of Yardbarker

Today's Best Stuff

For Bloggers

Join the Yardbarker Network for more promotion, traffic, and money.

Company Info

Help

What is Yardbarker?

Yardbarker is the largest network of sports blogs and pro athlete blogs on the web. This site is the hub of the Yardbarker Network, where our editors and algorithms curate the best sports content from our network and beyond.