Found June 29, 2012 on Fox Sports:
I think one of the more interesting storylines to follow during these hot summer months is Joe Gibbs Racing. Now sure, they have some victories under their belt but it's not going smoothly over there right now. I think it will be interesting to see how folks like Jimmy Makar, one of the original members of JGR and the senior VP of racing operations, plus President J.D. Gibbs and owner Joe Gibbs weather this storm. Their marquee driver, the unstoppable force known as Kyle Busch, continues to struggle and have problems. You just know that is not sitting well in his world. His patience has to be wearing thin. Teammate Denny Hamlin has had success early, but he surely has to be having flashbacks to last year wondering if they are simply going to make the Chase but not be a real factor. Then the third driver at JGR is the young man Joey Logano. Sure, he won a race a few weeks ago, but that really hasn't helped quell all the talk about what his future is or isn't at JGR. He was put through an awful lot last year with all the talk of Carl Edwards possibly taking over the No. 20 car. That didn't happen. Joey is still driving the Home Depot car. As I mentioned, he's won a race this year, but still folks are taking pot shots at him wondering "will he be there - will he not be there in 2013?" That kind of talk does nothing to help create positive momentum for that No. 20 team. Then there is the engine situation with TRD - which JGR elected to switch to (or was semi-forced to switch to). That is still an area where there are some problems. It's very disruptive to the flow of things when your managers are coming into your office on Monday morning asking questions about how the engine program is going to be fixed. It's almost like fighting a war. It is hard enough to fight the competition, let alone at the same time be fighting your allies. These are real issues that have to be addressed or its going to continue to pull your organization down. Let's face it, the No. 18 car is barely holding on to a spot in the Chase. That's not where they want to be or expect to be. That is magnified even more with a guy as gifted as Kyle Busch at the wheel. All three drivers are fighting their own demons. In Denny's case, I believe he is still mentally trying to recover from coming so close to winning, but ultimately losing the 2010 NASCAR Sprint Cup championship. They had a chance to win the whole thing but the team kind of imploded there at the end of the season and it slipped through their fingers. Then last year, they limped into the Chase and were never a real contender for the championship. Denny has to remember all this. It's human nature after all. So Denny is caught looking backward just as much as he is looking forward. In Joey's case, it's the entire unknown. That unknown of course is his future at Joe Gibbs Racing. It's all a mental game. Even when he is doing everything right, yet unable to get answers about his future from the ownership, well that is simply hard on anyone. Kyle Busch is a hard charger. I liken him to a present-day Cale Yarborough. Like Cale, Kyle will drive the wheels off whatever you give him. If it will stay under him, it will get to Victory Lane. He has the God-given talent to do all that. Kyle also has the temperament of a Cale Yarborough - so when things start going wrong repeatedly, he is going to get mad. I think that is where Kyle is right now. Joe Gibbs Racing is like a blender right now. Things are going around and around and around. A lot of things are being chopped up inside of it. I don't think you can be a consistent championship team let alone survive in this sport with things going on like that. They have to work through some of these issues. If they don't, they will begin to take a toll on everyone. The great teams, when they have problems, respond quickly and eliminate the issues right away. That's where Joe Gibbs Racing is right now. How quickly they can weather this current wave of issues will define how quickly they can get back on top in our sport.
Original Story:
http://msn.foxsports.com/nascar/story...
THE BACKYARD
BEST OF MAXIM
RELATED ARTICLES
Kyle Busch is the only driver to win a NASCAR Sprint Cup Series race in the history of Kentucky Speedway in Sparta. Of course, in reality, there's only been one Sprint Cup race ever contested at the 1.5-mile oval in the Bluegrass State as the series ran its inaugural even there last July. Regardless of how many Sprint Cup races have been run at Kentucky, Busch, driver of the No...
After struggling in his last four starts, Kyle Busch has found the perfect tonic in Bourbon country. Busch is the defending champion at the NASCAR Sprint Cup Series this weekend at Kentucky Speedway. Getting to a track where he's had some success - he doubled up with a win in the Nationwide event last year as well - comes at just the right time. The 27-year-old from Las Vegas...
Five-time NASCAR Sprint Cup champ Jimmie Johnson overcame blustery wind to capture his first pole in more than a year when he edged Kyle Busch for the top spot Saturday at Kentucky Speedway. A freakish storm with high wind that lifted tents and littered the area with debris caused qualifying to be suspended. The cars returned to the track shortly - after the temperature dropped...
MOORESVILLE, N.C.- After having a strong run in the team's first road-course entry, finishing eighth at Road America in Elkhart Lake, Wisc. last week, Kurt Busch now turns his attention to an intermediate track where he will make his first career NASCAR Nationwide Series (NNS) start. In 2000, Busch first attempted Kentucky Speedway in Sparta, in the NASCAR Camping World Truck Series...
Simmering drivers in overheating cars, all vying for an open lane and struggling to get out of heavy traffic - and that was just the fans on the way to Kentucky Speedway a year ago. Designed to be a showcase of big-time racing in the commonwealth, the NASCAR Sprint Cup Series race instead was a fiasco. Some may remember that Kyle Busch won. But almost everybody recalls the long...
This Saturday night we are back under the lights at Kentucky Speedway. Obviously we don't have much of a history book when it comes to Cup racing there. Even though the track opened in 2001 for the Nationwide and Camping World Truck series, it wasn't until last July that the NASCAR Sprint Cup Series ran its first event there. Even though Kyle Busch won last year's inaugural...
The NASCAR Sprint Cup Series makes its way to the Kentucky Speedway for the 2nd annual running of the Quaker State 400. Start 'N' Park Blog is here to provide you with the inside track for the race by taking a look at historical statistics, driver's past performance, breaking down the points, and providing random thoughts on the event and venue. Kentucky Speedway Stat Line...
All Sports News

Delivered to your inbox

You'll also receive Yardbarker's daily Top 10, featuring the best sports stories from around the web. Customize your newsletter to get articles on your favorite sports and teams. And the best part? It's free!
THE HOT 10: Who's Trending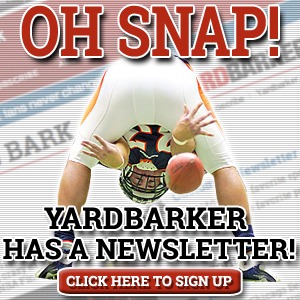 Latest Rumors
The Backyard

Today's Best Stuff

For Bloggers

Join the Yardbarker Network for more promotion, traffic, and money.

Company Info

Help

What is Yardbarker?

Yardbarker is the largest network of sports blogs and pro athlete blogs on the web. This site is the hub of the Yardbarker Network, where our editors and algorithms curate the best sports content from our network and beyond.