Found October 12, 2012 on Start 'N' Park Blog:
Jimmie Johnson, driver of the #48 MyLowe's Chevrolet, met with media and discussed a few of the Chase drivers, Dale Earnhardt Jr. and his concussion issue, his own experience with concussions, his relationship with crew chief, Chad Knaus, and more. WE'RE 30 RACES INTO THE SEASON. DURING THE FIRST 15 RACES, YOU'VE FINISHED AHEAD OF THE NO. 2 (KESELOWSKI) TEN TIMES. IN THE LAST 15 RACES, HE'S FINISHED AHEAD OF YOU 11 TIMES. ARE YOU CONCERNED ABOUT THAT AT ALL? WHAT DO YOU HAVE TO DO TO MAKE-UP YOUR POINTS DEFICIT? "As far as stats go, I'm not aware of that particular stat and the way that works. But, I'm well aware of the fact that they've won two of these four Chase races and have been very competitive. They have shown that strength throughout the year and have been building. I think we have a lot of 1.5-mile races left on the schedule where they're strong plus their fuel mileage works very, very well for them. And that could be a factor here. It could be a factor on any of these tracks where we have low falloff due to tires and all that. So here and Kansas; I wouldn't expect Texas to be a fuel-mileage race but it could be. Homestead could be. So, from that standpoint I look at them as a very strong threat. "And I look at a few tracks that historically aren't good for them and hope to get points on them there. Plus, I feel like we can race them heads-up. We've been nip and tuck through all these events and you've got to bring your best stuff out right now. And that's what the Chase is about. And with all that said, the No. 11 (Denny Hamlin) is still right there and some other guys back there that also have something to say, too. Regardless of the stats, they're a threat to the leader right now. We've got to go out and race them hard." WERE YOU AWARE OF DALE JUNIOR HAVING HEADACHES AND ISSUES RELATED TO CONCUSSIONS AFTER THE KANSAS TEST CRASH? HE SAID HE KEPT IT TO HIMSELF FOR SIX WEEKS. HOW TOUGH WOULD IT BE FOR A DRIVER LIKE YOURSELF, CONTENDING FOR A CHAMPIONSHIP, TO GO TO A DOCTOR KNOWING YOU RISK THE CHANCE OF MAYBE BEING PARKED AND NOT HAVING THE CHANCE TO RUN FOR THAT CHAMPIONSHIP? "Well, I didn't know that he had headaches or any symptoms following the Kansas tire test crash. I knew it was a big impact. I heard about it. I think we were at a team debrief or meeting or something and word traveled to our meeting quickly that they had a tire problem and it was a big hit. And of course the car came back to the shop and I got my eyes on it myself and knew it was a strong hit. It's something that an athlete is faced with through injury. There are some athletes that are more prone for concussions. Clearly racing is one. Hockey, football, and you get into some of those contact sports where you, as an athlete, have to know whether you're right or not. And I think in some cases, even if you are right, you could work your way through some of these different evaluations and not say anything and just try to get better on your own. "I credit Junior for being aware of how he feels and what's going on. It's going to be a tough week for him; especially as the week goes on. I just spent a few minutes with him shooting something with the other Hendrick drivers. I don't think the significance of missing this weekend's race has set in yet. He's still going through his workload and going about his business, but that's going to be tough. I guess he won't be here, but when he's at the house and practice starts and qualifying is on tonight and he's watching it on television Saturday night, I can only imagine how difficult that will be for him. "And to come so far all year long, for himself and that team, and the sponsors associated and everybody involved, it's a sad day that he's going to be out. But we have to pay attention to his health and really focus on getting him healed up. Concussions are a tricky thing, as we all know. And we've got to make sure that he's right so if he is in the car and does have another crash, that it doesn't set him back any further." YOU MENTIONED THERE COULD BE TIMES WHERE YOU COULD WORK YOUR WAY THROUGH THESE THINGS AND BE ABLE TO DISGUISE THE SYMPTOMS. JUNIOR SAID HE'S HAD CONCUSSIONS BEFORE WHERE THE SYMPTOMS HAVE DISSIPATED IN A COUPLE OF DAYS AND HE'S RACED. DO YOU HAVE PERSONAL EXPERIENCE WITH THAT? DO YOU KNOW IF YOU HAVE HAD CONCUSSIONS WHERE THE SYMPTOMS CLEAR UP AND YOU RACE THAT WEEKEND? DO YOU HAVE ANY CONCERNS ABOUT THE DANGER IF GUYS CAN DO THAT IN THIS SPORT AND PUT OTHERS AT RISK? ARE THERE CONCERNS ABOUT RACING WITH GUYS WHO MAY BE ABLE TO HIDE THOSE SYMPTOMS AND STILL RACE? "No, I don't. In today's world, the process after a crash and what you go through is far greater than what it's been in the past. And if your symptoms are serious enough to where you can't drive, it's going to be noticeable. The impacts I had where I've had concussions; I had one or two when I was really young on dirt bikes; and it was really easy then to not race. But when I had the brakes go out at Watkins Glen, I had one following that and I literally got in my truck and was going to drive to the race shop and I got on I-77 and went north and ended up at Interstate 40 and I should have gone south, before I realized like where am I going? And I made a phone call and drove myself to the doctor and got checked out. So, at that point, once I was on the books, I had to be cleared before I got back in the race car. "So once I was cleared, I got back in that following weekend and went racing; and it went away within a day or two, I was fine. That's the tricky think about concussions. They affect everybody differently.  And you can recover quickly; some people are more susceptible to them, it lingers it lasts, it's a tricky deal. The key is just getting on the record; getting on the books in front of the NASCAR medical liaisons and everybody involved and make sure that you check-out right. And Junior did the right thing in making sure he went through all the proper channels." INAUDIBLE "No, I don't think I've had any in Cup. Even the big impact I had here. We tested I guess it was Monday or Tuesday after and that was a huge number that I had. But again, depending on the box inside the car. And if it's a big number, that doesn't always equate to what the driver feels. If you pull your head away from the head rest and you have the impact and you spot your head a few inches of distance for momentum, you'll raise your injury.  If you lean into your restraint systems like you're supposed to, you can go through a lot higher number on the black box. There's a lot of weird factors that play into these concussions." CAN YOU TALK ABOUT YOU AND CHAD KNAUS? ARE YOU THE LONGEST RUNNING DRIVER/CREW CHIEF COMBINATION GOING? WHAT KEEPS YOU GUYS TOGETHER? WHAT KEEPS YOU GUYS ON THE SAME PAGE?  TALK ABOUT WHAT HE'S HELPED YOU DO. "Yeah, personally that long relationship-situation is what I'm about. I've been that way my whole life with friends, crew chief, my own personal relationships, and all of that. It's just been me. So it's not out of character for me. And I find a lot of comfort in working with the same people year after year. There is a low turnover rate at the No. 48 team. You look at Ron Malec (car chief) and how far we go back, all the way to our ASA days. So, I think a lot of it is me. And there have been some rough spots along the way. But I'm not a guys who thinks, 'I want to make a change'. I want to fix the problem. If we're not getting along or our cars aren't fast, let's work harder on the cars or on our relationship or whatever it is so that we work as we should within the race team. And for whatever reason, we've looked at ourselves and want to correct our issues rather than throw in the towel and say yeah, okay, I can't handle this anymore and I'm out. That's just not us for whatever reason. And I'm glad. We have been together for a long, long stretch and I don't have any plans for making any changes." INAUDIBLE "I think what works really well with us is our personalities are pretty different. And if we were a lot alike, I don't think it would work; especially if we were both like him, if I was like him (laughs) I think we'd fight a heck of a lot more and be real uptight and have some issues that spinoff from that. But, I have full confidence in what he does and I know that there isn't a detail missed. And I can be more relaxed and be more myself and climb in the car and do my thing. So it really works well; our dynamic. And again, if he were more relaxed and more like me, I don't think we would have the success we've had. So I think it's really that chemistry between the two that works well." ON GOING TO KANSAS NEXT WEEK; AND ON THE NEW TESTING RULE, HOW HELPFUL IS THAT GOING TO BE? "It will be really helpful. I would imagine the Chase guys will really just be focused on this year's stuff and what we need to do there. It's nice to have data files, as we all know, for our simulations programs and 7-Post machines and all the stuff that we use back at the shop. So, that's good. I really feel more than anything, it's just a safe move and it makes total sense to do it for our sport. "We don't need to go into a race track and have an issue. I know there was a tire test but it's always different when the entire field is there pushing one another. We seem to have other things surface from a tire standpoint or even the asphalt itself. There's always that risk of it pulling up. So it's nice that we go there. We all get acclimated with the new surface and re-design. I guess there are some small little changes and things; and validate the tire and validate the track and get everything right so that when we show up Friday, we can put on the show that we need to." IN REGARD TO THE CHASE, SOME DRIVERS JUST BASICALLY SAY THEY TAKE THEM ONE RACE AT A TIME AND DRIVE THE SAME AS I DO ALL YEAR. SOME DRIVERS SAY THE IMPORTANT THING IS GETTING IN THE TOP 10 EARLY. YOU'VE WON FIVE RACES. DO YOU GO INTO EVERY RACE THE SAME, OR DO YOU HAVE DIFFERENT ATTITUDES AT VARIOUS POINTS IN THE SEASON? 'I definitely have different attitudes at various points. I think generally speak, as the Chase wears on and the top two or four or whatever that ends-up being here in a few weeks, those top guys right now; it kind of looks like three, you start worrying about each other and racing differently and I know the No. 11 (Hamlin) is going to be strong at Martinsville and I expect to be there too. I'm not sure there on the No. 2 (Keselowski), so there might be a chance to get some points on him there. Look at 1.5-miles. The No. 2 has been real strong, especially with fuel mileage savings. You really start strategizing deep into the Chase and I think all teams do to finish as good as they can. I personally start off the Chase one race at a time. That comes through my experience. I've had some quick starts and I've had some really slow starts and have won both ways. What kind of helped me keep my sanity was taking it one race at a time. And in '06, they let me back in. I had two dnf's and everybody else had a ton of trouble and let me back in. In some ways you spin it to how you can lead your team and create positive thoughts for yourself. And in some respects, you do it for sanity. Once you get to the end of the Chase, you've got to be smart. You've got to know who you're racing and what their strengths and weaknesses are and you kind of know what you need to do too." YOU SAY YOU'RE NOT WORRIED ABOUT GUYS WITH CONCUSSIONS GETTING IN THE CAR BECAUSE THEY DON'T WANT TO GET OUT. ARE YOU SURPRISED OUT OF ALL THE GUYS YOU ARE CHASING RIGHT NOW THAT IT'S BRAD KESELOWSKI IN FRONT OF YOU INSTEAD OF MAYBE A VETERAN?  "I've known Brad was going to be strong all year. I assumed he'd win a race in the Chase and would probably say a 1.5-mile. I wouldn't have picked him to win Dover. There are a couple of other guys I'd put there in front of him. And then especially the way the race was unfolding and the Gibbs cars and then myself ran in order for a long time and I finally got by the No. 11 (Hamlin) and then finally got to the No. (Kyle Busch) and had control of the race but then fuel mileage came into play. But they've been strong. I think if you look at how they came on late in the summer and made the Chase last year; and then this year they have steadily progressed. I'm not shocked, but if you asked me before the Chase started who would be leading at the halfway mark, I would put them in the mix, but I wouldn't put them out front. "To me, I kind of look at veterans. I would put Jeff Gordon up in thee. I've always said this too. Guys that have won championships, I always see first. I would have expected Tony (Stewart) to be up there a little higher too at this point. So, it's nothing against the No. 2 (Keselowski) by any means, but the way my mind works, when you get into these 10 races and the pressure really kicks-in, I first look at previous champions and then guys that have been there in the fire. Denny (Hamlin) has been in the fire. Carl (Edwards) has been in the fire but he's not in the Chase so it's hard to put him in this year's crop. But that's where my mind goes first. And then what was the second question? ON THE ISSUE OF DRIVERS WITH CONCUSSIONS "To be honest, it's never entered my mind to be honest with you. I haven't thought about it. I know from my own sensations in the car when I've had an issue, the process of making sure I'm right, I've gone through it and felt comfortable back in the race car. So, it's never crossed my mind. It probably will now moving forward and I'm sure we're all much more aware of it now. But up until today, I haven't been concerned. "And the safety that we have in the cars today with the soft walls and Hans device, I think we've grown very comfortable with these crashes. Some fans don't think that there's enough crashing and enough action and it's a little too tame now, but this is a reminder about how dangerous this sport is. We've made it a lot safer, but there still are people riding in those cars." IS THERE A MENTALITY ABOUT BALANCING GETTING THESE CONCUSSIONS ON THE BOOKS VERSUS BEING A TOUGH GUY AND JUST TRYING TO SOLVE IT ON YOUR OWN, LIKE DALE DID AT FIRST? "Yeah, again, everybody faces those decisions. I can say through the few that I have had, within a couple of days things change dramatically and you just start to feel much better. What I have learned through the years and even watching through the NFL, when you're not fully healed, you're more susceptible and the next concussion can come at a much slower impact and be much more severe. So I think that's the greatest concern. If it's a really bad wreck, we're all going to know and understand it and see it. And then you're on the books and you know. But if you have a mild concussion and it goes away and you feel fine to get back in the race car; and again, I just saw Junior and he looks great; and he's like man, I feel great, but I'm scared if something happens again. You just can't take that risk. So, that's where you've got to man-up and decide what risks you're willing to take and you need to make the right decision so you don't hurt yourself anymore." YOU'VE DOMINATED HERE BEFORE, AND THEN NOT BEEN VERY DOMINANT. HOW DO YOU ACCOUNT FOR THAT AND DO YOU THINK IT CAN CHANGE THIS WEEKEND? "I think we'll be real competitive. We had an advantage with the old surface and then they ground it and we were still on top of things, and then the repave was really a great equalizer. I think it kind of tipped things towards Kasey Kahne's hand, if anyone's. So, we really hope to be back to our winning ways here too and this would be a good time to have that happen. I still love the race track. The 1.5-mile tracks look similar to a lot of people, but inside the car and on the race track, this one drives way different than any of them. It's fun."
Original Story:
http://startnparkblog.com/?p=12649&ut...
THE BACKYARD
BEST OF MAXIM
RELATED ARTICLES
Dale Earnhardt Jr. didn't want to climb out of the No. 88 car this weekend -- or any weekend. Finally, the pieces had come together. In his fifth season at Hendrick Motorsports, Earnhardt had blossomed under the direction of crew chief Steve Letarte. Earnhardt had led the point standings for the first time in eight years. After a four-season drought, he returned to Victory Lane...
NASCAR Sprint Cup driver Dale Earnhardt Jr. will miss the race at Charlotte Motor Speedway Saturday night and the following race at Kansas Speedway after being diagnosed with a concussion earlier this week. Earnhardt Jr. outlined what led to this diagnosis and how he feels about stepping out of the car for a couple of races. NASCAR SPOKESMAN KERRY THARP: Joining us up front we have...
Dale Earnhardt Jr. met the media todayDale Earnhardt Jr. will miss the next two races in the Sprint Cup Series, this weekend at Charlotte and next weekend at Kansas, as he recuperates from a concussion suffered during the wreck on the final lap at Talladega next weekend. Below are some of his comments from is presser today as he met the media, where he announced that Regan Smith...
Tony Eury returned to the track Thursday for the first time since he was dismissed by JR Motorsports last month. While the former competition director is enjoying time on the links and a little fishing, at 58 he's far from ready to retire. "I'm just over here seeing all my friends," Eury said. "I haven't seen them since - Sept. 4, I guess. I thought since...
Dale Earnhardt Jr. will not compete in the upcoming NASCAR Sprint Cup Series events at Charlotte Motor Speedway and Kansas Speedway after being diagnosed with a concussion following the Oct. 7 race at Talladega, Ala. Earnhardt, driver of the No. 88 Chevrolets for Hendrick Motorsports, was diagnosed Wednesday afternoon in Charlotte. Regan Smith will be the team's substitute driver...
Dale Earnhardt Jr will miss the next two races on the NASCAR Sprint Cup Series schedule following a last lap crash at Talladgea.Speaking at a press conference Earnhardt Jr talked about his accident at Kansas where he blew a right front tire during a testing session. Earnhardt said he felt something was not right but "felt pretty good after a week or two" and described himself...
The death of Dale Earnhardt Sr. led to sweeping changes that made NASCAR a safer sport through mandatory neck restraints, impact-absorbing SAFER barriers at tracks and a redesigned stock car. More than 11 years after the elder Earnhardt was killed at Daytona International Speedway, his son may help make the sport even safer by the mere fact he decided to take himself out of his...
Dale Earnhardt Jr. says that he knew something wasn't quite right, so he wanted to be checked out before he returned to the race car. In meeting with neurosurgeon Dr. Jerry Petty this week, it was determined that the driver had a concussion and that it would keep him from racing right away. Thursday morning at Charlotte Motor Speedway, Earnhardt Jr. outlined what led him to...
Hendrick Motorsports announced on Thursday that driver Dale Earnhardt Jr. will sit out the upcoming NASCAR Sprint Cup races at Charlotte Motor...
Dale Earnhardt Jr announced earlier this week that he would not be driving the No. 88 Mountain Dew Chevrolet at Charlotte or Kansas. It was announced that Regan Smith would be filling in for Earnhardt for those two races.Smith qualified 24th in his debut for Hendrick Motorsports. By lap 25 he had moved up to 15th position passing the No. 78 car he had driven up until a week ago....
AJ Allmendinger will race this weekend for the first time since his July drug suspension. Phoenix Racing called Allmendinger on Thursday and asked him to report immediately to Charlotte Motor Speedway to drive the No. 51 Chevrolet. Regan Smith had been tabbed to drive the car, but is instead going to replace Dale Earnhardt Jr., who will miss the next two races with a concussion...
All Sports News

Delivered to your inbox

You'll also receive Yardbarker's daily Top 10, featuring the best sports stories from around the web. Customize your newsletter to get articles on your favorite sports and teams. And the best part? It's free!
THE HOT 10: Who's Trending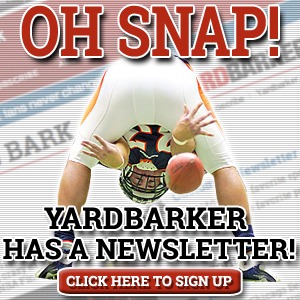 Latest Rumors
Best of Yardbarker

Today's Best Stuff

For Bloggers

Join the Yardbarker Network for more promotion, traffic, and money.

Company Info

Help

What is Yardbarker?

Yardbarker is the largest network of sports blogs and pro athlete blogs on the web. This site is the hub of the Yardbarker Network, where our editors and algorithms curate the best sports content from our network and beyond.