Found February 10, 2013 on Knickswag:
Knicks 88 Clippers 102 Boxscore Today the Knicks had a chance to make statement to the world and to all Knicks fans. This was not their day. The New York Knicks could not stop Chris Paul, Jamal Crawford and the relentless offense of the LA Clippers. The Clipps held down the Knicks, despite Carmelo Anthony's 42 points and 8 rebounds. The Clippers beat the Knicks 102-88. Things That Looked Good: - If you weren't sure, now you are, Carmelo Anthony is the entire Knicks team. They have no second option and will never go anywhere unless someone steps up and helps Melo. Melo is the man, no doubt! - Knicks defense came alive in the 3rd quarter, but it was nearly not enough to secure a win. - Raymond Felton penetrated all night and he paid for it, as he was pounded to the floor play after play. Raymond is the point guard the Knicks need to get to the next level. He finished with 20 points and 5 assists, but 4 turnovers. - The Knicks have a "fighting" spirit to them. They fight back when they are down in most games, but this is not a quality I think they should count moving forward. - Iman Shumpert gave solid minutes. It might not show up on the stat sheet, but I thought he contributed, as he makes it back from knee surgery. Things That Need to Improve: - Defense wins championships. We all have heard it before and we all know its true. – This Knicks team does not have that defense to win a trophy at this point in time. - Constant switching and mismatches have hurt the Knicks time in and time out. It's getting tiresome reporting on it. They must change their bad habits or they will find themselves sitting at home at the end of the first round of the playoffs. - JR Smith did not show up. His shot selection was awful and when he holds the ball the offense stops completely. - Steve Novak was horrific today. His defense and missed assignments was not winning basketball. He needs to focus on the D or get out of the game. Harsh I know, but true! - Amar'e has been playing great the last 10 games, but today he could not find it. His post up seemed rushed and off balance. - New York was outrebounded today 43-35, which has not happened for the last couple of games, but then again they did not play elite teams this last week. - NY only dished out 11 assists and had 16 turnovers; this is a horrible formula for winning. Overall, the Knicks could not stop the relentless offense of the LA Clippers. The Knicks defense was picked apart and looked predictable all game. All season these defensive questions have been talked about, but not fixed. Mike Woodson is a defensive minded coach, however his team does not bring those fundamentals for 48 minutes a game. Excuses are getting old and eventually the playoffs will come and the Knicks will be "1 and done" if they don't figure it out. Magic Johnson is thinking that the Knicks should make a trade for a low post presence. It is true that the Knicks do not have a low post scorer, Amar'e is not that type of guy and they can't count on Sheed and Camby to get healthy. Should they make a trade?   Peter A – Knickswag The post Knicks Can't Stop Clippers Offense appeared first on Knickswag - A New York Knicks Blog - News, Rumors, and more!.
Original Story:
http://knickswag.com/9707/
THE BACKYARD
BEST OF MAXIM
RELATED ARTICLES
Carmelo Anthony's wife Lala reportedly tastes like Honey Nut Cheerios according to Kevin Garnett but one flaky fan in Minnesota sounds like he is just plain nuts. Anthony was confronted by a trash-talking Timberwolves fan — while entering the Target Center Friday night — who harassed the Knicks star about Garnett. The obsessed man taunted Anthony about  his Celtics rival...
Carmelo Anthony had 36 points and nine rebounds, scoring 12 points down the stretch to rally the New York Knicks to a 100-94 victory over the Minnesota Timberwolves on Friday night. Anthony topped 30 points for the 17th time this season for the Knicks, who trailed by 11 with seven minutes to play. But Anthony did all of his fourth-quarter damage in those final minutes, hitting a...
For a player that is slumping, Iman Shumpert has a lot of  fans within both the New York Knicks locker room and his coaching staff. Please Click Here To Read This Story. The post New York Knicks' Iman Shumpert fights off trade rumors with Carmelo Anthony's help appeared first on Players View Dot Net
The New York Post is reporting that Carmelo Anthony had an uncomfortable experience as he entered the Target Center last night for the Knicks vs Timberwolves game. A crazy fan reportedly was able to sneak by Target Center security, and followed Melo from the team bus all the way to the lockerroom, screaming at Melo in regards to Kevin Garnett. The fan snuck by security when the Knicks...
Funny? Sure, but this is why no one takes the Knicks seriously as contenders. When you are losing the game, you might want to focus on what you need to make a comeback, not silly shenanigans. Not a big deal, but tells you a little bit about the mind set of the Knicks. Are they happy to be just good in regular season or are they going to be real killers when the post season starts...
Post Game Recap Final Score: Clippers: 102  Knicks: 88 It was a long afternoon at the Garden for Knicks fans as the Clippers came into MSG and took it to the Knicks for the better part of the afternoon.  All of the Knicks struggles from throughout the season came out at once today, making it almost unbearable to watch at times.  The Knicks also got another scare in the injury...
A rumored trade that would send New York Knicks guard Iman Shumpert to the Phoenix Suns for Jared Dudley is "unlikely at this point," according to Ian Begley of ESPNNewYork.com. 
J.R. Smith clowns Chris Paul's halftime interview by attacking him with a towel during Sunday's matinee game:
Seventeen year NBA veteran Grant Hill played all of 15 minutes, scored only 2 points, and didn't take a single field goal during the Clippers' matinee victory over the Knicks this past Sunday.Looking at the stat-sheet, one could be led to believe that Hill has shriveled up into an old veteran that makes little to no impact for his team. They'd be all wrong.The veteran...
The New York Knicks and Los Angeles Clippers could be battling fatigue as much as each other Sunday. Both teams were unable to get out of town immediately after their previous games because of the massive storm in the Northeast ahead of this matchup at Madison Square Garden. New York (32-16) stayed in Minnesota after a 100-94 victory Friday and Los Angeles (35-17) remained in Miami...
All Sports News

Delivered to your inbox

You'll also receive Yardbarker's daily Top 10, featuring the best sports stories from around the web. Customize your newsletter to get articles on your favorite sports and teams. And the best part? It's free!
THE HOT 10: Who's Trending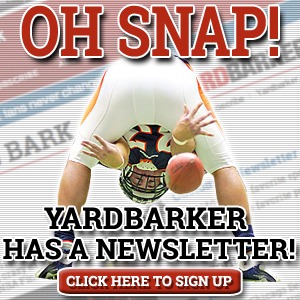 Latest Rumors
Best of Yardbarker

Today's Best Stuff

For Bloggers

Join the Yardbarker Network for more promotion, traffic, and money.

Company Info

Help

What is Yardbarker?

Yardbarker is the largest network of sports blogs and pro athlete blogs on the web. This site is the hub of the Yardbarker Network, where our editors and algorithms curate the best sports content from our network and beyond.