Found February 07, 2013 on BlackSportsOnline:
Just the day after Cavallari admitted that Jay Cutler proposed to her via text, she's taken to twitter to blame the media for misquoting her. Cavallari wrapped an interview with E! set to air in March and stated the following about how Jay popped the question I was in the airport, leaving Chicago. We had just spent however many days together and we were texting and somehow it came up, like, 'Oh, shall we get married?' We're like, 'Yeah, OK,'" Now she's spent the day on twitter coming to her now maligned fiance's aide and denouncing the quotes as tabloid fodder. Stop bashing jay. He proposed in Cabo. Stop believing headlines…u have no clue. They take 1 piece of an interview to get ppl talking. — Kristin Cavallari (@KristinCav) February 7, 2013 And sports "news" is no better than tabloids. That's where they get their info — Kristin Cavallari (@KristinCav) February 7, 2013 Nothing wrong with a lady going out of her way to defend her man, but she's wrongly lashing out at the media essentially for just quoting something she said. Cavallari most likely didn't anticipate the flak Jay would get over what she felt was a lighthearted story, but for her to get upset and point the finger over her own statements is a bit laughable.
Original Story:
http://blacksportsonline.com/home/201...
THE BACKYARD
BEST OF MAXIM
RELATED ARTICLES
Sometimes as fans we tend to take things for granted. One bad play, interception, or interview and suddenly a player is nothing but a bum. Jay Cutler of the Chicago Bears is one of those quarterbacks who gets a bad rap at times. His attitude portrayed can sometimes rub people the wrong way and cause them to believe the Bears may be better off without him. Here's a look at 15 NFL...
For his pouting and diva-like, meme-spawning attitude, Jay Cutler has earned a significant amount of notoriety around the NFL. And not just on the field. In a new survey released by Forbes, the Bears quarterback was named the most disliked NFL player -- and fourth-most disliked athlete in America. The tabulation was based on Nielsen Sports and market research firm E-Poll. Despite...
Well, with Valentines day approaching, we figured we'd share with you a heartwarming and touching love story. It's nothing as sappy as The Notebook, but Jay Cutler is officially engaged (again) and he did it in a way that is pretty unique. Which, I guess is the point, right?! Cutler and Kristin Cavallari are back to being engaged, and they have a date set for the marriage. But...
Jay Cutler is not known for being much of a charmer, which may be part of the reason he wound up on the list of most hated athletes.  Somehow, he is still engaged to former MTV star Kristin Cavallari and the couple will finally exchange vows as part of an E! special to air March 10th. Is there any more awkward fit between celebrity and network than Jay Cutler and E!?? The irony...
Sure, we've done our fair share of Cutler-Cavallari bashing here on BC. That being said, we didn't jump on the "news" yesterday that Jay Cutler proposed to Cavallari via text message. Why? Well there was nothing behind it. It was all stupid speculation. Now we're glad we didn't post this nonsense like every other site did because Cavallari tweeted confirmation that...
Tweet Chicago Bears quarterback Jay Cutler isn't the most liked QB in the NFL, but that hasn't stopped former reality TV star Kristin Cavallari from agreeing to get engaged to him for the second time. Only this time, Cutler's proposal and engagement ring exchange were a little… atypical. Cavallari revealed Cutler's proposal in a recent [...]
Only Jay Cutler could pull something so non smooth off and it be ok.  Bears quarterback Jay Cutler and his fiance Kristin Cavallari have had their relationship struggles, and at want point had called off their initial engagement. The couple is good again, and expecting a child in August.  They are also planning to wed sometime in coming year, but the story of how they got engaged...
Yesterday, Jay Cutler's dominance was attacked twice by the media. A story, published by E! Online, accused the Great One of proposing to his wife, Kristin Cavallari, via text message. The story was widely disseminated throughout various "news" websites and the blogosphere. It was taken by the public as another reason to think Jay Cutler does not dominate. I quickly wrote...
 How does an NFL quarterback propose to his reality star girlfriend these days? By popping the question via text message, of course.This is precisely the route Chicago Bears signal caller Jay Cutler took when asking for Kristin Cavallari's hand in marriage. Cutler pulled the trigger in November 2011 after the two initially became engaged in April 2011. They called things off...
Bears quarterback Jay Cutler has explained away a lot of obnoxious, very Jay Cutler behavior. He has reasons why he shouted at teammates, blew off coaches on the sidelines or generally just doesn't look invested in life. But he's going to need a pretty good explanation when it comes to why he was such a schmuck when he proposed to his girlfriend. Kristin Cavallari is counting...
(Text Messages) Jay Cutler: "Sup girl. U trying to do this or what?" Kristin Cavallari: "Like, do what?" Jay: Wdng Kristin: What? Jay: Wedding? Kristin: Oh you mean like, get married? Jay: Yeah Kristin: K Jay: (Thumbs up emoji) That's not exactly how Jay Cutler proposed to his baby mama, reality TV throwback Kristin Cavallari, but it's pretty damn close. The proposal...
Forbes magazine released a poll of the top 10 most disliked athletes in sports. Two athletes which have received copious amounts of news coverage in the past month top the list, Lance Armstrong and LB Manti Te'o. Armstrong has always been a controversial figure in the sporting world but his recent admission of doping, placed him at the top of the list with just a 15% appeal rating...
Bears News

Delivered to your inbox

You'll also receive Yardbarker's daily Top 10, featuring the best sports stories from around the web. Customize your newsletter to get articles on your favorite sports and teams. And the best part? It's free!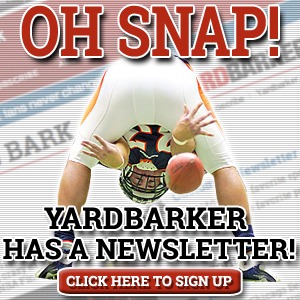 Latest Rumors
Best of Yardbarker

Today's Best Stuff

For Bloggers

Join the Yardbarker Network for more promotion, traffic, and money.

Company Info

Help

What is Yardbarker?

Yardbarker is the largest network of sports blogs and pro athlete blogs on the web. This site is the hub of the Yardbarker Network, where our editors and algorithms curate the best sports content from our network and beyond.