Apparently, Buffalo Bills guard Richie Incognito and Jacksonville Jaguars defensive end Yannick Ngakoue have made peace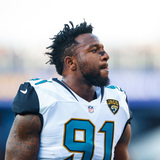 Jacksonville Jaguars defensive lineman Yannick Ngakoue accused Buffalo's Richie Incognito of using a racial slur during their AFC playoff game, but the two have apparently cleared the air.According to Michael DiRocco of ESPN, Ngakoue and Incognito spoke at Pro Bowl practice and settled the accusations. Ngakoue declined to discuss any specifics of what was said, but did confirm that...
The last time Jaguars defensive end Yannick Ngakoue and Bills guard Richie Incognito were on the same field was in the Wild Card round of the playoffs and Ngakoue said after the game that Incognito used racial slurs during the game. The two men are back on the same field this week as members of [more]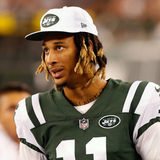 The Jets have some major decisions to make on players this offseason, including troubled wide receiver Robby Anderson. Anderson's embarrassing arrest last week has put his spot in jeopardy, but Andy Vasquez of The Bergen Record expects him to get another chance given his enormous potential. Vasquez estimates that the same can't be said for players who have underperformed, like quarterbacks...
The NFL fined Jaguars defensive end Yannick Ngakoue $18,231 for unnecessary roughness. It was Ngakoue's third fine this season. He was fined $24,309 for a roughing-the-passer penalty on a hit on Deshaun Watson in the season opener. And the league docked him $30,387 for contact with an official in a December 24 game against the [more]
Jaguars' defensive end Yannick Ngakoue said of Bills' offensive lineman Richie Incognito's alleged racial slur, "Stuff's not going to bother you but somebody says something about your ethnicity, that's really kind of taking it a littlle bit too far."
Via
ESPN
January 08, 2018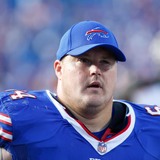 Jaguars defensive end Yannick Ngakoue indicated on Twitter Sunday night that Richie Incognito directed a racial slur toward him during Jacksonville's win over the Buffalo Bills, and the NFL is looking into the allegation.ESPN's Adam Schefter reported on Monday that an NFL official said Ngakoue's accusation is being taken seriously. Ngakoue did not reveal what it was specifically...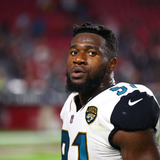 Jacksonville Jaguars defensive end Yannick Ngakoue appeared to accuse Buffalo Bills OL Richie Incognito of using racist slurs during Sunday's AFC wild-card playoff game between the teams.Well after the Jags won 10-3 over the Bills, Ngakoue sent the following tweet addressed to "64," which is Incognito's number. Ngakoue also spelled out Jonathan Martin in his hashtag. Martin accused...
The NFL fined Jaguars defensive lineman Yannick Ngakoue $30,387 for contact with an official during Sunday's loss to the 49ers. Officials penalized Ngakoue late in the third quarter, and the 49ers ended up cashing in with a touchdown on the drive. 49ers defensive lineman Cassius Marsh also earned a fine for an illegal hit during [more]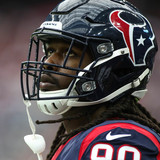 With only four more weeks left in the regular NFL season, all 32 teams are in a scramble to finish with their best record.Recent shifts made competition in the NFC even tighter. The Philadelphia Eagles will be looking to get back on track on the road facing a tough NFC competitor. Both quarterbacks in this showdown might be challenged put points on the board.In the AFC, the Kansas...
MORE STORIES >>
Jaguars News

Delivered to your inbox

You'll also receive Yardbarker's daily Top 10, featuring the best sports stories from around the web. Customize your newsletter to get articles on your favorite sports and teams. And the best part? It's free!