HOMESTEAD, FL - NOVEMBER 21: Kyle Busch, driver of the #18 Z-Line Designs Toyota, poses with the race trophy in Victory Lane after winning the NASCAR Nationwide Series Championship and the Ford 300 at Homestead-Miami Speedway on November 21, 2009 in Homestead, Florida. (Photo by Rusty Jarrett/Getty Images for NASCAR)
MOORESVILLE, N.C. – If anyone is going to master Dover (Del.) International Speedway this weekend in the NASCAR Nationwide Series, it's going to be the duo of Kyle Busch and his No. 54 Kyle Busch Motorsports (KBM) team crew chief Mike Beam. Between them, they've accomplished 11 wins and led 1,580 laps across NASCAR's top three divisions on the one-mile oval, appropriately named the "Monster Mile." How fitting would it be for them to achieve victory together in their inaugural season, and in support of their full-time partner Monster Energy? In 2010, Busch dominated the Delaware short track, achieving wins at both the spring and fall Nationwide Series events. In the spring race that year, Busch earned his victory from the pole position after, leading 191 of the 205 event laps. In the fall race, he backed up the win from the second-place starting spot, again dominating with the lead in 192 circuits of the 200-lap race. Needless to say, Busch is used to racing up front on this short track. That year and in 2011, the driver and his crew chief were also working under different colors. For Busch, after earning victory in the NASCAR Truck Series the day before, he ran very strong in the Nationwide Series spring event and finished in second place – to a car led by Mike Beam. Beam's team achieved victory at that first Dover event, from the pole position and with 87 laps led. They followed it up with a strong repeat victory in the fall race, leading 179 of 200 laps, proving he too, is accustomed to leading and winning at the Dover facility. This time the two winners will be paired up together. In his 17th start as owner-driver of the black No. 54 machine, Busch is eager to repeat success and earn his first victory of the year, with his KBM crew chief, team and sponsor. Kyle Busch, Driver of the No. 54 NASCAR Nationwide Series Monster Energy Camry: You've had much success on this Dover racetrack, how much are you looking forward to attempting it in your own ride? "Kurt ran here for us in the spring and did a really good job, finished fourth, and gave us some good notes to return with. I have high expectations for this one since I feel I know the track pretty well, and I know Mike (Beam, crew chief) has been successful here too. In fact, I finished second to him here last year, so I want another stab at it and this time we can win it together." Mike Beam, Crew Chief of the No. 54 NASCAR Nationwide Series Monster Energy Camry: How will this Dover event be different from the spring race? "We are taking the #003 chassis again, but we've updated the car. It ran well in Dover the first time and then at Bristol, but we know it's better now. I know our team and fleet of cars have improved since the first race, and every week we are trying our best. It's also exciting to have Kyle in the car, since he's so good there. I'm usually up against him and he was always hard to beat here. This time we are together. We need to win a race with Kyle and hopefully we can do that this weekend." Chassis KBM-003: KBM will unload car #003, raced several times this season, including a fourth-place finish at the first Dover event in June. The Camry was also driven by Kyle Busch at Las Vegas (Nev.) Motor Speedway (33rd, wreck), New Hampshire Motor Speedway in Loudon (28th) and Bristol (Tenn.) Motor Speedway (3rd). The backup machine is Chassis KBM-007, regularly traveled as a second team car. Notes of Interest:  Crew Chief Mike Beam's Dover International Speedway statistics include 42 races, four wins, eight top-five finishes, 19 top-10 finishes, one pole and 869 laps led. Loop Data Statistics over the past seven races record Busch with the highest Number of Fastest Laps Run (396, 22.3%), Most Laps Led (853), Highest Percentage of Laps Led (38.4%), Fastest by Quarter (2.329 mph diff.) and Fastest Late in a Run (144.990 mph). Busch holds the second highest Driver Rating (117.0) at Dover in the Nationwide Series with an Average Finish of 12.7. The younger Busch is recorded with the second fastest Speed in Traffic at Dover in the NNS, 144.697 mph, second to the older Busch's 144.898 mph. Busch is recorded among Top-10 Drivers with the third-fastest Green Flag Speed (145.964 mph), fourth-fastest Early Run Speed (147.949 mph), fifth in # of Top 15 Laps (1860, 83.7%) and Fastest Restarts (142.316 mph) and seventh in Average Running Position (8.125). In the 2012 spring Dover NNS event, Kurt Busch piloted the No. 54 Monster Energy machine, recording a ninth-place starting spot and a fourth-place finish.
Original Story:
http://startnparkblog.com/?p=11914&ut...
MORE FROM YARDBARKER
All Sports News

Delivered to your inbox

You'll also receive Yardbarker's daily Top 10, featuring the best sports stories from around the web. Customize your newsletter to get articles on your favorite sports and teams. And the best part? It's free!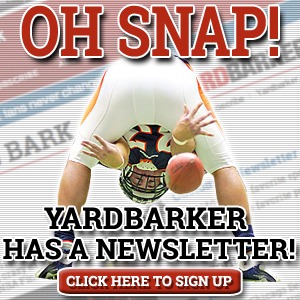 Latest Rumors
Best of Yardbarker

Today's Best Stuff

For Bloggers

Join the Yardbarker Network for more promotion, traffic, and money.

Company Info

Help

What is Yardbarker?

Yardbarker is the largest network of sports blogs and pro athlete blogs on the web. This site is the hub of the Yardbarker Network, where our editors and algorithms curate the best sports content from our network and beyond.