Found June 15, 2013 on BlackSportsOnline:
Lakers guard Steve Nash suffered a fracture in his fibula during the second game of the season, that sidelined him until Dec. 22. Nash missed 24 games during that stretch, and was never the same during the 2012-13 NBA season.  Nash's 6.7 assist per game were his lowest since 2,000. Lakers trainer Gary Vitti now wants the team to limit his minutes, so that Nash can be healthier according to Lakers.com. Yes, he's working with his longtime therapist in Vancouver and is getting better every day. Steve did everything we asked him to do all season, but as I mentioned, the fibular fracture along with the neurological component just disrupted his kinetic chain and he started compensating, which creates dysfunction. Part of what has made him great is his ability to know his body and compensate for movements on the court. But getting hurt so early and being out so long kept him from getting to that point, as he was chasing young guys like Ty Lawson and Russell Westbrook around the court. Teams were running him around picks, smashing him into the floor — he really got beat up last year. But I think he's going to come back in great shape, and then it's all about how he's used. You don't want to beat him up in practice. Save it for the game, figure out the appropriate minutes that put him in a successful situation. The example I use is Robert Horry, where we played him a lot of minutes, and it was difficult for him to recover and be productive at his age. But he goes to San Antonio, plays 18 minutes a game, and the guy was an unbelievable force off the bench for them. I think if we figure out how best to use Steve, he can be the same way. If Nash can't get back to being his normal self, the Lakers have no shot at overall team success.
Original Story:
http://blacksportsonline.com/home/201...
THE BACKYARD
BEST OF MAXIM
RELATED ARTICLES
When Phil Jackson talks -- or Tweets – people listen. Whether people actually believe him or not is a completely different story, particularly when the former head coach of the Los Angeles Lakers and Chicago Bulls and arguably the greatest basketball coach of all-time confesses that his coaching days are over. How many times have we heard this song? Jackson said as...
Kobe Bryant has one year remaining on his deal with the Los Angeles Lakers, but that does not mean the future Hall of Famer is contemplating retirement. Bryant suffered a torn Achilles back on April 12, and we all know he would never be one to let an injury dictate the end of his career. [...]
This isn't a breaking news story, we reported a couple of weeks ago about a rumor that Dwight and CP3 might be looking to play together. You don't have to be an insider to know this is a possibility, a remote possibility, but one that is out there. Chris Broussard's sources are telling him discussions have been taking place between Howard and CP3. Sources: CP3 & D12 hope...
Jimmy Kimmel loves Trick Shot Titus.  He has had the youngster on his show multiple times since Titus' YouTube videos went viral.  Most recently, Titus beat Shaquille O'Neal in a shooting contest, and this time, Titus would take on Metta World Peace.  Titus went on to shred Metta World Peace, just like he did Shaq, winning 11-6.  The best line of the night?  When Jimmy tells...
Any team looking to get into the Dwight Howard sweepstakes will have to sign him on their own, because the Lakers will be unlikely to agree to a sign and trade of their All Star big man. ESPN.com is reporting that the Lakers, who are aware that they could lose Howard to the Rockets, would rather save Howard's cap space for 2014, the Summer of Lebron, than agree to a sign and trade...
According to Ramona Shelburne of ESPN Los Angeles, despite titling his comeback 'The Last Chapter' via Twitter Friday, Kobe Bryant , who will be in the final year of his contract with the Lakers next season, wants to return for revenge and reportedly wants 'two more cracks' at a title. Los Angeles Lakers guard Kobe Bryant set off a mild panic among Laker fans on Friday...
When free agency begins on July 1, the most coveted free agents on the market, Dwight Howard and Chris Paul, reportedly want to play together and hope to land on the same team next season. According to Chris Broussard of ESPN.com: Chris Paul and Dwight Howard have been in consistent contact recently about the possibility of becoming teammates next season, according to league sources...
Dwight Howard and Chris Paul may be taking their talents to … well, that part hasn't been decided yet. But according to a report by ESPN's Chris Broussard, the two superstars have been in "consistent contact" about the possibility of teaming up for the 2013-14 season. "They would love to play together if somebody can make it happen," a source close to the situation...
I always felt the chances of Dwight Howard and Chris Paul wanting to play together were extremely low, but if you trust Chris Broussard and his sources I have apparently been wrong. Sources: CP3 & D12 hope to team up next season. Have been texting back & forth to figure it out. Story up soon [...]
Dwight Howard and Chris Paul have been in contact with each other in an effort to play for the same team next season, according to sources. The Los Angeles Lakers and Los Angeles Clippers do not have the available cap space to allow Howard and Paul to team up, which would necessitate an unlikely trade scenario. The Houston Rockets, Dallas Mavericks and Atlanta Hawks all have cap...
Tweet First, let me make a disclaimer: take this latest NBA free agency rumor as just that, a rumor. According to ESPN's Chris Broussard and his now infamous "sources", free agents Chris Paul and Dwight Howard have been texting each other about the possibility of them playing together: Paul and Howard will be the biggest [...]
According to ESPN, soon-to-be free agents Chris Paul and Dwight Howard could be teammates.  Apparently, the two have been on good terms lately and have been discussing a possibility of [...]
Lakers News

Delivered to your inbox

You'll also receive Yardbarker's daily Top 10, featuring the best sports stories from around the web. Customize your newsletter to get articles on your favorite sports and teams. And the best part? It's free!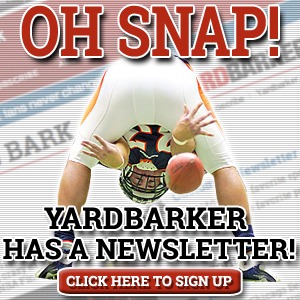 Latest Rumors
Best of Yardbarker

Today's Best Stuff

For Bloggers

Join the Yardbarker Network for more promotion, traffic, and money.

Company Info

Help

What is Yardbarker?

Yardbarker is the largest network of sports blogs and pro athlete blogs on the web. This site is the hub of the Yardbarker Network, where our editors and algorithms curate the best sports content from our network and beyond.