Found July 13, 2013 on Waiting For Next Year:
PLAYERS:
Anthony Bennett
,
Sergey Karasev
,
Dion Waiters
,
Tyler Zeller
,
Carrick Felix
,
Carl Landry
,
Steve Kerr
,
Reggie Miller
,
Mike Brown
,
Dan Gilbert
,
Brad Stevens
,
Danny Ainge
,
Doc Rivers
,
Kyrie Irving
,
Tristan Thompson
TEAMS:
Cleveland Cavaliers
,
Golden State Warriors
,
Boston Celtics
,
Memphis Grizzlies
,
Cleveland Browns
This was the highlight of the game, Kyrie in the booth. Ah, summer league. Where NBA fans can get their first looks at the rookies taken in last months draft. I've been pretty jazzed about the Cavs offseason and draft, so I decided to give the NBA my $15 and watch the newest Cavaliers, Anthony Bennett and Sergey Karasev. What's that? Bennett is rehabbing in Cleveland and Karasev is playing in Russia? Oh. Well, regardless, I can still watch Dion Waiters, Tyler Zeller and second round pick Carrick Felix play for Cleveland's summer league team.  To call this game ugly would be an understatement. The play was choppy, the defense came and went and too many players were trying to do too much to impress the multitude of scouts in attendance. The Cavs began the game  in a quick 6-0 hole and it took them four minutes to score their first basket.  The Cavs trailed 18-10 after the ten minute first period but managed to crawl back in the second period, heading into halftime trailing just 26-23. Ya. This wasn't pretty. The basket opened up in the second half.  Players were more loose and comfortable in the second half and shots actually went in. The Cavs cut the Laker lead to just one, 48-47, heading into the fourth quarter. Cleveland upped the defensive intensity in the final period and pulled away from the Los Angeles late for the 70-62 victory. Cavalier Jermaine Taylor had a game-high 17 points on 5-9 shooting (2-3 from downtown) and Tyler Zeller pitched in 15 points and seven rebounds. Marcus Landry, brother of former Warriors and new Kings forward Carl Landry, led the Lakers with 14 points. Random Thoughts: Dion Waiters: This was not the start you wanted to see from Dion. Waiters finished a dismal 1-11 from the floor and went 1-3 from the stripe. Waiters seemed to be pressing; he attacked the rim and tried to split a lot double teams, but he often got himself stuck in no-man's land. The most concerning thing is that Waiters was still fading away on jumpers coming off of curls and screens. Despite the poor shooting, Waiters grabbed four boards, dished out five assists, and finished with a +/- of +2. When Dion attacked and passed, he found his teammates in great spots for buckets, but he had trouble getting himself in comfortable shooting positions. Tyler Zeller: Solid, if unspectacular game from Tyler. Zeller finished 6-10 from the floor and 3-4 from the line for a 15 point, seven rebound evening. It's hard to get a good read on Zeller in this format, as his big issue is whether or not he can defend NBA bigmen (and Real NBA Bigmen don't usually play in summer league). I will say it was nice to see Zeller finish off some and-ones after contact. Carrick Felix: I'm in! The second round pick hustled, hit some threes (2-3 from downtown) and had two really nice blocks (one on a weakside help and another on a three-point closeout). Felix finished with 14 points and six boards (he really crashed the offensive glass well). His jumper didn't look super great, but he was able to get the shot off pretty quickly. Announcers: This is my first time buying the summer league package and I wasn't sure what to expect. Is it just a video feed of the game? Am I getting announcers? Will they be a couple of no-names? Nope. The announcers for the Cavs-Lakers summer league game were Steve Kerr and Reggie Miller and I thought they did a pretty good job. It was kind of crazy how much they focused on the Cavaliers. Now, the Lakers aren't exactly in a good spot, but this almost felt like a Cavs broadcast.  Both loved the Bynum signing and really liked the other moves the Cavs made this summer. Given that this was a game between the Cavs and the Lakers, the topic of LeBron's free agency was brought here and there (what amused me to no end, was that both Kerr and Miller endorsed the Lakers bottoming out and tanking for Andrew Wiggins). It hasn't quite sunken in that Mike Brown is once again the Cavaliers' coach. Brown joined Kerr and Miller in the booth during the second quarter and he was pretty entertaining (certainly better than when owner Dan Gilbert joins Austin Carr and Fred McLeod in the booth and AC and Fred overlaugh at Gilbert's jokes). Kerr needled Brown on former Butler coach Brad Stevens going to the Celtics right after Brown's son Elijah committed to Butler and Brown played it off well, saying that both Danny Ainge and Doc Rivers said they'd draft Elijah to make it up to the Brown family. Coach Mike also did a good job of passing off the Bynum questions, as he hasn't officially signed with the Cavaliers yet. One exchange that was troubling: Kerr: Is he [Anthony Bennett] a four? Is he a three? Is he a combo? Brown: That's a great question. GREAT Brown went on to say that he plans to begin with Bennett at the four and then move him to the three when Bennett becomes more comfortable. Brown also said that he loves that new addition Earl Clarke can guard four positions and that he plans on playing Clarke at the three. Kyrie Irving: In a familiar sight, Kyrie Irving was sitting on the bench in street clothes. Unlike the depressingly normal circumstances, Kyrie wasn't injured, he was there to support his teammates in summer league. In all seriousness, I love love love that Kyrie is in Vegas with these guys. He started the game watching the action from the end of the bench but he moved in between Zeller and Dion once the two second-year players took a breather. Kyrie also joined Reggie and Kerr in the booth. He discussed how he's been in Vegas since Monday and has been holding team workouts and attending summer league practices. Kyrie discussed how he and Dion did too much "my turn, you turn" on offense and he needs to improve defensively. He talked about how Brown told him needs to be a leader. Kyrie also dropped the bomb that Tristan Thompson is developing a right handed jump shot and he's pumped to run pick-and-pops with Tristan. and finally… The Cavs next game is Sunday at 5:00 pm against the Memphis Grizzlies.  
Original Story:
http://www.waitingfornextyear.com/201...
THE BACKYARD
BEST OF MAXIM
RELATED ARTICLES
There will be no Luke Walton-Andrew Bynum reunion. The LA Times' Eric Pincus reports that the Cavs have renounced the rights to Luke Walton. Cavaliers have renounced the rights to Luke Walton – the NBA will never be the same — Eric Pincus (@EricPincus) July 12, 2013 This isn't exactly surprising.  No longer do the Cavs simply need veteran leaders, they're now looking for...
Newly signed Cleveland Cavaliers center Andrew Bynum had a 2012-2013 season to forget. However, this hasn't lessened his expectations moving forward. Agent told Jason Lloyd of the Beacon Journal that his client's knees are going to be a problem this season, adding that Bynum expects "to be nothing less than an All-Star" in 2013-14."His expectation is to be nothing less...
Andrew Bynum has decided to join the Cleveland Cavaliers on an incentive-laden, two-year contract, sources told ESPN. The deal is worth up to $24 million, sources said, and the Cavs hold a team option for the second year. Only $6 million of the contract is guaranteed, according to sources. Bynum, who missed the entire 2012-13 season with the Philadelphia 76ers because of a knee injury...
Pour out a little liquor for Luke. Cavaliers have renounced the rights to Luke Walton – the NBA will never be the same — Eric Pincus (@EricPincus) July 12, 2013
The Cleveland Cavaliers defeated the Los Angeles Lakers by a final score of 70-62 in Summer League play on Friday. Dion Waiters scored three points on just 1-for-11 shooting from the floor, though he had four rebounds and five assists. Tyler Zeller had 15 points and seven rebounds. Jermaine Taylor had a game-high 17 points. Marcus Landry led the Lakers with 15 points.
A disappearing act. DaJuan Wagner's NBA career was a vanishing act, and it had very little to do with what he was capable of producing on the court. A fabled debate in NBA discussion is the infamous "who would've been better had it not been for injury?" There's the normal cast of characters – Penny [...]The post The NBA's Forgotten "What If" Case Study – Dajuan...
Ezra Shaw/Getty Images It all started July 8, 2010. That was the night that LeBron James announced on TV that he was moving on, taking his talents to South Beach. With that one awkward sentence, the previous 7 seasons of exciting Cavaliers basketball was blown up, turned upside down, and left for dead. It's been three long years since then. Three unbearable offseasons, really....
INDEPENDENCE, Ohio (AP) -- The Cavaliers welcomed their two newest players and continued to work on signing their biggest free-agent acquisition. Guard Jarrett Jack and forward Earl Clark signed their contracts Friday with the Cavs, who also have an agreement with center Andrew Bynum. The sides are still finalizing Bynum's contract, so general manager Chris Grant was unable to...
I grew up listening to Bruce Drennan on sports talk airwaves in Cleveland. He's a legend who continues to do a great job on a daily basis.  He and Gene Winters invited me back on All Bets Are Off again on Thursday and I had a great time talking Cavs with those guys. Besides breaking down the Andrew Bynum deal, we also discussed the Cavs signing Jarrett Jack, Earl Clark...
Fail Whale I learned about the Cavs signing Andrew Bynum while on Twitter. This is how I get the vast majority of my news. In 140 character chunk. A few hours after Chris Broussard broke the Bynum news, I called my brother to discuss Chris Grant's awesomeness and I ended up breaking the Bynum news to him. Same thing happened a few hours later; I met up with some friends to play...
All Sports News

Delivered to your inbox

You'll also receive Yardbarker's daily Top 10, featuring the best sports stories from around the web. Customize your newsletter to get articles on your favorite sports and teams. And the best part? It's free!
THE HOT 10: Who's Trending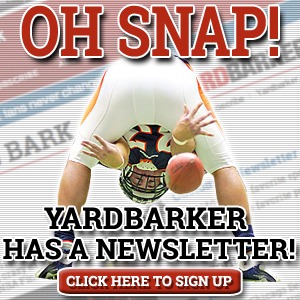 Latest Rumors
The Backyard

Today's Best Stuff

For Bloggers

Join the Yardbarker Network for more promotion, traffic, and money.

Company Info

Help

What is Yardbarker?

Yardbarker is the largest network of sports blogs and pro athlete blogs on the web. This site is the hub of the Yardbarker Network, where our editors and algorithms curate the best sports content from our network and beyond.