Found October 10, 2012 on Fox Sports Detroit:
For Pro Football Hall of Famer Charlie Sanders, the stories and memories of his late teammate Alex Karras will never go away.
Theyve always made Sanders smile. Theyll always make him laugh.
Alex was really a gentleman inside, but he had that aura about him that said he had to be tough, Sanders said. Its sad that we talk about it at this particular time, but its good to remember.
Karras, 77, died Wednesday at his home in California after suffering from kidney failure and dementia. He was part of the large group of former NFL players suing the league for its negligence over head injuries.
A dominating defensive tackle for the Detroit Lions from 1958-62 and 1964-70, Karras went on to have an equally successful acting career on both television and in the movies.
He was the one who played the role of Mongo, knocking out a horse with one punch, in the popular 1970s movie Blazing Saddles.
That was Alex, Sanders said. He was probably one of the few guys that never had to go to acting school because he was a character on and off the field. It was a natural calling for him.
Sanders chuckles when he thinks back to how Karras would celebrate after games -- smoking a cigar in, of all places, the locker-room shower.
He was the Godfather, Sanders said. Thats what Godfathers do. That was his symbol.
Sanders, now an assistant director for pro personnel with the Lions, joined the team as a rookie tight end in 1968. Karras was nearing the end of his career, but he was still clearly the boss in the locker room.
Rookies had to prove themselves to Karras.
You had to make him smile, Sanders said. You had to get him to acknowledge you to be accepted.
We were headed to play a game out of town. He passed me a picture. It was of two normal-looking kids. And then he said, Now, this is my wife.
It was the ugliest woman Id ever seen in my entire life. He looked at me right in the eye to see what I would do.
I just said, You have a nice family.
From that time on, I was accepted.
It wasnt a photo of Karras wife, of course -- just one of his many antics to keep people guessing.
Karras lived much of his life on the wild side.
He once threw his shoe at his college coach. Two of his pro coaches lost their jobs because of run-ins with him.
Karras was suspended for the 1963 NFL season, along with Green Bay star Paul Hornung, for gambling activities. Karras turned to professional wrestling during his absence, taking on the likes of all-time great Dick the Bruiser.
Karras' off-the-field frolics often have overshadowed the fact that he was an outstanding football player.
In 1957, as a senior at Iowa, he was third in the Heisman Trophy balloting, one of only three linemen to ever finish that high.
Karras also was a four-time Pro Bowl selection with the Lions, considered one of the best defensive linemen of his generation, but hes not in the Pro Football Hall of Fame.
He deserves it, Sanders said. He did a lot for the game. A lot of people are going to remember the latter part of his career, which carried a negative connotation of who he really was.
But there was a lot of good in Alex.
Karras, listed at 6-foot-2 and 248 pounds as a player, was far from an impressive physical specimen, even for those days.
He had poor eyesight, forcing him to wear his trademark thick-framed glasses. Karras was known to tackle anything or anyone at any time. If it wasnt the player carrying the football, hed blame it on his eyes.
Karras had a big, burly chest, but his lower body didnt match.
Bird legs, Sanders said. Alex never lifted weights. Alex just smoked cigars and drank beer.
If you looked at him, youd just start laughing. You would not associate this guy with being one of the meanest and toughest guys in the NFL. He just didnt have that stature. That in itself says a lot about his ability to accomplish the things he did.
He was just a short, stocky guy that smoked a cigar. That was the wonder. How can this guy be this good looking the way he did?
In 1968, a couple years before retiring as a player, Karras showed he could act as well as he could sack the quarterback. He played himself in Paper Lion, a football movie based on the nonfiction book by George Plimpton.
That appearance helped set up many other roles once Karras playing days were over.
In the ABC-TV sitcom Webster, he played a young boys father while his real-life wife, actress Susan Clark, was the mother.
Karras also spent a couple years in the booth as an analyst on the "Monday Night Football" telecasts, once saying that Otis Sistrunk, the Oakland Raiders' bald-headed, fierce-looking defensive end, was from the "University of Mars."
Without a doubt, Alexander George Alex Karras lived an entertaining life -- for better at times, for worse at times.
On the field, he had a special knack for making plays. Off the field, he kept everyone wondering what was going to happen next.
Theres only one way to celebrate his life: Go light up a cigar in the shower.
Original Story:
http://www.foxsportsdetroit.com/10/10...
THE BACKYARD
BEST OF MAXIM
RELATED ARTICLES
PRIDE OF A LION
Lions defensive lineman Ndamukong Suh has responded to an anonymous GM's critical comments about his performance as well as the team's this season.
DETAILS ARE SKETCHY
Police in Detroit reportedly are investigating a possible hit-and-run accident allegedly involving Lions defensive lineman Ndamukong Suh.
LION AND CHEATING
Recent comments by Megatron on a Detroit radio show may indicate that the all-world receiver recently tried to cover up a concussion to get back on the field.
Long-time Detroit Lions fans remember Alex Karras as one of the most dominating defensive linemen of his generation.Movie buffs will never forget the scene from Blazing Saddles when he knocked out a horse with one punch.Karras has lived his life on the edge, but that life apparently is approaching its two-minute warning. He is suffering from kidney failure and under hospice care...
Detroit Lions president Tom Lewand says the franchise is deeply saddened to learn of Alex Karras' condition. The Detroit Free Press and Detroit News reported Monday that the former All-Pro defensive lineman and actor has kidney failure and has been given only a few days to live. The 77-year-old Karras has been suffering from dementia. He is among the many former NFL players...
While I cannot stand when people come out and rip others while doing so anonymously, it still makes for good news. It would be much better if they had the guts to put their names to it, but we can't always get what we want. As is the case with a rival GM who came out and ripped Ndamukong Suh and the Detroit Lions, saying the controversial defensive lineman and his teammates belong...
The Detroit Lions have opened themselves up to being criticized, failing to meet relatively high expectations so far. Since barely beating St. Louis in Week 1, Detroit has dropped three straight games. That isn't what anybody envisioned. ''You're a great team one week and the worst in the league the next,'' quarterback Matthew Stafford said Wednesday. ...
According to Mlive.com, Lions tight end Brandon Pettigrew didn't practice Tuesday.Fantasy Spin:Pettigrew's injury is unknown since Detroit isn't required to release an official injury report until Wednesday. Pettigrew also missed the Lions' practice last Wednesday during the team's bye week.
Detroit Lions running back Javhid Best expects to learn Friday whether he'll be cleared to resume playing. Best underwent a battery of tests administered by a neurologist on Monday after suffering his second concussion of the season when he was injured in the Lions' loss to San Francisco. If the news is positive, he could be removed from the physically unable to perform...
Here is the latest news on the Detroit Lions news heading into their Week 6 matchup against the Philadelphia Eagles… • A lot of news about fifth round rookie cornerback Chris Greenwood coming out today. He is eligible to return off … Continue reading →
At their best, Matthew Stafford and Michael Vick rank among the NFLs top quarterbacks, a notch below the elite-level stars. They excel in much different ways, with Stafford standing in the pocket to exploit a secondary with his rifle arm, and Vick scrambling around to frustrate defenses with his athleticism. Neither, however, has been living up to expectations early this season...
Former Detroit Lion Alex Karras Given Just Days To Live -Alex Karras, who played defensive line for the Lions and later found even greater fame as an actor, is reportedly suffering from kidney failure and near death. After reports surfaced on Monday night that the 77-year-old Karras was given only days to live, Lions president Tom Lewand said in a statement expressing concern from...
All Sports News

Delivered to your inbox

You'll also receive Yardbarker's daily Top 10, featuring the best sports stories from around the web. Customize your newsletter to get articles on your favorite sports and teams. And the best part? It's free!
THE HOT 10: Who's Trending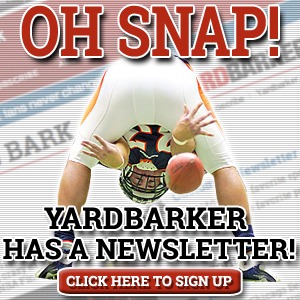 Latest Rumors
The Backyard

Today's Best Stuff

For Bloggers

Join the Yardbarker Network for more promotion, traffic, and money.

Company Info

Help

What is Yardbarker?

Yardbarker is the largest network of sports blogs and pro athlete blogs on the web. This site is the hub of the Yardbarker Network, where our editors and algorithms curate the best sports content from our network and beyond.