Found July 19, 2013 on Bronx Pinstripes:
Obviously, I am not a Mets fan.  I am a Yankees fan.  Always have been and always will be; so some might say I am slightly bias on a Yankees-Mets topic.  But growing up in New England, I never had a real hatred for the Mets – even when they were winning.  So I can confidently say that I am totally objective towards Matt Harvey and the Mets. Matt Harvey has been one of the most popular athletes in New York this season, and by far the silver lining in the Mets' otherwise dreadful season, but he had yet to arrive on the national stage.  Tuesday night's MLB All Star Game was his coming out party, and from my perspective, it was a giant failure. Matt Harvey seems as concerned with off-field fame as he is with on-field performance. The white lines that travel from home plate to each foul pole are where my admiration for Harvey ends and my disrespect for him begins.  Between those lines his performance has been nearly flawless, including the All Star Game in which he started and pitched two scoreless innings.  But I'm referring to the Men's Journal article and other tidbits that have come out this week in which Matt Harvey displays his total jackassery.  Jackassery that tells me Harvey's priorities are totally warped and misguided. I'm not going to recap the entire article.  Instead, I have chosen to call out a couple of red flags as it pertains to Harvey's personality. Out of high school in 2007 Harvey was drafted by the Angels with the 118th overall pick.  He elected to go to the University of North Carolina however because the Angels only offered him a $1 million contract and Harvey – 18 years old at the time – envisioned he was worth at least $2 million to a Major League team.  Imagine that; a kid who had proven nothing to that point except the fact that he could strike out high school kids in Mystic, Connecticut thought he was worth at least $2 million.  This apparent 'slight' by the Angels caused Harvey to have "anger towards major league baseball" – and an obsession with big contracts. Harvey, when asked if he was going to purchase an apartment in the city, said he was waiting for that $200 million contract before he does (a contract no pitcher in the history of the game has gotten).  There's nothing like an already wealthy athlete rub it in the face of everyone that he has hundreds of millions of dollars coming his way. In the article Harvey also discusses living in New York City as a wealthy and popular twenty-something year old.  He hangs out with Rangers players Henrik Lundqvist and Brian Boyle, and certainly enjoys the Manhattan nightlife.  He does however have a 48 hour rule – in which he will not drink before a scheduled start.  Something tells me however that Matt will be breaking that two day rule sooner or later – if he hasn't already.  The temptation is there and Harvey does not seem too concerned with it, especially since he has befriended a couple of notable hockey players, who, if you haven't heard, are known to drink a bit (just ask the Boston Bruins about Tyler Seguin). And then there is the icing on the cake, his comments about Derek Jeter in which he refers to the Yankees Captain as "the model."  Jeter is the perfect athlete to emulate, except Harvey wasn't talking about Jeter's on-field consistency or clubhouse leadership.  Instead he was referring to Jeter's off-field prowess: "I mean, first off, let's just look at the women he's dated.  Obviously, he goes out – he's meeting these girls somewhere – but you never hear about it.  That's where I want to be." Money.  Partying.  Women.  In one article Matt Harvey managed to check off the trifecta of 'reasons to hate athletes.'  It all adds up to the fact he simply does not get it.  Fans don't want to hear athlete's rubbing money, girls, and fame in their faces. If Harvey continues this attitude then he will achieve his goal of being a wealthy and famous ladies' man.  He will do so while never winning a Championship.  And if I am a Mets fan, I want no part of that.
Original Story:
http://bronxpinstripes.com/off-the-fi...
THE BACKYARD
BEST OF MAXIM
RELATED ARTICLES
New York Mets ace Matt Harvey could be the next big thing in New York. In addition to having a 7-2 record and a 2.35 ERA in 19 starts this season, Harvey also has a tremendous sense of humor. And it seems like the ladies love him. Harvey, who last we heard is dating this [...]
The New York Mets appear to have a prize in Matt Harvey. However, after reading the Men's Journal story I had to wonder. He couldn't have meant what he was quoted as saying, could he? As far a being a Derek Jeter-wannabe, the context was strictly in the pursuing female sense, and as you know, the Yankee shortstop has a bit of a reputation. But, he is Teflon and nothing sticks...
WHAT HE MEANT WAS...
Matt Harvey attempted to clear up the confusion surrounding his claim in that he wanted to be like Derek Jeter, saying, "I said I wanted to be like Jeter in good ways."
Mets phenom Matt Harvey is living the dream in his first full season in the majors, starting the All-Star Game in front of the hometown fans and dating a supermodel. So why not shoot for the moon? Harvey said he wants to have Derek Jeter's life, especially his love life, and have "the best apartment in the city" when he gets "that $200 million contract."...
Matt Harvey recently sat down with David Amsden of Men's Journal to discuss how amazin' it is being Matt Harvey. When the article leaked Harvey caught some backlash for coming off cocky and a poor role model.  Harvey even sent out a disclaimer about being taken out of context.   It really sucks how words get used and completely taken out of context. — Matt Harvey (@MattHarvey33...
David Wright and Matt Harvey weren't the only Met organization employees to perform in All-Star Games this month.  There was also the Major League Baseball Futures Game at Citi Field this past Sunday and the Triple-A All-Star Game held Wednesday night.  As well as the Double-A Eastern League's All-Star Game held back on July 10th. Before diving into the Futures Game though...
I asked some of our writers what they felt were the Best and Worst moments for the Mets in the first half, and it looks like the consensus for the best was when we swept the Yankees and the Empire State Building was brightly lit up in Blue and Orange. Daniel Nelson Best Moment: I'd have to say sweeping the Yankees in four games was pretty special. You hang onto moments like that...
Phillies at Mets Cliff Lee (10-3, 2.86) vs. Matt Harvey (7-2, 2.35) Starting Lineup Eric Young Jr., LF Daniel Murphy, 2B David Wright, 3B Marlon Byrd, RF Josh Satin, 1B John Buck, C Juan Lagares, CF Omar Quintanilla, SS Matt Harvey, RHP It's Dwight Gooden Bobblehead Day! Game Notes Harvey's first start of the second half will be his 30th major league appearance. Harvey...
This hot Sunday afternoon will feature a matchup of two all-star hurlers as Cliff Lee and Matt Harvey close out the three game series at Citi Field. The series is currently split and the Phillies hope for a series split to keep them with a winning record. The Mets are...the...
As the Mets get set to open the second half with a home series with the Philadelphia Phillies on Friday, the Mets have a lot of work to do if they have any notion of trying to creep back into the wild-card race. It's unlikely, though, that the Mets will contend, as they simply don't have that much talent to work with. That's not to say that the last two and half months won't...
Zack Wheeler day was a bust. The other phenom in the Mets' rotation didn't remind anyone of Matt Harvey, but the bullpen bailed him out in a 5-4 win over the Phillies at Citi Field on Saturday. Wheeler needed one more out to be in line for the win, but couldn't get it. With a two-run lead, he left with the bases loaded and two out in the fifth, when Terry Collins came out...
All Sports News

Delivered to your inbox

You'll also receive Yardbarker's daily Top 10, featuring the best sports stories from around the web. Customize your newsletter to get articles on your favorite sports and teams. And the best part? It's free!
THE HOT 10: Who's Trending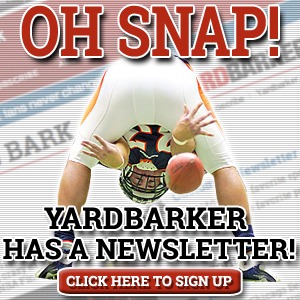 Latest Rumors
Best of Yardbarker

Today's Best Stuff

For Bloggers

Join the Yardbarker Network for more promotion, traffic, and money.

Company Info

Help

What is Yardbarker?

Yardbarker is the largest network of sports blogs and pro athlete blogs on the web. This site is the hub of the Yardbarker Network, where our editors and algorithms curate the best sports content from our network and beyond.