Found September 01, 2012 on Start 'N' Park Blog:
Matt Kenseth, driver of the No. 17 Ford EcoBoost Ford Fusion, has clinched a spot in the Chase for the NASCAR Sprint Cup.  Kenseth, who currently sits fourth in the overall standings, spoke to reporters in the Atlanta Motor Speedway infield media center before today's practice session. THOUGHTS ON ATLANTA THIS WEEKEND.  "I hope we don't slip all the way back to a wild card.  That means we're gonna have two really bad weeks, but I'm looking forward to racing here at Atlanta.  I think as a racer everybody really likes this track and even as a fan we used to watch these races or still go back and re-watch these races.  I think it always puts on a really exciting race the way the asphalt is worn out and the banking is so high and you can move all over the race track, and the pace slows down and all that, so I'm anxious to get on the track and hope we have a good weekend." THERE ARE FIVE 1.5-MILE TRACKS IN THE CHASE.  HOW MUCH WILL THIS WEEKEND BE A BAROMETER FOR WHAT TO EXPECT?  "All of the tracks, I think, are pretty unique.  There are some that are more similar than others, but I think this one, certainly, right now, all by itself, I don't think there's another one – maybe just a little bit Texas because the pavement is a little bit older there – but I don't think you take a lot from here that's gonna help you at some of those other mile-and-a-halves." DO YOU HAVE ANY SYMPATHY FOR GUYS HANGING ON THE EDGE, LIKE KYLE BUSCH, WHO ARE TRYING TO MAKE THIS CHASE?  "Well, yeah.  I've been there.  I think everybody is there for different reasons and for different situations.  The year we didn't make it and in the other year where we barely slid in, it was all because our performance wasn't good enough.  I think in Kyle's case, his performance has been pretty good.  They've had a lot of mechanical problems, flat tires – a lot of problems to keep him there – so I think he's got a good shot of getting in and, if he does, he's certainly gonna be one of the guys you're gonna have to try to beat." HAVE YOU SPOKEN TO TONY STEWART YET AFTER LAST WEEK'S INCIDENT?  "I have not yet.  I tried to get up with him this morning and missed him, but I plan to try to talk to him." THIS SPORT WAS THRUST INTO THE MAINSTREAM BECAUSE OF A FIGHT.  WHY DO YOU THINK THAT RAW EMOTION RESONATES SO MUCH WITH THE FAN BASE?  "I don't know.  That stuff is always fun to watch.  I hate being involved in it.  I don't like that part of it, but I always like watching it.  I love watching other people's conflicts.  I mean, everybody does.  It's human nature.  I think the fans loved the helmet toss.  I thought that was cool, too, although I wish it wasn't being tossed at me because it meant that he was upset with me.  I don't like that part, but I think the rest of it, I think it's just human nature to like conflict and like controversy and action.  Everybody wants to see good racing and a competitive finish, but everybody – whether people admit or not – a lot of people like to see the wrecks and see guys go over the edge and see something like that happen.  I think that's been part of the sport for a lot of years and, in general, people like the action." YOU AND TONY HAVE HAD ISSUES BEFORE.  IS IT A CASE WHERE YOUR DRIVING STYLES JUST MAY NOT MESH?  "I don't think so.  I think if you race long enough, you're probably gonna have some type of disagreement with pretty much everybody on the track that you're competitive with, whether it's a very minor one or a major one that everybody notices.  Or maybe it's just something on the track that none of the media notices and you just take care of it.  I think some of that stuff is natural.  Honestly, last week I was really surprised.  I wasn't trying to put our cars in a bad situation.  I thought we were gonna make it through there and I thought it was gonna be alright, so I'm not sure what all went down there, but, actually, Tony and I, in general, 99 percent of the time at least, show each other probably more respect and more room on the track than probably most people have.  There have been a couple instances here and there, but I think, overall, we try to show each other a lot of respect and we usually get that back." DOES THIS TRACK STAND OUT MORE WITH THE PAVEMENT BEING 15 YEARS OLD COMPARED TO ALL THE NEW REPAVE JOBS THIS YEAR?  "Yeah.  Depending how you look at it, they've come so far with the stuff they use to make the blacktop on these race tracks that it doesn't wear out anymore, it doesn't get abrasive and it lasts forever.  In my opinion, I don't think the racing is as good like that.  Charlotte has been how many years ago now, 2006 or something like that, since it's been paved and it seems like it was paved last year when you go out there.  It just doesn't wear out.  Even Darlington, with all the sand floating around that place, it hasn't worn out a bit, so I think tracks like this and Rockingham and Kansas, before they paved it, Chicago right now, Texas, I think those places are more worn out.  I think it puts on a better race because you can move around the race track.  You've got to manage your tires a little bit, where you don't really have to do that very much anymore.  The way this sport is you can usually run them pretty hard with the way they build the tires, whereas here you have to manage that a little bit and compromise your setup a little bit to be good in the beginning of the run and try to be good at the end of the run as well." WHEN YOU'RE INVOLVED IN A DISPUTE AT WHAT POINT CAN YOU STEP BACK AND MAYBE LAUGH ABOUT IT?  "I think there have been a lot of times in my career when I've done dumb things or made people mad, and I think it's hard to laugh about that because I don't like having mad at me and I don't like being mad at other people, and you don't like wrecking race cars, whether they're yours or somebody else's.  You never enjoy any of that ,but I think when you can get it worked out with that person, when you actually either both agree to disagree or you end up agreeing or seeing each other's point of view a little bit, I think maybe you can get past that and laugh about it or talk about it a little bit hopefully.  There have been times like that, where I feel like I've had wars with people for a long, long time and then when we got all done with it kind of decided that we were both probably not being that smart.  The best thing to do is try to get it in your rearview mirror as quick as you can, try to get whatever problem you may have with something or they have with you, try to get that resolved and move on and go racing.  You don't want to focus on being mad at somebody or somebody being mad at you because if you are, you're taking focus away from your goal of trying to win races and try to win for a championship." HOW WELL POSITIONED DO YOU THINK YOUR TEAM IS HEADING INTO THE CHASE?  "I feel like, overall, if I go back six or seven weeks, I'd say we were pretty well prepared as far as what cars we had and how good we felt about those cars, our confidence level, our finishes, our pit stops and all that stuff.  I'd say today, I don't want to say that we're down by any means, but we got the car at Indy wrecked.  Our Pocono car was our best car that we were planning on using a lot in the Chase and got that one wrecked going for the lead there at the end.  I thought we had a good shot at trying to win that race and got that one wrecked.  And that car at Bristol was our Dover car and another good car we were gonna try to use in the Chase and got that one wrecked, so it's just getting us behind and I guess me, since I'm driving them, getting them behind on cars has hurt us a little bit I think.  Certainly four of the last five weeks have, in my mind, have been disasters with bad finishes and wrecks and all that, so I think that takes some momentum away and some wind out of your sails.  I feel like there's a little bit of urgency to get a couple good finishes here before we get to Chicago."
Original Story:
http://startnparkblog.com/?p=10776&ut...
THE BACKYARD
BEST OF MAXIM
RELATED ARTICLES
Tony Stewart is lobbying well before the rest of the politicians arrive at Charlotte Motor Speedway next Tuesday as part of the Democratic National Convention. And he's doing a damn fine job. Following the fireworks Stewart ignited with Matt Kenseth at Bristol last Saturday, Stewart made an appearance at the Chalotte track Tuesday and, on this day, the racer is incredibly charming...
Matt Kenseth will drive a white version of the Ford EcoBoost paint scheme this weekend at Atlanta Motor Speedway. The No. 17 Ford Fusion will need to finish 40th if it leads no laps and 41st if it leads a lap in order to clinch a birth in the NASCAR Chase. Kenseth has run the EcoBoost scheme numerous times this season. Typically these are races in which Roush Fenway Racing has not...
After last weekends helmet toss between Tony Stewart and Matt Kenseth, there had been a lot of emphasis on how the two would react to each other at this weekends AdvoCare 500 at Atlanta Motor Speedway. When reporters initially spoke with Stewart he vowed to seek Kenseth out and wreck him any chance he got, but over the past few days he may of softened up a little saying on Tuesday...
CONCORD, N.C. – Roush Fenway drivers Greg Biffle and Matt Kenseth each clinched a spot in the 2012 Chase for the Sprint Cup 'playoff' race with their respective finishes last Saturday night at Bristol. Roush Fenway has now placed 24 entries inside the Chase since its inception in 2004. Leading the point standings and now locked into his fifth Chase berth, Biffle says his team...
Roush Fenway has 161 Sprint Cup starts at AMS, where they have tallied six wins, 67 top-10 finishes and 37 top fives. The organization boasts an 18.5-place avg. finish at AMS in Cup racing. In the Nationwide Series Roush Fenway has 39 entries, having won on six occasions and giving the organization 12 NASCAR wins overall at Atlanta. Wild Finish to the Chase With two races remaining...
It was a disappointing night for the Ford Racing drivers at the Atlanta Motor Speedway for Sunday night's AdvoCare 500. The best finishing driver was Matt Kenseth, who came home in the 9th position. After him it was Greg Biffle in 15th, Trevor Bayne in 16th, and Marcos Ambrose in 17th. The biggest disappointment was Carl Edwards finishing 16th and effectively ending his bid to...
Matt Kenseth led the way with a lap of 30.653 seconds in the final practice for the AdvoCare 500 from Atlanta. Rounding out the top five was Jeff Gordon, Denny Hamlin, Kyle Busch, and Greg Biffle. Pos Car Driver Team Time Behind 1 17 Matt Kenseth Ford Eco Boost Ford 30.653 Leader 2 24 Jeff Gordon DuPont Chevrolet 30.767 -0.114 3 11 Denny Hamlin Sport Clips Toyota...
All Sports News

Delivered to your inbox

You'll also receive Yardbarker's daily Top 10, featuring the best sports stories from around the web. Customize your newsletter to get articles on your favorite sports and teams. And the best part? It's free!
THE HOT 10: Who's Trending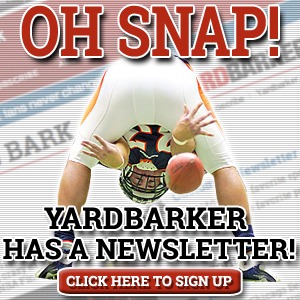 Latest Rumors
Best of Yardbarker

Today's Best Stuff

For Bloggers

Join the Yardbarker Network for more promotion, traffic, and money.

Company Info

Help

What is Yardbarker?

Yardbarker is the largest network of sports blogs and pro athlete blogs on the web. This site is the hub of the Yardbarker Network, where our editors and algorithms curate the best sports content from our network and beyond.