DAYTONA BEACH, FL - JANUARY 15: 2009 Daytona 500 Champion Matt Kenseth speaks with the media during NASCAR Preseason Thunder Fan Fest at Daytona International Speedway on January 15, 2010 in Daytona Beach, Florida. (Photo by Rusty Jarrett/Getty Images)
Matt Kenseth, driver of the No. 17 Best Buy Ford Fusion, is coming off his second win of the season after taking the checkered flag in Sunday's NASCAR Sprint Cup Series race at Talladega Superspeedway.  Kenseth, who is 12th in the point standings going into Saturday's scheduled event at Charlotte Motor Speedway, was this week's guest on the NASCAR teleconference.
WHAT ARE YOUR THOUGHTS HEADING TO CHARLOTTE FOR YOU AND YOUR TEAM?  "They've been working really hard, especially on our stuff for Charlotte and our intermediate stuff.  I think everybody at Roush Fenway was disappointed in our performance in Atlanta, Chicago and really even Dover for that matter, so they've been really on it.  They've been working really hard to try to get our stuff better and I'm really looking forward to getting on the track Thursday and seeing the progress that we made and, hopefully, being competitive this weekend."
IS THERE ANY APPREHENSION ABOUT SPENDING SO MUCH TIME WITH ONE ORGANIZATION THAT THERE COULD BE SOME UNKNOWNS FOR YOU NEXT YEAR?  "I don't think there's any apprehension at all, but there certainly is some amount of anxiety.  Everything is different – from the building to all the people, the manufacturer, sponsors, crew chief – all the stuff is just different so there is a little bit of anxiety over that just because you're real comfortable with where I've been for so many years.  I'm not usually a guy that likes change, but on the other hand, it's also really, really exciting.  I've been with one of the best organizations in the sport for 15 years and been driving there for 13 years, or whatever it's been, and we've had a pretty good amount of success there.  But, at the same time, I also get to go to another one of the winningest organizations in the sport.  They have two of the winningest drivers over there right now and go to a car that's won championships and a lot of races, so it's also really exciting to go try something different and see how things are done somewhere else because obviously they have a lot of success as well.  So I am really excited about it, but, yeah, there's a little bit of anxiety just because it's all gonna be different."
WHY DO YOU THINK ROUSH FENWAY WAS SUCH A SUCCESSFUL FIT FOR YOU?  "A lot of things.  Any sport is about people and that organization is about people and there have been a lot of great people there and I've had a lot of great advantages through my career and probably the greatest advantage I probably had throughout my career is Robbie Reiser.  I started with him in the Nationwide Series, the Busch Series then, over at Reiser Enterprises with him and his dad and his family owning that business.  Robbie is a great organizer, a hard worker.  From the first time we raced together, I remember running that first Busch race together, and we were only in like our second practice session and he totally bought into what I said and totally believed in me and worked with me.  That was the start of a really great, long, successful, working relationship.  He's done a lot of great things over there, and, at the same time, when Robbie and I went over there they had a great organization.  Mark Martin and Jeff Burton were over there just winning tons of races and contending for championships and those guys were a huge help to us as well."
HOW DO YOU KEEP YOUR EYES TRAINED ON WHAT YOU'RE DOING AND NOT PEEKING AHEAD TO NEXT YEAR?  "A couple things.  It's not really as hard as it would seem.  I think if we were running terrible or we weren't getting along, I think it would be harder.  But everybody has been good as gold to me over there.  They always have been and they still are right now.  They're giving us everything that we need to go run good and try to win races.  This weekend was proof of that, so we're working as hard as we can until the end of 2012.  A long time ago we renewed our agreement to the end of 2012 and it really says a lot about Roush Fenway's integrity because they've really stuck to that agreement.  They haven't not given me as good a stuff as everybody else.  They haven't done anything any different.  It's been business as usual.  We've been working as hard as we can to go try to win races and try to stay in the hunt for a championship and we've both been working at that, so it hasn't really been any crossover.  It really hasn't been that hard.  We're all-in at Roush Fenway until we're done with that."
YOU TESTED THE NEW SURFACE AT KANSAS.  WHAT DID YOU LEARN AND WHAT DO YOU EXPECT FOR THAT RACE?  "I'm not sure how much I learned.  There were only a few of us there.  I think the configuration is nice.  They did a nice job with the track.  They did a nice job with the repave, it's a really nice facility.  New pavement is always very challenging, not only for the people paving it but for the teams and the guys that have to drive on it.  It's just challenging to get more than one groove and to make it to where you can run side-by-side.  It's just not very forgiving, so I'm looking forward to going back there.  I know that the guys at Kansas Speedway have spent a lot of time and money and effort on tire machines and dragging tires.  We've got a two-day test when we go there and I really think by the time we race it'll be pretty good.  I think we'll put on a good race.  I think it will be really fast.  Hopefully, we'll be able to do some good side-by-side racing and see a lot of action there.  They did a nice job with it."
DID YOU HAVE ANY SENSE YOU WOULD BE GOOD ON RESTRICTOR PLATE TRACKS THIS YEAR?  "Nope, not really (laughing).  Restrictor plate races are one of those things that are really unpredictable.  I feel like though my career it's been, honestly, one of my weak points or it felt like I wasn't very good at.  I felt like I would not make the right decisions even when we had really fast cars and I felt like that a couple times too, to be honest with you.  I thought at the second Daytona and the first Talladega, both of those races were mine to lose and I lost them for my team.  I thought they gave me the stuff we needed to win both of those races well.  I'm super, super thankful we were able to win this weekend and get to Victory Lane with those guys, but, again, disappointed.  I feel like I let them down those other two races, so I had no idea our plate stuff was gonna run that good.  Really, until Daytona after the 150s with this package, I feel like we learned a few things.  I feel like I learned a few things and the team did as well and, honestly, from the 150 all the way until we got done with the race last Sunday we've been surprisingly good."
DID YOU EVER HAVE THAT FEELING OF IT BEING YOURS TO LOSE AT A NON-RESTRICTOR PLATE TRACK THIS YEAR?  "I'm sure I messed up something somewhere.  I can't really think of where at this moment, but early in the year especially we've had a few races that if the chips would have fallen our way, we could have won.  Since mid-season, except for probably that last Pocono, we were pretty good.  Jimmie was a little bit better, but we were pretty good there.  Other than that, I can't think of any races off-hand that we were really in position to win.  But early in the season I think there was a few races here and there where we were pretty good if everything would have gone right."
HAVE YOU OBSERVED OTHER DRIVERS WHEN THEY'VE CHANGED TEAMS AND HOW THAT HAS GONE?  "I think right now, until the season is over, that I have the second-longest active driver-owner relationship in the garage, I think – right next to Jeff (Gordon) and Hendrick.  So certainly I've seen a lot of people switch teams throughout the years, but I don't know.  The one that comes to mind the most would probably be Mark Martin because he was in a different situation.   At the time, he thought he wanted to retire and obviously that wasn't true (laughing).  So that's a lot different situation than I'm in, but I have seen him go to a lot of different places and have a lot of success, which makes me feel good.  So I guess if there was somebody you wanted advice from, that would be it.  But I haven't really got that, to be honest with you.  When I've talked to Joe and J.D. and went and saw some of their stuff and spent some time with them I just really felt like that was the right place for me.  I felt really comfortable with everything.  I feel really good about their stuff and to watch how good all their cars perform on the race track and how many races they win and all that kind of stuff, I just felt like that was the place for me.  So it wasn't as hard or it wasn't really probably as conflicted as one might think."
HAS THE WIN CHANGED THE DYNAMIC AT ALL FOR YOU?   "It's made me feel a little better about certain things.  It's really important for me to finish this thing off on a high note.  It would just break my heart if the thing was broken when I left, so I certainly didn't want that.  We had a really rough few weeks in the Chase with parts breaking and falling off and not getting good finishes and running good.  Everybody was getting close to being at each other's throats and things like that, so it's important for me to really try to keep that whole unit as a cohesive, front-running, championship-contending unit, so I'm hoping the next six weeks we can continue this momentum.  I'm hoping we can get another win or two and finish as high as we can in the points and end this thing on a high note."
DO YOU FEEL MORE PRESSURE RACING AT CHARLOTTE BECAUSE IT'S THE HOME TRACK FOR SO MANY TEAMS?  "No, not really.  It's funny because there are different kinds of pressure.  There's pressure for the point leader to continue being the point leader and stretch your point lead and try to win the championship.  And then for the Chasers there's pressure to get in the Chase.  There's pressure for guys that aren't in the top 35 to make the race, so it's different everywhere, but when you go to a track you feel like is one of your best tracks – me, I always feel like there's a lot of pressure to perform.  I feel like Dover is one of our best tracks, so if we go there and run 15th because we can't keep up, that probably wears on me more than if you go to one of your tracks you don't feel you're very good at and you run 15th.  I don't know if that makes sense.  There's pressure to do better at the tracks you're not very good at, but the tracks you feel like are your best tracks as a company or even as a driver, I think there's always pressure to go out and get those results.  Charlotte is kind of one of those tracks for performance, but not necessarily because of where it's located.  It's been one of our better tracks in the past, so you always want to capitalize on that when you can."
HOW WILL KANSAS BE DIFFERENT THIS TIME AROUND WITH THE NEW SURFACE?  "You start over.  All of your notes from the past you just throw away and start over, so Michigan is probably what you're gonna look at.  I believe we're running the same tire we ran at the second Michigan race and its brand new pavement, which is similar, so those are the kind of things you're gonna look at – maybe look at some trends that you saw at Michigan throughout practice, qualifying and the race and how the track changes.  You're probably gonna look at stuff like that, but, as far as previous notes from Kansas, they're no good anymore."
Original Story:
http://startnparkblog.com/?p=12561&ut...
MORE FROM YARDBARKER
All Sports News

Delivered to your inbox

You'll also receive Yardbarker's daily Top 10, featuring the best sports stories from around the web. Customize your newsletter to get articles on your favorite sports and teams. And the best part? It's free!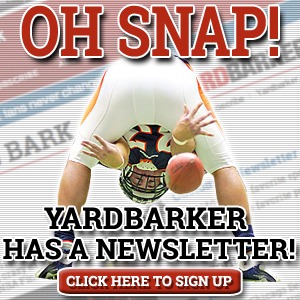 Latest Rumors
Best of Yardbarker

Today's Best Stuff

For Bloggers

Join the Yardbarker Network for more promotion, traffic, and money.

Company Info

Help

What is Yardbarker?

Yardbarker is the largest network of sports blogs and pro athlete blogs on the web. This site is the hub of the Yardbarker Network, where our editors and algorithms curate the best sports content from our network and beyond.