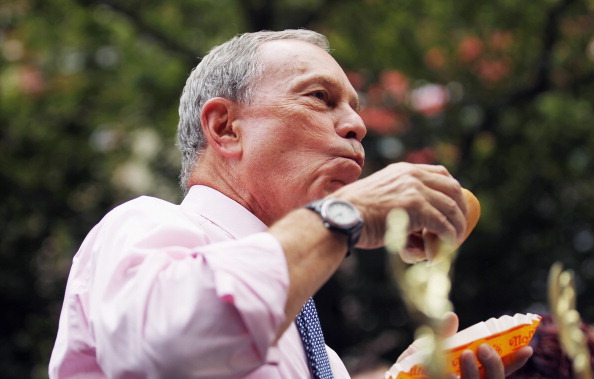 New York City Mayor Bloomberg— who thinks restaurants and stores are already putting too much sugar, sodium and trans-fats into our beverages and food— yesterday, thought his junior speechwriters put too much corn syrup into a speech. His constituents probably thought his language was what was a little too salty.

As Bloomberg presided over Tuesday's weigh-in for the annual Nathan's Hot Dog Eating Contest, the mayor himself had his fill of the corny puns and tired quips during his pre-written introduction.

After grimacing through a dozen groan-inducing puns— like he wanted to be "perfectly frank," "it'll be a dog-fight" and after it's over we'll "pronounce a wiener"— in a short while, Bloomberg finally looked at the hot dog mascot next to him and asked, "Who wrote this s--t?"


Lucky for the mayor, the Coney Island atmosphere and happy, friendly audience just rolled with the public gaffe. The audience just roared with delight at the public obscenity. It actually got the biggest laugh of the day.


Bloomberg did introduce last year's wieners, five-time men's champion Joey (Jaws) Chestnut, who weighed in at 210 pounds and the women's champ, Sonya (The Black Widow) Thomas, who tipped the scales at 100.

It's probably only a matter of time before the mayor starts ordering his hot dog speeches without the puns.



Read the rest of this story...
MORE FROM YARDBARKER

All Sports News

Delivered to your inbox

You'll also receive Yardbarker's daily Top 10, featuring the best sports stories from around the web. Customize your newsletter to get articles on your favorite sports and teams. And the best part? It's free!