Found August 28, 2013 on Mets360.com:
2011 TOPPS GYPSY QUEEN IKE DAVIS Gather your wits and hold on fast, Your mind must learn to roam. Just as the Gypsy Queen must do You're gonna hit the road. On Tuesday's SNY telecast, the Verizon Text Poll question asked fans if they thought Ike Davis would be back as the 2014 starting first baseman. Much to my surprise, 55% of the respondents said no. Davis is one of the most polarizing figures on the team. However, management seems to love him and the announcers go out of their way to heap praise on him, much like this two year old card did in including him in the "Future Stars" grouping. So the fact that a simple majority are ready to move on is a bit of a shock. Perhaps there is some sort of a selection bias at work here. Maybe people are more motivated to pick up the phone and text as a way to voice displeasure. After all, it's not like the fans can put him on the bench and play Lucas Duda or Josh Satin, instead. It's easy to understand why proponents remain bullish w...
Original Story:
http://feedproxy.google.com/~r/Mets36...
THE BACKYARD
BEST OF MAXIM
RELATED ARTICLES
From SB Nation's "The Good Phight" Blog: "Go Phillies beat these Muts." "Oh my God Bernadina is batting lead-off AGAIN." "Eric Young with "Forever Young" as his walk up music. Nice." "Niese looks like he could be on Boardwalk Empire." "As a lifelong Broncos fan, Mets orange and blue just make me sad." Niese, Wasn't he the guy on the Mets who was...
Are you excited for the final month of baseball, Mets' fans? Clearly that's a rhetorical question. With the Mets dropping six of their last seven games, the grittiness and fight that this team displayed shortly after the All-Star break, all but seems to have dissipated. The air has been let out of the balloon as far as this season goes. Obviously, it's not just the mounting...
This brought a tear to my eye.  Mets catcher John Buck takes a moment to console Matt Harvey in the dugout in what is a beautiful moment in sports.  Matt Harvey is expected to have season ending Tommy John surgery in the near future, and given his bulldog mentality, the news has hit him as hard as it has ever hit anyone. [MLB] Article found on: Next Impulse Sports
I can't even count how many times broadcasters, commentators or play-by-play announcers have started a sentence with: "The Mets, an organization known for pitching…" Really??? Perhaps it's time to rethink exactly how knowledgeable the Mets are when it comes to pitching. In one of the first scenes in the classic Field of Dreams, Ray Kinsella is driving a tractor, his daughter...
JAYCE BOYD TOPS THE LIST With the amount of promising prospects that have come up through the Mets system recently, many fans have become more focused on the minor leagues.  Many view the exciting crop of young players the Mets currently possess as a sign that the team will soon escape mediocrity, so the elite prospects have garnered a lot of attention.  However, the Mets also...
According to a report released by ESPN's Adam Rubin, Mets pitching prospect Michael Fulmer will remain on the disabled list for the remained of the season. Fulmer was getting back into form after rehabbing from a torn meniscus which was injured earlier this Spring. He came back to throw in nine appearances, two for the GCL Mets and seven for the St. Lucie Mets, before a comebacker...
Update 4:15 PM According to Marc Carig, Mets right-hander Matt Harvey underwent an MRI at the Hospital for Special Surgery this morning for an undisclosed reason and WFAN's Mike Francesa is reporting that Matt Harvey has a partially torn UCL. Sandy Alderson held a press conference and said that Matt Harvey will likely be shutdown for the rest of the season and that Tommy John...
Which relievers will be on Mets' Opening Day roster?
Source: John Buck and Marlon Byrd to #Pirates. #mets — Adam Rubin (@AdamRubinESPN) August 27, 2013   #Mets trading Buck, Byrd and cash to Pirates for MiLB SS Dilson Herrera and a PTBNL. More soon on http://t.co/ztv6wyKS6e. — Anthony DiComo (@AnthonyDiComo) August 27, 2013   Marlon Byrd, John Buck and cash to Pittsburgh for Dilson…
Update by Matt M., 8/29: Adam Rubin of ESPN New York shed some light on the undisclosed injury deGrom suffered last night in his abbreviated start in Colorado Springs. Paul DePodesta answered the concern with the below text message: He mentioned that he felt a little stiff, and we didn't want to take any risks. He said he was feeling fine before the game was even over. So, for...
Every baseball season is crazy, and the crazy can never be completely summed up in one sentence. There's just too much of it, in too many places, and no one wants to read that long of a sentence. But here's a sentence that captures some of the 2013 crazy to date: on August 27, the […]
photo credit: james_in_to via photopin cc Welcome back to the Week 22 edition of fantasy baseball 3×3, where we're running with Rajai Davis, sticking with Gerrit Cole, and leaving David Freese out in the cold. (Sorry, I couldn't resist) There are plenty of waiver wire columns out there that provide an exhaustive list of the most added players in fantasy leagues. This isn't...
Mets News

Delivered to your inbox

You'll also receive Yardbarker's daily Top 10, featuring the best sports stories from around the web. Customize your newsletter to get articles on your favorite sports and teams. And the best part? It's free!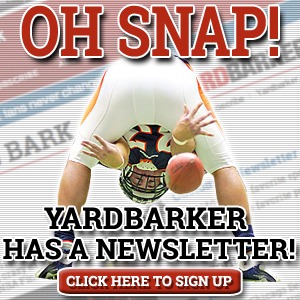 Latest Rumors
Best of Yardbarker

Today's Best Stuff

For Bloggers

Join the Yardbarker Network for more promotion, traffic, and money.

Company Info

Help

What is Yardbarker?

Yardbarker is the largest network of sports blogs and pro athlete blogs on the web. This site is the hub of the Yardbarker Network, where our editors and algorithms curate the best sports content from our network and beyond.