Found May 26, 2013 on Atlanta Bullpen:
Is Mike Minor the Braves ace? Braves starter Mike Minor is off to a great start with a 6-2 record and a 2.47 ERA so far this season.  Minor also has the fourth best ERA in Major League Baseball since the 2012 All-Star break. Minor has arguably become the Braves ace, and along with Kris Medlen and Julio Teheran gives the Braves a dynamic, young nucleus in the starting rotation. Mike Minor spoke to 680 The Fan's Kevin McAlpin before Wednesday's home game against the Twins.  Kevin was kind enough to let me record the conversation for use. Kevin McAlpin:  How difficult was it to have back-to-back ten game road trips early in the season? Mike Minor:  It's tough, you don't even really know the days and you just go one day to another and just try and do the best that you can and try to get as many wins as you can.  When you are home that is when you want to try and capitalize. Kevin McAlpin:  Do you feel all these road games early in the year will benefit you later in the year with all the...
Original Story:
http://feedproxy.google.com/~r/Atlant...
THE BACKYARD
BEST OF MAXIM
RELATED ARTICLES
The Braves picked up their eighth straight victory Saturday night, beating the Mets 6-0 in weather better suited for football or reading by a fire. Lambeau Field in December had nothing on Citi Field this Memorial Day Saturday. Fans broke out the mittens and ski caps and winds gusted upwards of 30 mph throughout the night. The temperature hit a high of 56, but the cold north wind...
While completing my daily Game Picks post, I took a look at Mike Minor's statistics and was really surprised at what I found. He has really been pitching well this season. He has had one sub-par outing against the Tigers as the only blight in his nine starts this season. And then I went back to last season and the numbers really did not do much for me until I looked at his splits...
Tuesday night after Evan Gattis smashed a two-run homer with two outs in the bottom of the ninth against the Twins to tie the game, Braves manager Fredi Gonzalez talked about his need to get Gattis into the line-up. "We've got to either figure out a way to get to the American League where we can play him more, or for me to figure out a way to play him someplace," Gonzalez said...
The Atlanta Braves and the New York Mets were left in suspended animation last night, but does anyone care? The Atlanta Braves, currently in first, have won six consecutive games. On the flip side, the New York Mets, currently in fourth (thanks to the Marlins being slightly worse), have lost six straight at home. Nonetheless, the teams had to wait until today before seeing if both...
Upton is known for his habit of going on long streaks of really good and really bad hitting, but even the most optimistic of owners are asking questions now that he has been slumping for almost two months. 15% of ESPN owners have already decided that they can't take any more of his poor production and have dropped him to free agency. His sigh-inducing .151 avg. is just the beginning...
Game Notes The teams will resume play with none out in the top of the ninth inning on Saturday at 6:10 p.m. The regularly scheduled game is set to start 7:15 p.m. with Mets right-hander Dillon Gee and Braves lefty Mike Minor getting their starts. Subject to availability tickets from Friday's suspended game can only be redeemed for complimentary tickets to the Mets game either this...
The Atlanta Braves' lengthy winning streak is over. The NL East leaders will look to bounce back by ending their longest interleague road skid. Atlanta faces the Toronto Blue Jays and Mark Buehrle, the all-time interleague wins leader, in the opener of a four-game series Monday night. After outscoring opponents 47-21 in winning eight in a row, Atlanta (30-19) fell 4-2 to the...
Reader Heather sent over this pic of her adorable dog, Daisy. Here's her story: I thought you would enjoy this picture of our dog, Daisy.  She loves to climb up on the back of our couch and pose.  She can chop on command so she is always cheering on the Braves!  Yes, we love the Braves that much! That's some top-notch dog training. :) Thanks so much for sharing, Heather!
Prior to tonight's regularly scheduled game, the Mets and Braves will complete last night's suspended game, which was called with the score tied, 5-5, heading to the top of the ninth inning. The suspended game starts at 6:10 PM. To get started just enter your email address and desired username: Name E-mail Related Posts:Mets Rewind: July 14Mets Game Chatter – 9/19/12Mets...
Actual conversation tonight. The loss of so many recent lovvies has been weighing on me lately... Thanks for trying to make me feel better, Michelle. :) But you know, those guys were SUPER Lovvies. And I know I still have a few Braves on the current roster who are high on the list... it's just tough when so many faves got traded / left in free agency / are injured.
Braves News

Delivered to your inbox

You'll also receive Yardbarker's daily Top 10, featuring the best sports stories from around the web. Customize your newsletter to get articles on your favorite sports and teams. And the best part? It's free!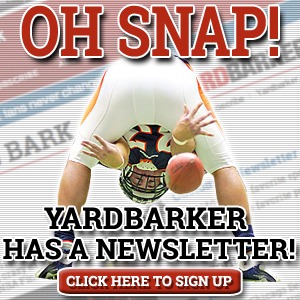 Latest Rumors
Best of Yardbarker

Today's Best Stuff

For Bloggers

Join the Yardbarker Network for more promotion, traffic, and money.

Company Info

Help

What is Yardbarker?

Yardbarker is the largest network of sports blogs and pro athlete blogs on the web. This site is the hub of the Yardbarker Network, where our editors and algorithms curate the best sports content from our network and beyond.