Found September 15, 2013 on Bob's Blitz :
Phil Mushnick runs through the Craig Carton v Mike Francesa feud that, if you watch Boomer & Carton on TV, you won't be able to keep up with this week because the dopes at MSG Networks think it better to pull them then to keep the show going while new simulcasting negotiations go on. a) Francesa claimed, "I wasn't defending L.T." True, but that wasn't the point. By consistently ignoring and even dismissing Taylor's criminality as insignificant, Francesa has indulged Taylor's sustaining lawlessness. b) Francesa characterized Taylor's criminal behavior as "horrific." Odd, he never came close to such a condemnation prior to Carton's that-morning claim that Francesa has granted Taylor an unconditional pardon. c) Francesa: "As anyone who listens to me knows, I'm not Joe Fan — the kind of guy who's going to be protective of players or teams in any way. That's not my style. That's not my way." "Anyone who listens to him" knows that is, at worst, a lie, at best, totally untrue. The opposite is true. (For starters, see Jets, the Bill Parcells years; Alex Rodriguez, 2013). d) Francesa: "From what I knew about the case, L.T. was not targeting a child." What he "knew about the case," he at one point claimed, was what he had learned from his New Jersey law enforcement connections, working the case out of Ramapo, N.J. Oopsie! There is no Ramapo, N.J. Taylor was busted in Ramapo, N.Y. e) Francesa: "If you listen to the show, you know we do sports her. We don't do guy talk and sex talk to get ratings." Half true. Especially compared to "Boomer & Carton," Francesa keeps it clean, above the crotch. But his topics frequently have nothing to do with sports, but with Francesa's many imagined fields of expertise, including the Beatles, meteorology, cinema, Connecticut sales taxes, average square footage of Long Island homes, the Middle East, U.S. presidential history and criminal law. f) Francesa: "I've always done a classy show," and "There's a way people should be treated, and that is incredibly important to me." Well, by now you know how Francesa classily treats callers — like stink-soaked peons. He's especially efficient at the quick elimination of callers who seem to know more than he and/or that he's wrong and/or full of it. g) He admitted, perhaps a first, that he does get some things wrong, "not a lot, but some things. It's gonna happen." Ugh. "You got on me with the Sweeny thing [falling asleep with WFAN's Sweeny Murti speaking to him via phone]. Fine, I took my medicine for that for months. I didn't say a word." Again, not true. He flatly, regularly and humorlessly denied that what plainly was seen on YES was what happened. 3) Francesa wrapped it up by claiming that station management "and corporate" listened to Tuesday's recording then cleared him of defending Taylor. "Go back and listen, then apologize." He talkin' to us? Go back, listen, apologize? Us or Carton? Ah, Francesa tapes. At WFAN they get lost, found, go unheard, lost, again. Funny, what happens to recordings of words first spoken to be heard. So, rather than take Francesa's word for it — an act of blind/deaf faith that he regularly betrays — why not re-air those tapes? For all the times he has spoken of Taylor after his 2010 arrest for rape — he pleaded guilty to sexual misconduct — I never heard Francesa even hint that Taylor's conduct was "horrific" — not until Wednesday, after Carton called him out. Then, again, nearly everything else Francesa so soulfully spoke on his behalf Wednesday could be proven abundantly false by the airing of tapes. The entire blow-by-blow: NY Post...Francesa changing LT tune only after battle with Carton **Follow us on Twitter, View via Our Mobile Site, or Return to BobsBlitz.comFollow us on Twitter. Subscribe or Return to Bob's Blitz.
Original Story:
http://feedproxy.google.com/~r/TheNjF...
THE BACKYARD
BEST OF MAXIM
RELATED ARTICLES
Noted public prostitution customer defender Mike Francesa to caller on his first week NFL picks o-fer: "That's who you want to bank on - the Raiders that's a heck of a...keep banking on the Raiders all year you know what that'll work out real well." So how'd Francesa pick this week? 8-2. Including the Raiders -5. Francesa is 8-4-1 on the season. **Follow...
Good lord, noted dullard Mike Francesa filled eight and a half minutes of air time with this demented, interminable look at the Yankees wild card chances. But hey, at least it was simulcast on television. Next up -- Francesa discusses the Wild Hard ****. **Follow us on Twitter, View via Our Mobile Site, or Return to BobsBlitz.comFollow us on Twitter. Subscribe or Return to Bob's Blitz.
Angelo from New Jersey Tells Mike Francesa he likes to smoke a joing during the Super Bowl halftime. No word on whether Angelo prefers Mike Francesa cush. **Follow us on Twitter, View via Our Mobile Site, or Return to BobsBlitz.comFollow us on Twitter. Subscribe or Return to Bob's Blitz.
Hey if there's a Peyton Manning pot...why not Mike Francesa? [Matthew P] **Follow us on Twitter, View via Our Mobile Site, or Return to BobsBlitz.comFollow us on Twitter. Subscribe or Return to Bob's Blitz.
Yankees News

Delivered to your inbox

You'll also receive Yardbarker's daily Top 10, featuring the best sports stories from around the web. Customize your newsletter to get articles on your favorite sports and teams. And the best part? It's free!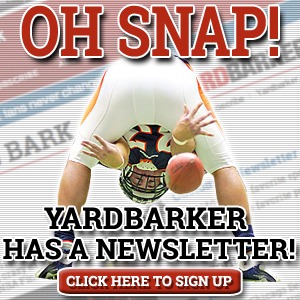 Latest Rumors
Best of Yardbarker

Today's Best Stuff

For Bloggers

Join the Yardbarker Network for more promotion, traffic, and money.

Company Info

Help

What is Yardbarker?

Yardbarker is the largest network of sports blogs and pro athlete blogs on the web. This site is the hub of the Yardbarker Network, where our editors and algorithms curate the best sports content from our network and beyond.