CONCORD, NC – MAY 29: Dale Earnhardt Jr., driver of the #88 National Guard/Amp Energy Chevrolet, and Jimmie Johnson, driver of the #48 Lowe's Summer Salute Chevrolet, race side by side during the NASCAR Sprint Cup Series Coca-Cola 600 at Charlotte Motor Speedway on May 29, 2011 in Concord, North Carolina. (Image credit: Getty Images via @daylife) As we come up on the Chase, we are already catching wind of potential rule changes for the 2013 season.  The discussion of changing the current qualifying rule has been the biggest topic so far.  It would be a change that will improve the sport 100%, but at the same time it could shake up things, A LOT.  But who will it affect the most,  NASCAR, the drivers or the fans?  Even more importantly, how would it effect Junior Nation? NASCAR officials are mulling the elimination of the top-35 rule to put the focus back on speed. Vice President of Competition Robin Pemberton said Thursday that he's already discussed the possibility with some teams and that fans want to see the fastest cars start the race.  Since 2005, the top 35 in points have been guaranteed provisional staring spots at the next race, which has eliminated some faster cars from starting the race.
"The top 35 was a good rule when we had impound races and that stuff," Pemberton said.  "But I think there's a lot of folks that like the speed gets you in."
The rule was designed to make sure full-time teams with big-name drivers and sponsors did not miss the race. I am glad they finally decided that they needed to change this stupid rule.  It really took a lot out of the meaning behind qualifying.  With this rule change, it could revolutionize this sport. Picture this, a race in a sense, before the race.  The possibility of a Chase contender not even making a race.  A weekend full of action.  A reason for the fans to turn on the SPEED channel to watch qualifying or even show up at the track to watch it live.  Next season, we possibly could see record attendances for the qualifying sessions.  For this might be the only opportunity some fans will get to see their favorite driver all weekend long. How will this effect everyone?  Will sponsors put clauses in their contracts incase the driver misses a race? Will it make some sponsors pull out?  Will it effect those companies who invest into the sport, commercials, and cater to the fans?  Will this rule apply during the Chase? With a long list of "Will it….? or "What if…?", we haven't even got to the most important question.  What will Junior Nation do?  For whatever reason, Dale Earnhardt Jr is the most over rated driver in NASCAR history.  We have seen him win a whole two races in the last five years, but mean while he is the most popular driver in the sport.  I still don't understand how you could be on the best team, Hendrick Motorsports, but SUCK so bad.  Why is he the most popular driver?  I have heard of riding daddys name, but this is ridiculous.  I have seen the fans go from one extreme to another.  The Coca-Cola 600 in 2011 is a prime example.  I watched the stands erupt when Junior took the lead on the with a little over a lap left.  While I stood there in disbelief, I found myself yelling and cussing.  Then in a split second (and an empty tank later), Junior was out of contention and eventually finishing 7th.  Then I found myself cheering and smiling, while the stands got extremely quite and upset. So once again I ask, what will Junior Nation do?  What will they do when Junior slips up and doesn't qualify for the race?  With what I would guess, 75-80% of the fans, Junior Nation has a lot of influence in NASCAR.  If Junior fails to make a race will they even go to the race?  How bad is it going to hurt the TV ratings if Junior is not in the field? These are the type of questions I know NASACR officials are sitting in their meetings asking.  I don't understand this either, but how a rule change effects precious Junior determines if it gets changed or not. As much as I would love to see this rule go into effect next season, I highly doubt it will.  NASCAR can't allow their "Golden Child" not to make a race.  So as good as it sounds, don't count on it.
Trade Bait: Sleepers within the Deadline // <![CDATA[ google_ad_client = "ca-pub-6970148923476574"; /* blog bottom ads */ google_ad_slot = "5636744552"; google_ad_width = 468; google_ad_height = 60; // ]]>// <![CDATA[
// ]]> Related articles
Could Justin Upton Be Headed North of the Border?
Toronto Blue Jays and Houston Astros complete 10-player trade
Evaluating Potential The Houston Astros Trade Assets
Related articles
Should NASCAR Drivers Have Independent Testers?
Dale Earnhardt 10th Anniversary Book GIVE AWAY
Original Story:
http://110sportztalk.com/what-will-ju...
MORE FROM YARDBARKER
All Sports News

Delivered to your inbox

You'll also receive Yardbarker's daily Top 10, featuring the best sports stories from around the web. Customize your newsletter to get articles on your favorite sports and teams. And the best part? It's free!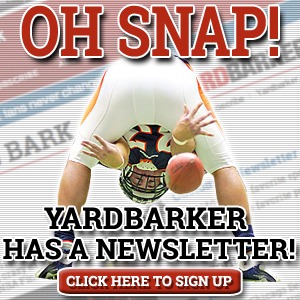 Latest Rumors
Best of Yardbarker

Today's Best Stuff

For Bloggers

Join the Yardbarker Network for more promotion, traffic, and money.

Company Info

Help

What is Yardbarker?

Yardbarker is the largest network of sports blogs and pro athlete blogs on the web. This site is the hub of the Yardbarker Network, where our editors and algorithms curate the best sports content from our network and beyond.