NASCAR added two wild card spots to get into the Chase beginning last season, and it made things very interesting. This season, I expect it to create the best racing that we've ever seen in the Sprint Cup Series. The two wild card spots are reserved for drivers that aren't in the top 10 in the points standings after 26 races, and are awarded to the top two drivers with the most wins that are in positions 11-20 in the standings. As of now, Brad Keselowski and Ryan Newman would be the two wild card qualifiers with their wins and placement so far in the standings. Keselowski has two wins and is in good shape for one of the two spots, but the battle for the other could be very interesting. Newman currently is 13th in the standings and leads Kasey Kahne by one point for that spot. Kahne, like Newman, has one win on the season. That means one finishing position is coming between the second and final wind card spot entering this weekend at Pocono. That battle is going to be a good one to watch, but what makes it more interesting is it won't be just between these two by time the 26th race comes along. Big names like Carl Edwards and Jeff Gordon are on the outside looking in right now, and they know they need wins quickly to make the Chase. Edwards has struggled and only led in one race this season as he has fallen down to 12th in the standings. Gordon has had a dominant car in almost every race, but unfortunate circumstances and plain old bad luck have him 21st in the standings. Normally, drivers just try to ride out top-five finishes and solidify their position in the standings with good points days, but with the pressure to make the Chase and every win being an added bonus once in, the intensity at the end of races to get wins will only amplify each week. Now, the front runners that are up there weekly vying for wins will have more still competition from Gordon, Edwards, Kahne, Newman, and other guys that are on the bubble. That makes it extremely interesting to watch. I applaud NASCAR for this format as I expect the intensity to turn up as early as this week in Pocono and not let up for the rest of the season. These drivers know how important it is for their teams, crews, and sponsors to make the Chase and will do anything to be a part of this year's class. Getting into the top 10 is difficult to accomplish this late in the season, so rattling off consistent finishes may not be good enough for many Chase hopefuls. Going for wins is the key and there are some big names going for this. I can't wait for these next 13 races to see who will be the 12 standing after 400 miles in Richmond in September.
Original Story:
http://sports-at-work.com/20120605232...
MORE FROM YARDBARKER
All Sports News

Delivered to your inbox

You'll also receive Yardbarker's daily Top 10, featuring the best sports stories from around the web. Customize your newsletter to get articles on your favorite sports and teams. And the best part? It's free!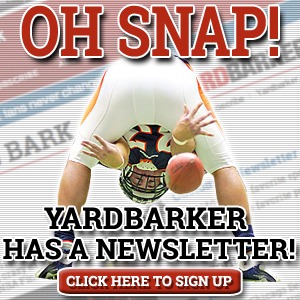 Latest Rumors
Best of Yardbarker

Today's Best Stuff

For Bloggers

Join the Yardbarker Network for more promotion, traffic, and money.

Company Info

Help

What is Yardbarker?

Yardbarker is the largest network of sports blogs and pro athlete blogs on the web. This site is the hub of the Yardbarker Network, where our editors and algorithms curate the best sports content from our network and beyond.