Found July 14, 2013 on Start 'N' Park Blog:
PLAYERS:
Timothy Peters
,
Johnny Sauter
,
James Buescher
,
Ron Hornaday
,
Matt Crafton
,
Miguel Paludo
,
Joey Coulter
,
Dakoda Armstrong
,
Steve Wallace
,
Ryan Sieg
,
Frank Kimmel
,
Bryan Silas
,
Norm Benning
,
Brendan Gaughan
,
Danny Efland
,
Ron Hornaday Jr.
,
John Wes Townley
,
German Quiroga Jr.
,
Tim George Jr.
,
Jennifer Jo Cobb
NEWTON, Iowa–Timothy Peters knows the way to victory lane at Iowa Speedway. He followed that path Saturday night to his best finish of the season. It was the Red Horse Racing driver's  first win of the season and sixth in his career. He jumped to sixth in points. The track provided a similar boost last year, propelling Peters to a second-place points finish. "We started off the season a little rocky," Peters said. "We're turning that around. And we're going to shine through the summer months. We're going to shine through Homestead and we're going to get that championship that was so close last year." Peters grabbed the lead with 27 laps to go, taking the outside lane on Ty Dillon and then pulled away from the field. Crew chief Butch Hylton made the crucial call to replace two tires late, saving time on a pit stop. The move paid dividends, giving Peters the handling he needed to take the corner after the green flag dropped. "Butch made a great decision there at the end, taking two tires," Peters said. "It gave me the stability and confidence I needed in the corner and get the lead." Hylton said it wasn't hard decision to make. He praised the pit crew for their efforts. "I could see Ty. They were three or four stalls before us," Hylton said. "I had a pretty good idea what they were going to do. Our pit crews are awesome. The first time Peters grabbed the lead from Dillon came off a restart as well, following Johnny Sauter's collision with the wall on Lap 113. After surrendering the lead to James Buescher, Peters made his way back to the front for the final dash to the finish. "The pit crew did a good job of getting me track position," Peters said. "Track position was very critical." Dillon thrived on longer runs and seemed dialed in during those stretches. The restarts cost him in the final quarter of the contest. Jones and Dillon battled for position with Jones gaining an advantage and Dillon fell out of contention. His Chevrolet bounced off the wall after the last restart, dropping Dillon to 16th. Jones challenged Peters, but settled for his third top-10 finish of the season and first at Iowa Speedway. Ron Hornaday Jr. finished fourth, just ahead of Chase Elliott. Darrell Wallace Jr. was the highest finishing official rookie of the year contender, coming in eighth. Matt Crafton finished sixth to retain a 31-point championship lead over Jeb Burton. "We were in the top five all night and I'm really proud of that," Jones said. "Being able to be up there to contend is a big step for me." Buescher, who opted for four tires in the final pit and placed him too far behind the leaders who took two, led 24 laps and placed third. It was his best finish of the season for the defending points champion and his first top-five finish of the season. Buescher has three top-10 finishes in six starts at Iowa Speedway. "I'm happy with our third-place run," Buescher said. "A couple mistakes probably beat us at the end." Despite a flurry of cautions in the second half of the race, the first 54 laps were under green and all led by fast qualifier German Quiroga, who lost the lead to Dillon after lap 56. Quiroga was certainly happier before the race started. He made history with his qualifying performance. Quiroga was the fastest of a tremendously quick field, becoming the first Mexican-born NCWTS pole sitter. The driver of Red Horse Racing's No. 77 Toyota Tundra raced to a track record 138.620 mph in qualifying. "I'm very, very happy," Quiroga said about the feat. "We've been running fast." He ultimately finished 14th. Even though Quiroga dropped in the field, he kick started a successful showing for RHR here. It was the third straight pole for the team at Iowa Speedway. "It was a fantastic day for Red Horse Racing," Team owner Tom DeLoach said. "It's a total effort of the team." By K.J. Pilcher | NASCAR Wire Services Fin St # Driver Sponsor Car Laps Money Status Led Pts 1 10 17 Timothy Peters TBA Toyota 200 $39,885 Running 39 47 2 7 51 Erik Jones Toyota Care Toyota 200 $24,375 Running 0 42 3 12 31 James Buescher Rheem Chevrolet 200 $18,845 Running 39 42 4 15 9 Ron Hornaday Jr Smokey Mountain Herbal Snuff & Casey's General Store Chevrolet 200 $15,335 Running 0 40 5 11 94 Chase Elliott Aaron's Dream Machine / Hendrickcars.com Chevrolet 200 $14,110 Running 0 39 6 16 88 Matt Crafton Ideal Door-Menards Toyota 200 $11,785 Running 0 38 7 2 32 Miguel Paludo AccuDoc Solutions Chevrolet 200 $11,285 Running 0 37 8 21 54 Darrell Wallace Jr Camping World / Good Sam Toyota 200 $12,360 Running 0 36 9 9 18 Joey Coulter Darrell Gwynn Foundation Toyota 200 $11,010 Running 0 35 10 22 60 Dakoda Armstrong Winfield Chevrolet 200 $12,235 Running 0 34 11 8 98 Johnny Sauter Carolina Nut Co. / Curb Records Toyota 200 $10,910 Running 0 33 12 14 7 John Wes Townley Zaxby's Toyota 200 $10,785 Running 0 32 13 5 19 Ross Chastain Reese/Harper/Laitner Ford 200 $10,735 Running 0 31 14 1 77 German Quiroga Jr Otter Box Toyota 200 $12,985 Running 56 31 15 18 8 Max Gresham Made in U.S.A. brand Chevrolet 200 $11,635 Running 0 29 16 3 3 Ty Dillon Bass Pro Shops Chevrolet 200 $10,435 Running 65 30 17 26 97 Steve Wallace Adrian Carrier-Liz Girl Logistics Chevrolet 199 $8,085 Running 0 0 18 19 39 Ryan Sieg Pull-A-Part Chevrolet 199 $10,210 Running 1 27 19 20 24 Brennan Newberry Qore-24 & Anderson's Maple Syrup Chevrolet 199 $10,110 Running 0 25 20 24 27 Jeff Agnew TBA Chevrolet 199 $9,435 Running 0 24 21 27 13 Frank Kimmel Ansell-Menards Toyota 199 $8,660 Running 0 23 22 17 4 Jeb Burton Arrowhead Chevrolet 199 $7,560 Running 0 22 23 13 5 Tim George Jr Applebee's Chevrolet 197 $7,435 Running 0 21 24 28 81 Jimmy Weller III GrimeBoss/GunBroker Toyota 197 $7,360 Running 0 20 25 25 07 Josh Reaume TBA Chevrolet 196 $7,485 Running 0 19 26 6 29 Ryan Blaney Cooper Standard Ford 195 $7,310 Running 0 18 27 23 02 Tyler Young RandCo Chevrolet 194 $7,260 Running 0 17 28 30 63 Justin Jennings LG Seeds Ford 194 $7,235 Running 0 16 29 35 99 Bryan Silas Rockingham Speedway Ford 191 $7,210 Running 0 15 30 33 57 Norm Benning TBA Chevrolet 186 $7,685 Running 0 14 31 4 62 Brendan Gaughan South Point Hotel & Casino Chevrolet 159 $7,160 Running 0 13 32 32 10 Jennifer Jo Cobb Driven2Honor.org RAM 20 $7,135 Engine 0 12 33 31 84 Danny Efland TBA Chevrolet 11 $7,110 Vibration 0 0 34 29 93 Chris Jones RSS Racing Chevrolet 7 $7,085 Vibration 0 10 35 34 0 Chris Lafferty Driven2Honor.org Ford 3 $7,060 Rear End 0 9
Original Story:
http://startnparkblog.com/?p=29431&ut...
THE BACKYARD
BEST OF MAXIM
RELATED ARTICLES
Timothy Peters won the American Ethanol 200 at Iowa Speedway on Saturday night. German Quiroga began the race on the pole and led early on. James Buescher would also see time at the front of the field but with 35 laps to go Ty Dillon went to the front of the field. Timothy Peters who won at Iowa last year took the lead with 26 to go. With 11 to go Quiroga sent Ryan Blaney into the...
Series: NASCAR Camping World Truck Series Race: American Ethanol 200 Track: Iowa Speedway Defending Champion: Timothy Peters Story Lines: The Camping World Truck Series comes into the Iowa Speedway after running two weekends ago at the Kentucky Speedway. Being a standalone race, there are no Sprint Cup Series drivers entered, so this will be the best chance for the regular drivers...
Erik Jones led the way with a lap of 23.337 seconds in the first practice for the American Ethanol 200 from Iowa. Rounding out the top five was Ryan Blaney, Ross Chastain, Timothy Peters, and Ron Hornaday, Jr. Pos # Driver Team Time Behind 1 51 Erik Jones ToyotaCare Toyota 23.337 Leader 2 29 Ryan Blaney Cooper Standard Ford 23.494 -0.157 3 19 Ross Chastain Harper...
All Sports News

Delivered to your inbox

You'll also receive Yardbarker's daily Top 10, featuring the best sports stories from around the web. Customize your newsletter to get articles on your favorite sports and teams. And the best part? It's free!
THE HOT 10: Who's Trending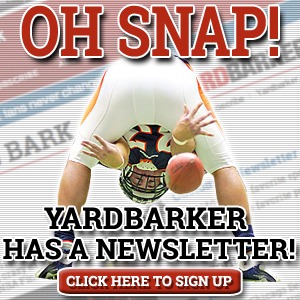 Latest Rumors
Best of Yardbarker

Today's Best Stuff

For Bloggers

Join the Yardbarker Network for more promotion, traffic, and money.

Company Info

Help

What is Yardbarker?

Yardbarker is the largest network of sports blogs and pro athlete blogs on the web. This site is the hub of the Yardbarker Network, where our editors and algorithms curate the best sports content from our network and beyond.