Originally written on
Buddy Nixon
| Last updated 10/10/14
Where I hit you with some thoughts/opinions on the Bills reported coaching candidates. Chip Kelly  Consider me in the camp of people who would love to have Chip coach our team. After the glut of stodgy older coaches (Gailey, Jauron), or coaches that buy into older philosophies (Mularkey), it sure would be nice to welcome a younger guy who is widely considered one of the biggest innovators in football today. Watching Kelly's Oregon Ducks team the other night just leaves you with a great impression of what a finely tuned machine that organization really is. Including the NFL, I've never seen any football team get into it's formations quicker than Oregon. It's little things like that that lead me to believe Kelly doesn't necessarily have hard beliefs about offense; rather, it seems that he is willing to test football's conventional wisdom, which would fit right in with the to be formed football analytics arm of the Bills. And boy, would CJ Spiller be fun to watch in that offense. Lovie Smith For all that I love about challenging conventional wisdom, we likely wouldn't get much of it from Lovie. Also, if you weren't a fan of Gailey's game management decisions, you're probably going to be frustrated at some point with Lovie Smith's notoriously poor use of challenges if we hire him. Drew Magary did a good break down of why that's a petty thing to judge a coach on. Head coaches have so much they are responsible for, from managing all the other coaches, developing football philosophy, developing players, forming a football culture appropriate for that team, and making sure all these parts fit together. As fans, we don't really see any of that; what we see is when a coach challenges, what kind of a temper tantrum he throws after a bad call, and whether the team wins or loses. Basically, we're using imperfect information. HOWEVAH, Lovie Smith has one aspect of his perceived resume that is substantial, and gives him a big edge over the other candidates: He knows how to coach the hell out of a cover 2 defense. Since he joined the Bears (replacing Dick Jauron, of all people), the Bears have consistently had one of the better defenses in all of the NFL over his tenure. His defenses have been hard hitting and carried the team to a winning record over that tenure despite general offensive instability. And in the current era NFL, that's a rare thing. As far as his offensive lack of success, I don't think that really matters considering his teams never really had a QB til later in his tenure, and even then they fired their terrible offensive coordinators every year. I'm convinced that any of guys are going to need a QB anyway, and we'll immediately have a better line than Lovie ever did in Chicago. Ok, that one wasn't quick. I promise I don't have that much to say about Whisenhunt. Ken Whisenhunt Relative to not having a solid QB since the ole barnstormer, Kurt Warner, retired, my impression is that Whisenhunt's done an admirable job coaching Arizona. Santonio Holmes' left foot was inches away from making this guy a Super Bowl Champion, which would completely change everyone's perspective of Whisenhunt. But the fact is they've been woeful in evaluating QB's lately, which Whisenhunt has to bear some responsibility for (especially considering he had personnel control).  That does worry me a bit, but looking back the Cardinals didn't put any real resources into trying to solve the QB problem, a mistake that has plagued the Bills enough recently to the point where one would think this will not be an issue. People who say "He was only good with Kurt Warner," seem to be missing a major point: just about every established/tenured coach in the league recently did it with a top tier QB. Belichick, Tomlin, Coughlin, Peyton, the Dunge, all did it with a great QB. So we're going to need one too. Mike McCoy You would think that McCoy's attractiveness as a HC candidate for many teams in the league is due to their top seed in the AFC. I'm sure that's a major factor, but for me, the more impressive thing is what he did last year: basically made an offense from scratch to squeeze everything they could out of Tebow, to the point where they made it to the divisonal playoff round. Also, he likes to run the ball, which is a great thing to hear when you have CJ Spiller. Doug Marrone As a simultaneous Syracuse fan, I really hope this doesn't happen. People who are surprised that Marrone is a candidate for multiple jobs based on his 500 record do not understand the depth of destruction that his predecessor, Greg Robinson, left the program in. The fact that Marrone has gotten the program to 500, won 2 bowl games, and won a share of the Big East title this year is a minor miracle. So as a SU fan, I'd hate to see him leave. But as a Bills fan, I'm not entirely convinced he'll be good. He's done a fine job with SU, but as we all know, running a college program is a very different job from coaching a NFL team. And this would be a stupid way to make a decision,  but Bills fans wouldn't be happy if we hired him, because he's not established. Ray Horton Horton is the guy who intrigues me as fresh coach that can get guys to buy in, and they did a great job on defense this year. We may have just interviewed him to satisfy the Rooney rule early on, which is a great example of why race quotes are terrible idea. The idea of having to spend yet another transitioning defenses is worrisome, but I tend to think these guys are less married to strict ideas of 4-3 and 3-4, as evidenced by Belichick's recent flip between the two. Also, he has dreads, which would be badass for your head coach to have. Final Note I definitely have preferences and things I look for in a head coach, but I think it's largely incidental to what type of players we bring in, specifically QB. We could bring in Belichick, but if Fitzpatrick trots out there for another year, the team will be limited in spite any Belichick genius. Whether you like who we hire or not, it's important to keep that in mind and temper your expectations of immediate glory or disaster based on the new guy.    
Original Story:
http://www.buddynixon.com/analysis/qu...
MORE FROM YARDBARKER
All Sports News

Delivered to your inbox

You'll also receive Yardbarker's daily Top 10, featuring the best sports stories from around the web. Customize your newsletter to get articles on your favorite sports and teams. And the best part? It's free!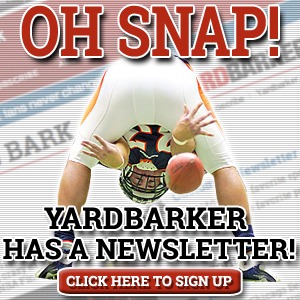 Latest Rumors
Best of Yardbarker

Today's Best Stuff

For Bloggers

Join the Yardbarker Network for more promotion, traffic, and money.

Company Info

Help

What is Yardbarker?

Yardbarker is the largest network of sports blogs and pro athlete blogs on the web. This site is the hub of the Yardbarker Network, where our editors and algorithms curate the best sports content from our network and beyond.