Found July 10, 2013 on Suicide Squeeze:
PLAYERS:
Ricky Nolasco
,
Steven Ames
,
Josh Wall
,
Angel Sanchez
,
AJ Ellis
,
Skip Schumaker
,
Andre Ethier
,
Carl Crawford
,
Adrian Gonzalez
,
Adam Eaton
,
Yasiel Puig
,
Miguel Montero
,
Ian Kennedy
,
Kirk Gibson
,
Tony Sipp
,
Martin Prado
,
Hanley Ramirez
,
Hyun-jin Ryu
,
Tyler Skaggs
,
Chris Capuano
TEAMS:
Los Angeles Dodgers
,
Miami Marlins
,
Arizona Diamondbacks
Ricky Nolasco threw seven innings of one-run ball, got two hits, drove in a run and scored a run in his Dodger debut. (Image source: Los Angeles Times at http://www.trbimg.com/img-51dce772/turbine/la-sp-ricky-nolasco-carl-crawford-20130709/600) Ricky Nolasco was even better than advertised, winning his first game in a Dodger uniform and even helping out his own cause in the process. The right hander escaped the cellar-dwelling Miami Marlins over the weekend when the Dodgers sent minor league pitchers Steven Ames, Josh Wall and Angel Sanchez to Miami in order to acquire the veteran Nolasco, and it appears the Dodgers have a piece for their rotation that could help them continue to close ground and overtake the division-leading Arizona Diamondbacks. In addition to a seven inning, one run performance in which he was absolutely brilliant, Nolasco also got two hits including a double that went to the right-center field wall, drove in a run, and scored a run. Nolasco started up the Dodgers' scoring in the top of the second.  A.J. Ellis singled to left and Skip Schumaker singled to right.  A Jerry Hairston double play resulted in two outs but moved Ellis to third, then Nolasco hit a solid single to right field to score Ellis and get the Dodgers out to a 1-0 lead. The Dodgers added a second run in the fourth inning.  Andre Ethier led off with a single, stole second and then took third on a wild throw.  Skip Schumaker then hit an RBI ground-out to the middle of the infield, plating Ethier and increasing the Dodger lead to 2-0. Ricky Nolasco led off the top of the fifth with a double that rolled all the way to the wall.  Carl Crawford dropped down a bunt that moved Nolasco to third and was awarded a bunt single when the throw to get him was late.  Puig walked, then Adrian Gonzalez hit a fly ball to center field that should have been easily caught by center fielder Adam Eaton.  Eaton, however, dropped the ball and two runs would score.  Gonzalez was credited with a sacrifice fly and one RBI on the play and wound up on second base.  Yasiel Puig was caught attempting to score on the play, giving Diamondbacks catcher Miguel Montero a slight forearm shiver as he came up on the plate.  Nolasco and Crawford scored on the play to give the Dodgers a 4-0 lead. The Dodgers chased Diamondbacks starter Ian Kennedy in the sixth inning.  Kennedy, who's last seven starts had been on the road, never looked comfortable on the Chase Field mound and issued walks to Crawford and Puig to load the bases to end the night.  Diamondbacks manager Kirk Gibson brought in Tony Sipp to face Adrian Gonzalez, and Gonzalez promptly banged a base hit down the left field line, scoring two runs and giving the Dodgers a 6-0 lead. Nolasco gave up a run on an RBI single by Martin Prado in the seventh, but finished off the inning with a 6-1 lead that the Dodger bullpen would not relinquish. Of note:  Skip Schumaker, who has worn number 3 throughout the season, switched his number to 55 tonight.  Schumaker was 2-for-4 with a run scored and an RBI on the game.  Hanley Ramirez, who had a 19 game hitting streak, went 0-for-4 and was hit by a pitch as he watched his hitting streak come to an end. Nolasco's line for his debut: 7 innings pitched, 1 earned run allowed, 4 hits, 5 strikeouts and no walks in a brilliant 97 pitch outing.  Diamondbacks starter Ian Kennedy on the other hand lasted 5 2/3 innings, surrendering six runs (five earned) on nine hits to go with three walks and only two strikeouts.  Kennedy struggled through 11o pitches.  Nolasco's win improves his season record to 6-8 and his ERA lowers to 3.70.  Kennedy's loss drops him to 3-5, his ERA rising to 5.31.  The Dodgers improve their record to 44-45 and move within 2 1/2 games of the division-leading Diamondbacks (47-43) with the win. The Dodgers have now won 14 of their last 17 games, including 11 out of 13 against National League West opponents, and have gained 7 games in the National League West divisional race against the Diamondbacks during that time.  They have now won their last six series that they have played. The Dodgers will take this three game mid-week season over the Diamondbacks and go for the sweep in the desert tomorrow.  The Dodgers' Hyun-Jin Ryu (7-3, 2.83 ERA) will face off against the Diamondbacks' Tyler Skaggs (2-1, 3.65 ERA) in a 6:40 p.m. local time start from Chase Field. Related articles Dodger Player Profile: A First Look at Ricky Nolasco (ericsdodgersblog.wordpress.com) Follow-Up On Yesterday's Ballpark Post: Dodgers Acquire Ricky Nolasco. Capuano Out of Rotation (ericsdodgersblog.wordpress.com) It's official: Dodgers acquire Ricky Nolasco from Marlins (hardballtalk.nbcsports.com) Marlins Trade Ricky Nolasco to Dodgers for 3 Prospects (bleacherreport.com) Ricky Nolasco will make Dodgers debut on Tuesday; Chris Capuano moved to bullpen (hardballtalk.nbcsports.com) Nolasco Dominates Mound, Plate In Dodgers Debut To Bring LA Within 2 And A Half Of First (losangeles.cbslocal.com) This article has been read (0) times
Original Story:
http://thesuicidesqueeze.com/?p=3734
THE BACKYARD
BEST OF MAXIM
RELATED ARTICLES
Ricky Nolasco After about a month's worth of trade rumors surrounding Miami Marlins pitcher Ricky Nolasco, the Los Angeles Dodgers finally pulled the trigger on a deal for the veteran right-hander Saturday afternoon. Thankfully, the Dodgers willingness and ability to take on the remaining $5.7 million of Nolasco's contract allowed for the very little in terms of talent, to head...
Credit: Steven Robles – SFGiantsBaseball.net Joe Frisaro of MLB.com reports that the San Francisco Giants did make an offer for Marlins right-hander Ricky Nolasco. Frisaro says the Giants offered two pitching prospects, but the Giants also wanted the Marlins to eat a chunk of what's left on Nolasco's contract. The Marlins decided to bite on the Dodgers offer, so now Giants...
The Los Angeles Dodgers just demonstrated their complete commitment to move up the NL West food chain and fight for a spot in the 2013 playoffs. And to get it done, they got to climb over the backs of the rival San Francisco Giants. On July 6th the Florida Marlins traded veteran starter Ricky Nolasco to the Dodgers for three mid-level minor league pitchers and a used rosin...
Using veteran right-hander Ricky Nolasco as bait, the Miami Marlins have successfully hooked three hard-throwing arms. The Fish have acquired Angel Sanchez, Josh Wall and Steve Ames, while the two clubs also exchanged international signing dollars, and you can read more about the big league portion of the deal by checking out Jeff Sullivan's offering from the weekend. This deal...
The Los Angeles Dodgers debut for Ricky Nolasco couldn't have gone better as he limited the Arizona Diamondbacks to just one run over seven innings. For the Dodgers it was the second straight night with a 6-1 victory. The win brings the Dodgers to within 2.5 games of the first place Diamondbacks and is the first time since April 30th that the Dodgers have come so close to first...
Ricky Nolasco looked right at home in Dodger blue. The right-hander made a sparkling debut for surging Los Angeles on Tuesday night, limiting Arizona to four hits in seven innings in a 6-1 victory, the Dodgers' 14th win in 17 games. "I was pretty pumped up," Nolasco said. "I haven't been that locked in in a long time. It worked out great. I was able to make...
Following weeks of uncertainty, Ricky Nolasco was sent to the surging Dodgers over the weekend. He appears more than pleased with how everything played out. Nolasco will try to come out strong in his Dodgers debut Tuesday night opposite Diamondbacks starter Ian Kennedy, who played a big role in last month's brawl between the two clubs. After several teams showed interest in...
PHOENIX (AP) -- Ricky Nolasco gave up four hits over seven innings in his Dodgers debut and surging Los Angeles beat the Arizona Diamondbacks 6-1 on Tuesday night for its 14th victory in 17 games. Nolasco (6-8), acquired Saturday in a trade with the Miami Marlins, also doubled and singled, driving in a run and scoring another. Adrian Gonzalez drove in three runs for Los Angeles...
By BOB BAUM AP Sports Writer PHOENIX -- Ricky Nolasco gave up four hits over seven innings in his Dodgers debut and surging Los Angeles beat the Arizona Diamondbacks 6-1 on Tuesday night for its 14th victory in 17 games. Nolasco (6-8), acquired Saturday in a trade with the Miami Marlins, also doubled and singled, driving in a run and scoring another. Adrian Gonzalez drove in three...
Major League Baseball's attempts to narrow the gap between franchises has resulted in an incentive system. While other leagues have salary caps and floors, Major League Baseball has instituted a system of luxury taxes (to bring down the highest payrolls) and revenue sharing (to bring up the lowest ones). As I noted in a piece for ESPN The Magazine this spring, the system has...
The Dodgers acquired Marlins righty Ricky Nolasco and international bonus pool money in exchange for Steven Ames, Josh Wall, Angel Sanchez, and cash. Chad had this to say about it: After an extended rumored pursuit of the right-handed starter, the Dodgers landed Ricky Nolasco from the Marlins in a trade for prospects RHP Steven Ames, RHP Josh Wall, and RHP Angel Sanchez, according...
All Sports News

Delivered to your inbox

You'll also receive Yardbarker's daily Top 10, featuring the best sports stories from around the web. Customize your newsletter to get articles on your favorite sports and teams. And the best part? It's free!
THE HOT 10: Who's Trending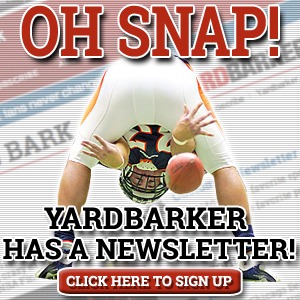 Latest Rumors
Best of Yardbarker

Today's Best Stuff

For Bloggers

Join the Yardbarker Network for more promotion, traffic, and money.

Company Info

Help

What is Yardbarker?

Yardbarker is the largest network of sports blogs and pro athlete blogs on the web. This site is the hub of the Yardbarker Network, where our editors and algorithms curate the best sports content from our network and beyond.