Found May 18, 2012 on Redskins Hog Heaven:
Is there anyone left who doesn't like Robert Griffin III after his appearance on the Jay Leno Show Thursday evening? The man showed grace and wit as though he's done Leno a hundred times before last night. RG3 revealed a little more about his character in his answers to Leno's questions. What single play does he believe clinched the Heisman Trophy for him? Griffin thinks that Baylor's 31-30 overtime win against Kansas turned the trick. (Griffin: 312 Yds, 3 TDs, 1 Int). Leno's staff expected Griffin to credit the Oklahoma game, Baylor's first win over the Sooners. They rolled video of Griffin's final touchdown pass of the day, a 34-yard beauty that broke a 38-38 tie with eight seconds to go. Griffin accounted for 551 yards total offense and four touchdown passes. Full Baylor-OU game video found here.  What did he do the night he won the Heisman? Griffin treated all of the Heisman candidates to dinner. How did he propose to his fiancé? He...
Original Story:
http://www.redskinshogheaven.com/2012...
THE BACKYARD
BEST OF MAXIM
RELATED ARTICLES
Look what was waiting for WTOP radio station mobile app users in the D.C. area this morning. Backstory: RGIII was on Jay Leno last night doing some beatboxing. Blah, blah, blah. Of course nobody cares what happens on Leno at midnight. What we care about is the headlines dropped the next morning by some underpaid producer who gave us this "RG III beat off on Leno," gem. By the...
When Robert Griffin III was drafted by the Washington Redskins earlier this year, he had no idea that he would be walking into history. 2012 will mark the 25th anniversary of Redskins' quarterback Doug Williams' Super Bowl winning season. What is Williams' significance in relation to Griffin III? Williams' is the first black quarterback to win a Super Bowl. CLICK HERE TO READ MORE »
BEATBOXER EXTRAORDINAIRE
I don't have nearly as much of a problem with this as the Tim Tebow O's jersey. At least O's/Skins fans exist. I'm one of them, and, considering there wasn't an NFL team in Baltimore or MLB team in D.C. from 1984-1995, there are probably many more. Still, if you're going to get an O's shirsey you should probably get an actual O's player on the back. They do own the...
Robert Griffin III was on with Jay Leno last night and was pretty much the most likeable version of himself, which is to say he was the most likeable person ever. The full interview is above, starting with the band playing "Hail to the Redskins" and ending with RGIII beatboxing. Yes, he even makes beatboxing likeable. [Real Redskins] Nats lose to Pittsburgh as Andrew McCutcheon...
Well, if you're good at something might as well show it off. Redskins QB Robert Griffin III was on the Tonight Show with Jay Leno last night, but he wasn't showing off his masturbatory skills as WTOP 103.5, Washington's only all-news radio station, would have you believe with the above headline.  No, RG3 flashed his winning smile, "Go Catch Your Dream" custom socks with...
There was no breaking news about the Washington Redskins' selecting of quarterback Robert Griffin III in the first round (second overall) of the 2012 NFL Draft, as the choice was expected.  Nevertheless, it was great news for the Redskins and their fans. "That is the one we always thought we would get from the beginning," said Redskins executive vice president/head coach Mike...
This belongs in the Unfortunate Headline Hall of Fame (via @danielmbrewer1 via Kissing Suzy Kolber). Previously: RGIII Appears On The Tonight Show With Jay Leno
KANSAS CITY, Mo. The Orioles are a dramatist's dream and a copy desk's nightmare. They're deadline-killers in cleats, a late-night thrill ride, three-and-a-half games up on the Yankees and two games back of Jay Leno. They sleep for the first two hours of the ballgame, only to awaken like a hungry bear and spend the next half-hour going medieval on the furniture. Baltimore...
Now that, my friends, most definitely — to utilize NBC's old tagline when it dominated prime-time television viewing — would not be "Must See TV." Ouch. Fans of either unwatchable late-night television talk shows or the Washington Redskins (or both) are aware that Robert Griffin III made an appearance on The Tonight Show on Thursday [...]
Robert Griffin III cracked up The Tonight Show with Jay Leno audience after telling the host that he has met President Barack Obama and challenged him to a game of basketball. "I have met him, I have not been to the White House since he's been there," said RG3. "I heard he's a huge basketball fan, and I challenged him to a game of basketball.  But he told...
Gone are the days when NFL rookies and their agents try to hold out and milk as much money from their new teams as possible as they miss out on rookie minicamps and other offseason workouts. Say what you want about Roger Godell, but realize that his help in the implementation of the rookie wage scale has changed the offseason in the NFL for good. This makes the overall game of football...
Redskins News

Delivered to your inbox

You'll also receive Yardbarker's daily Top 10, featuring the best sports stories from around the web. Customize your newsletter to get articles on your favorite sports and teams. And the best part? It's free!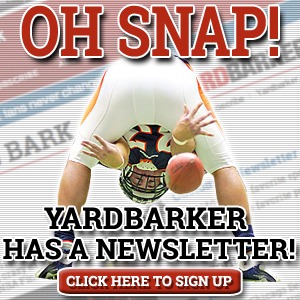 Latest Rumors
Best of Yardbarker

Today's Best Stuff

For Bloggers

Join the Yardbarker Network for more promotion, traffic, and money.

Company Info

Help

What is Yardbarker?

Yardbarker is the largest network of sports blogs and pro athlete blogs on the web. This site is the hub of the Yardbarker Network, where our editors and algorithms curate the best sports content from our network and beyond.