Found April 30, 2012 on Fox Sports:
PLAYERS:
Carl Edwards
,
Kyle Busch
,
Richard Childress
,
Clint Bowyer
,
Michael Waltrip
,
David Reutimann
,
Jeff Burton
,
Kurt Busch
,
Marcos Ambrose
,
Trevor Bayne
,
Jeff Gordon
,
Dale Earnhardt Jr.
Late cautions and controversial calls by officials made Saturday night's Complete Capital City 400 a race to remember. The short confines of the Richmond oval produced plenty of story lines. From Tony Stewart losing the lead due to a late caution for debris, to Carl Edwards being penalized for jumping a late restart. There was no shortage of talking points, and the only driver not feeling hard done after the race was winner Kyle Busch. Busch drove an impeccable race Saturday night. His team kept him fast throughout every segment of the event and successfully managed the car's handling as other drivers struggled to keep up with the changing track conditions. It was fitting that Busch won the event with those factors considered, but plenty of competitors will be awfully disappointed with the finishes they collected due to circumstances that could be considered out of their control. As if the excitement from Saturday night wasn't enough to talk about for the next month, in just six days the series heads to another rough and tumble track of a completely different nature. Talladega Superspeedway plays host to the Aaron's 499 this week and back in the forefront will be drafting, pack racing and the potential to get collected in someone else's misfortune. Chevrolet engines have won the last five events, and Richard Childress Racing claimed three of the last five, but no one can be counted out in the craziness that is Talladega. UPGRADE Kyle Busch - A consistently fast 400 laps at Richmond International Raceway put Busch in the perfect position to capitalize on a final pit stop under caution. He took the lead in the pits and turned a strong restart into a sizable lead over Dale Earnhardt Jr., which he held until the checkered flag. Busch has now finished in the top 5 in every spring Richmond race he has ever run. Surprisingly, the most unexpected Talladega record belongs to Busch. We usually think of him as a driver who can get the job done at any track, but his average result of 23.4 in the last five Talladega races make him a difficult choice this week, but momentum from Richmond's win may be the decider. Clint Bowyer - A solid evening at Richmond allowed Bowyer to collect his fourth top-10 finish for Michael Waltrip Racing in the first nine events. MWR and Bowyer have been one of NASCAR's newest pairings to find success quickly. The team and its new driver are figuring out how to run consistently, avoid mistakes and build momentum that will turn into a victory at some point. Having never finished worse than 12th at Talladega, that opportunity could come as early as this week. Bowyer has won two of the last five races at the crazy track. His average finish in that time is 4.6, and that is particularly impressive when you consider the unpredictable nature of races at the superspeedway. Bowyer is an attractive fantasy selection this week. Carl Edwards - The early miles of Saturday night's race in Richmond belonged to Edwards. He was one of the fastest cars on the track and looked like he had the potential to run away to victory. As the track changed in the closing stages, his chassis wasn't able to keep up, and whatever chance was left evaporated once he received a penalty for jumping the restart. Despite having only one top-10 finish in the last five Talladega races, Edwards still possesses one of the best average results in that time at 11.8. Edwards demonstrates his prowess on superspeedway tracks on a regular basis but also manages to keep his nose clean until the end, which is important for fantasy players. Dale Earnhardt Jr. - It is hard not to think of Earnhardt when selecting a fantasy roster for a restrictor-plate event. Earnhardt is one of the best in the draft, and now that the packs are back, he should excel more than in the recent past. His average finish in the last five Talladega races is 18.4 and includes a top-5. In Richmond he had one small bout of trouble in the pits mid-race when he was unable to get out of his box without stopping and reversing to avoid the car in front of him. That problem didn't faze him, though, and he fought back to a very strong second-place finish behind Busch, continuing to show improvement with Hendrick Motorsports, but again failing to win. David Reutimann - Reutimann has one of the best Talladega finishing averages of any driver through the last five races despite only landing one top-5 in that time. No one knows exactly how well his new team will help him back up those performances, but with an average finish of 14.2 in that span, and no finishes off of the lead lap, fantasy owners can count on Reutimann to be there at the end. His best finish this season is 21st in the Food City 500, but given his ability to pack race in the draft, it is entirely conceivable that Reutimann could find a top finish this week in the Aaron's 499. Make sure you don't count him out when looking for a fourth option this weekend. DOWNGRADE Tony Stewart - The last half of Saturday's race suggested that Stewart might be able to continue his early season roll of top results. As the laps wound down, however, Stewart complained that his car was losing grip from the right rear. That issue was enough to lose his advantage on a late restart and fall from contention for the win with only a handful of laps remaining. In the last five Talladega races, Stewart only lays claim to one top-10 finish. He finished on the lead lap in four of those tries but managed to tally an average finish of only 21.2. Stewart's monster start to the season may lose a bit of its bite this week. Jeff Burton - When Burton finishes at Talladega he tends to finish high up the order. Two top-5 finishes in the last five races show that to be case, but they don't make up for the incidents that tend to find him. His average finish is only 19.2 in those five tries. Solid contact with the outside wall late in the Richmond race compounded what was already not the best night for Burton. Saturday night's finish made it five straight races that Burton has failed to finish inside the top 20. Those recent disappointments are indicative of a severe slump that will take something special to climb out of. The potential is always there at Talladega, but given the situation, it might be best to expect less than usual from Burton this week. Kurt Busch - After a trying night in Richmond, and finishing 28th due to myriad troubles, Busch now heads to a track where success has eluded him recently. He doesn't own the worst Talladega record through the last five races, but one top-10 and an average result of 24.4 isn't much to get excited about. When you consider that Busch failed to finish on the lead lap two of those five tries, it should make fantasy owners pause and ask themselves if they think he can get the job done with a smaller team in 2012. The truth is that Busch is a gamble this week. Some may wish to take a risk, but most should opt for the security of options that have fewer question marks. Marcos Ambrose - A battle with the flu may have hampered Ambrose's performance in Richmond. Trevor Bayne was on the pit box, waiting to jump in the car should Ambrose feel too sick to continue, but ultimately was never needed. The car wasn't competitive much of the night, and it was only a matter of collecting as much as possible from a mid-pack effort. Ambrose finished the race in 22nd position and will look to survive this week as well. Only one time in the last five races at Talladega has Ambrose managed to finish on the lead lap. With his average finish of 31.2 in that span, Ambrose is definitely a driver to avoid this week. Jeff Gordon - The 2012 season has not been kind to Gordon. We've seen blown engines, cut tires and even contact with teammates that have ruined his chances at strong finishes. Even Saturday night at Richmond, a cut tire put him two laps down the leaders in the very early stages of the race, from which he was never able to recover. Looking specifically at Talladega, his average finish is 16.0 from the last five races, and includes a top-5 and another top-10. Until the small things start working in favor of the No. 24, the team and driver will continue to race frustrated and take risks to compensate. That recipe is not a good one for fantasy owners, and for that reason, they should find another driver selection this week. Follow @cjradune on Twitter. Get a FREE RotoWire 10-day trial (no credit card required) at RotoWire.com .
Original Story:
http://msn.foxsports.com/fantasy/base...
THE BACKYARD
BEST OF MAXIM
RELATED ARTICLES
Kyle Busch has put his shaky spring behind him, witness the #18's win at Richmond last Saturday night. Now Rowdy and his Joe Gibbs Racing team head to the track where luck plays the biggest part of any race on the circuit: Talladega. Busch knows he's got some momentum heading into this weekend, because, in his words "I've never had the luck at Talladega. I just want...
Okay, so let's fast forward to 15 laps to go. Tony Stewart, defending Series Champ, driver of the 14 Mobile 1 car, is leading the race. He's just cruising along, making his way through lap-traffic, basically just having some fun and waiting for the checkers to drop. When we get down to 12 laps to go, the unbelievable happen's to the 3-time champ Stewart. The caution flag iss...
Welcome to the April 30, 2012 edition of Start 'N' Park Blog's Stock Watch. Each week we'll take a look at who's rising, falling, and treading water in the world of NASCAR. This stretches all division and all aspects of NASCAR, including drivers, owners, crew members, media and fans. Finding their way onto this week's watch includes Kyle Busch, Kurt Busch, and Trevor...
Kyle Busch claimed his first win of 2012 when he took the checkered flag, driving the No. 18 Joe Gibbs Racing Toyota in the Capital City 400 NASCAR Sprint Cup Series race at Richmond (Va.) International Raceway on Friday night. It was Busch's fourth-consecutive victory in the spring race at RIR. "Being aggressive when it matters and saving your tires when you can," Busch said...
Kyle Busch came from nowhere to win at Richmond...
Late cautions and controversial calls by officials made Saturday night's Complete Capital City 400 a race to remember. The short confines of the Richmond oval produced plenty of story lines. From Tony Stewart losing the lead due to a late caution for debris, to Carl Edwards being penalized for jumping a late restart. There was no shortage of talking points, and the only driver...
For many of NASCAR's top competitors, Richmond will be remembered for the race that got away. While race winner Kyle Busch exclaimed, "What up boys, we back," as he came to the checkered flag at Richmond International Raceway on Saturday night, Jimmie Johsnon, Dale Earnhardt Jr., Tony Stewart and Carl Edwards were trying to ascertain what went wrong. Johnson's...
All last week you heard the pundits predict that the Richmond race was going to be wild and the only thing to expect was the unexpected. Boy was that ever true. We had controversy, confusion and even another new winner in 2012. But, I am getting ahead of myself. Let's go back to Friday night's Nationwide Series race first. Congratulations to Kyle Busch and Kyle Busch Motorsports...
BY: NASCAR Wire Service RICHMOND, Va. — Pulling away from Dale Earnhardt Jr. after a restart with eight laps left in Saturday night's Capital City 400 at Richmond International Raceway, Kyle Busch streaked to his fourth straight victory in the spring race at the .75-mile track. The win was Busch's first of the season and [...]
All Sports News

Delivered to your inbox

You'll also receive Yardbarker's daily Top 10, featuring the best sports stories from around the web. Customize your newsletter to get articles on your favorite sports and teams. And the best part? It's free!
THE HOT 10: Who's Trending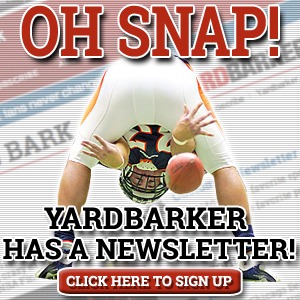 Latest Rumors
The Backyard

Today's Best Stuff

For Bloggers

Join the Yardbarker Network for more promotion, traffic, and money.

Company Info

Help

What is Yardbarker?

Yardbarker is the largest network of sports blogs and pro athlete blogs on the web. This site is the hub of the Yardbarker Network, where our editors and algorithms curate the best sports content from our network and beyond.