Found February 13, 2013 on NBA 24/7 365:
Remember when Russell Westbrook lost his mind during that blowout Thunder victory over the Grizzlies?  It happened about two weeks ago, on January 31st, after he was whistled for a seldom-called five second violation in the post.  Suddenly, Westbrook became furious with teammate Thabo Sefolosha, who'd poorly timed his cut.  Upon being summoned to the bench, he pitched an explosive fit before storming into the locker room in the middle of the third quarter.  After the game, he was asked about the incident by TNT's Craig Sager, who refused to take "it was just a little miscommunication" for an answer.  Already perturbed, Russell was in no mood to deal with Sager's followup questions.  Those questions were asked anyway, which resulted in Sager being called "bruh."  Here's the whole exchange: Fast forward to Tuesday night.  In a 15-point loss to the Jazz, the Thunder have just been out-rebounded 38-26 and turned over 20 times.  Curious as to what sort of issues may have been to blame for this unexpected outcome In search of cookie-cutter material for their crappy write ups, the media proceeds to ask their usual questions — "was something missing, or was it something they were doing?"  "were you playing too fast?"  "what will be the biggest thing you'll focus on for next game?" Russell kept it cool for a while — about a minute and 12 seconds, to be precise — but eventually, he decided he'd just about had enough.  Utah's 1280 The Zone has the audio (via @Clintonite33), and I've got a transcript (I suggest the audio, as the tone of Westbrook's voice is kind of crucial to the humor): Reporter: "Russ, did you guys lose this game or did the Jazz win this game?" Russ: "What? …bro, what are you talking about, man?" Reporter: "…………" Russ: "I'm out man.  Y'all niggas trippin'." I understand that these media people are simply doing their jobs.  BUT, as demonstrated here, they tend to ask some pretty stupid stuff.  I was critical of Westbrook's disrespectful treatment of Sager because I didn't feel that anything ridiculous has been asked, but in this instance I can't blame Russell for becoming fed up.  He probably should've refrained from dropping the racial slur, but hey, that reporter should've refrained from asking such a dumb ******* question.  I mean obviously, bro, the Jazz won and the Thunder lost.  That's kind of how sports work — one team wins and one team loses.* *Yes, I understand what the reporter was getting at.  No, that does not make it any less stupid a question.
Original Story:
http://nba247365.com/?p=10356
THE BACKYARD
BEST OF MAXIM
RELATED ARTICLES
The Oklahoma City Thunder lost to the Utah Jazz by 15 points on Tuesday night, and Russell Westbrook, one of the most emotional players in the NBA, had another temper tantrum.Westbrook, probably frustrated about one of OKC worst losses on the season, got angry at a reporter's question in the post-game.   "What?!" Westbrook said in response to the question of, "did you guys...
SAY WHAT?
The Oklahoma City Thunder didn't have a great game against the Utah Jazz Tuesday night. Russell Westbrook ended the night with 22 points and 5 assists, but it still wasn't one of his more memorable performances. The game also featured a few testy moments with Kevin Durant receiving his first career flagrant foul. "KD is not nice" Following the game, a reporter looking for...
The Oklahoma City Thunder suffered one of their worst losses of the season at the hands of the Utah Jazz on Tuesday night, and as a result Russell Westbrook was not in a cheery mood after the game. Westbrook held his mandatory meeting with reporters in the locker room, but the session was cut short when a report asked an incredibly cliche question. "Russell, did you guys lose this...
Russell Westbrook and the Oklahoma City Thunder got thrashed by the Utah Jazz Tuesday night, so naturally Westbrook wasn't too happy in the locker room after the game. While answering the media's questions in his post-game locker room interview, one reporter asked Westbrook if the Thunder lost the game or the Jazz won the game. A fair question, some might say, but Westbrook was...
Thunder point guard Russell Westbrook has a low tolerance for stupid questions I can assume.  Last night Westbrook and the Thunder lost to the Jazz by 15. Russell had 22 points and 7 turnovers in a sub par effort.  We as media personnel have to ask the tough questions, and this reporter after the game asked the usual rhetorical question, "did you guys lose this game, or did...
As a member of the media I know I have to choose my questions carefully whenever I am covering an NBA game. I have to quickly judge the players' mood, and craft questions based on whether the team won or loss. In other words, make sure the questions are sensible and will allow the player to talk freely for those all-important sound bites. Case in point: this reporter and...
Russell Westbrook and the Oklahoma City Thunder were at Salt Lake City's EnergySolutions Arena on Tuesday for a tilt against the Utah Jazz. The outcome of the game did not work out in the Thunder's favor, as the visitors lost by a score of 109-94, snapping the team's four-game winning streak. And while Westbrook chipped in 22 points and 5 assists, he was a minus-13 on the night...
Oklahoma City Thunder guard Russell Westbrook wasn't too happy on Tuesday night, and understandably so. His team had just suffered a 15-point loss at the hands of the Utah Jazz despite a 22-point effort from Westbrook.So, the mood in the locker room after the contest didn't figure to be a happy one. And the following question asked by a reporter in a post-game interview was...
Russell Westbrook lost his cool with the media after a loss in Utah on Tuesday night and got fed up when a reporter asked him if he felt the Thunder lost and the Jazz won. His reaction was priceless: "WHAT?! Bro, what are you talkin' about, man? Bro, I'm out man. I'm out."
THAT'S AWKWARD
Coming into tonight's Heat/Thunder game, Shane Battier had no idea he'd become intimate with Russell Westbrook's nether regions.  Battier probably had other plans for his Valentine's Day festivities, but hey, you don't always get what you want.  Here's a GIF of the play as provided by The Big Lead. And as per usual when Battier is involved, they called Westbrook for...
Thunder News

Delivered to your inbox

You'll also receive Yardbarker's daily Top 10, featuring the best sports stories from around the web. Customize your newsletter to get articles on your favorite sports and teams. And the best part? It's free!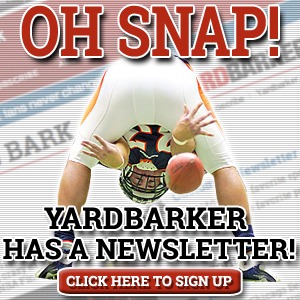 Latest Rumors
Best of Yardbarker

Today's Best Stuff

For Bloggers

Join the Yardbarker Network for more promotion, traffic, and money.

Company Info

Help

What is Yardbarker?

Yardbarker is the largest network of sports blogs and pro athlete blogs on the web. This site is the hub of the Yardbarker Network, where our editors and algorithms curate the best sports content from our network and beyond.