Found February 09, 2013 on The Saints Nation:
For the last week it was a reported lock that the Saints were signing Rob Ryan as their defensive coordinator and going through the motions of the interview process before that. Today it's now been made official. It's a really strange turn of events after Rob Ryan was signed earlier this offseason to take over the Rams' defense, replacing Gregg Williams, before ultimately having things change after he started. It was later reported Ryan wasn't comfortable running a 4-3 defense in St. Louis and decided after the fact it wasn't a good fit. In New Orleans, he'll get to run the 3-4 with Sean Payton's blessing as the head coach had already committed to the system change based on it possibly being a better fit for the defensive talent pool already on the roster. Ryan is quite similar in a lot of ways to a coach you'll remember well: Gregg Williams. He's brash, he's emotional, he's intense and his players love him. The downside is his don't give a "F" attitude, the same attitude that alienated Williams from the rest of the staff, and stubborness. There's no doubt he can be an successful coordinator at times with good players, but I question whether or not he has that.  Ryan obviously won't run a pay for performance program, so while he's like Williams in many ways I think you can rest assured that won't be part of the similarities. Still, he's butted heads with many people during his career. Prior to being the Saints' primary defensive mind, he coached for the Raiders, Browns and Cowboys as a DC. Here's how each year went: 2004: Raiders ended 30th overall 2005: Raiders ended 27th overall 2006: Raiders ended 3rd overall 2007: Raiders ended 22nd overall 2008: Raiders ended 27th overall 2009: Browns ended 31st overall 2010: Browns ended 22nd overall 2011: Cowboys ended 14th overall 2012: Cowboys ended 19th overall   As you can see, he only had one elite defense in nine seasons as a defensive coordinator, and he's only had two I would even characterize as "above average". The rest have been mostly abysmal. Not exactly a good track record. That said, he doesn't need to make the Saints a top 10 defense. If he can get them to play 24th, that's probably good enough to put the Saints in the playoffs. Still, don't mistake this for being the best defensive mind in the league by any means. Personally, I don't like the hire. I think he's too much like Gregg Williams, and while Williams did help the Saints win a Super Bowl and can't be regarded as a completely bad hire, Ryan doesn't come with half his track record. Ryan is a loose canon and the type of guy that I don't view coming up brilliant decisions in crucial situations. I hope I'm wrong but I don't see this working out well for the Saints. Sidenote, the Saints also brought in Stan Kwan as their assistant special teams coach. Your thoughts on the Ryan hire?
Original Story:
http://www.thesaintsnation.com/2013-a...
THE BACKYARD
BEST OF MAXIM
RELATED ARTICLES
Although it took him a lot longer than five minutes, Rob Ryan indeed landed another job in the NFL. However, he's still taken aback by his previous employer's pink slip. The Saints' new defensive coordinator admitted that he was "a little shocked" about his firing by the Cowboys. "Oh yeah, look, I was a little shocked," Ryan said, via ESPNDallas...
After the Dallas Cowboys finished the 2012 season 8-8 and their defense showed a considerable amount of improvement from previous years, Rob Ryan was chosen as the guy to be let go after a two year tenure. Ryan said this in an interview with ESPNDallas.com, "I inherited a team that was 31st in the league in defense and made them better"……"I (expletive) made them...
Rob Ryan has been hired by the New Orleans Saints. In New Orleans he will be tasked with turning around the last ranked defense in the NFL. Ryan spent the last two seasons in Dallas but was let go at the end of the season. Ryan quipped that he would be out of work for five minutes and reports circulated that he was set to coach the Rams defensive unit in 2013. Hours later the Rams...
When Rob Ryan was fired by the Dallas Cowboys he told the press that he was not worried about finding a job. He said that he would not be unemployed for no more than five minutes. Well for Ryan it took a bit more than five minutes, but he is now employed by the New Orleans Saints as their defensive coordinator. Saints Head Sean Payton spoke about the hiring of Ryan. He told reporters...
The New Orleans Saints obviously knew what they were getting into when they hired a Ryan brother. According to Andy Fenelon of NFL.com, the Saints put a provision in Rob Ryan's contract that says the newly hired defensive coordinator can't speak to the media unless it's first approved by the team's senior vice president of communications, Greg Bensel. That is likely...
The Saints have hired Rob Ryan as their new defensive coordinator and added Stan Kwan as an assistant special teams coach. Saints coach Sean Payton, who announced the additions to his staff on Saturday, says the Saints found Ryan's defenses challenging when they played his previous teams. In 2010, Ryan was Cleveland's defensive coordinator when the Browns beat the Saints...
NEW ORLEANS (AP) -- Former Dallas Cowboys assistant Rob Ryan has interviewed with the New Orleans Saints for their vacant defensive coordinator job. The team said Ryan met with coach Sean Payton on Friday. Payton interviewed University of Georgia defensive coordinator Todd Grantham on Thursday. Payton fired defensive coordinator Steve Spagnuolo and announced he wanted to switch...
family tradition Rob Ryan was fired by the Dallas Cowboys after a second consecutive 8-8 season, and after another year of his defense being incapable of holding onto a lead when handed to them. Of course, he considers himself a scapegoat and is (genuinely, I believe) shocked that Jerry Jones gave him the boot, according to Dan Hanzus of ESPN: "Oh yeah, look, I was a little shocked...
METAIRIE, La. (AP) -- Saints coach Sean Payton has chosen Rob Ryan as his new defensive coordinator, hoping New Orleans can overhaul a unit that was historically bad last season. Ryan, the brother of New York Jets coach Rex Ryan, spent the past two seasons as Dallas' defensive coordinator. He was fired after last season, when his defense ranked 19th. "We have experience...
Georgia defensive coordinator Todd Grantham has notified the school that he's interviewing with the New Orleans Saints. Athletic director Greg McGarity made the announcement Thursday. As part of his contract, Grantham must let Georgia know when he plans to interview for an NFL job. He made the request Wednesday night, just hours after taking part in a ceremony for national...
Saints News

Delivered to your inbox

You'll also receive Yardbarker's daily Top 10, featuring the best sports stories from around the web. Customize your newsletter to get articles on your favorite sports and teams. And the best part? It's free!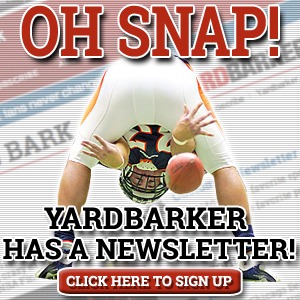 Latest Rumors
Best of Yardbarker

Today's Best Stuff

For Bloggers

Join the Yardbarker Network for more promotion, traffic, and money.

Company Info

Help

What is Yardbarker?

Yardbarker is the largest network of sports blogs and pro athlete blogs on the web. This site is the hub of the Yardbarker Network, where our editors and algorithms curate the best sports content from our network and beyond.