Found July 18, 2013 on The Saints Nation:
This concludes the individual positions on the offensive side of the ball, though I wouldn't really consider this one a "battle". The Saints currently carry two "centers" on the roster, but like the fullback position they'll likely only keep one and use guys that play another position as depth. So the backup interior lineman (or guards) will likely spell the starter, much like the backup tight ends seem most likely to spell Jed Collins. That said, here are the players: Brian de la Puente: Probably one of the most unlikely success stories in team history. Not only was de la Puente an undrafted rookie free agent in 2008, but he bounced around the league from roster to roster for years. He had stints with the 49ers twice, Seahawks twice, Chiefs and Panthers over the course of three seasons never playing in an NFL game. Then he came to Saints' camp on 2011 as a long shot to make the team. He barely made the roster as a backup, but when Olin Kreutz imploded four games into the 2011 campaign, de la Puente was handed the starting center role. We all assumed that was likely to turn into a disaster, but he's never looked back starting all 28 possible games since then. It could not have turned out better in any of our collective wildest dreams, including de la Puente's. He's become a well rounded center that is very capable in pass protection and run blocking alike. The route he took to becoming an unquestioned starter has about a 0.001% success rate. In some ways that makes finding him all the more fortunate and a great story. He is a lock to start. Elliott Mealer: He's an undrafted rookie free agent from Michigan with nice size. He's a long shot to make the roster but it's hard not to root for him when you read his personal story. Mealer did have a lot of blocking experience on special teams for years before becoming the starter at center his senior year, and that experience will help him backups need to provide versatility to have a shot at the roster. Maybe he's a practice squad candidate. Prediction: de la Puente is the starter, of course, and I'll be rooting to see Mealer on the practice squad.
Original Story:
http://www.thesaintsnation.com/2013-a...
THE BACKYARD
BEST OF MAXIM
RELATED ARTICLES
I am sure I am not the only one who will be watching the New Orleans Saints with a magnifying glass this season.After a year of turmoil, can the Saints return to their lofty perch as one of the best in the NFL?A few teams in the NFC will have something to say about that and then there are two or three teams in the AFC that can also make that claim.One thing is for sure - Drew Brees...
Marques Colston has long been adored for Saints fans. He's one of the team's top wide receivers. He's the author of his own children's book. And he looks like this in a bathtub. Yet even with all that, Colston has found a way to out-marvelous himself. Today he's hand-delivering a check for $103,000 to Children's Hospital of New Orleans. The money will be put toward...
The Saints head into training camp next week bolstered by a strong session of OTA's earlier this summer, when every single player showed up. It was the first time in Sean Payton's NFL career that he saw 100 participation for optional training. As helpful as that period was, Payton is ready to see his players in padded action, especially the Black and Gold's new defense...
Mailboxes and doorsteps across the Greater New Orleans Region are being closely watched over the next few days, as Saints Season Ticket Holders eagerly await the arrival those precious passes. The Saints started mailing season tickets out Thursday in waves, which means the first batch will be arriving anytime. Every home game except one has been sold out since 2000, and the waiting...
New Orleans Saints defensive back Jabari Greer has already won a Super Bowl ring. Now, he's about to fulfill one of his other lifelong dreams. Greer will co-host a radio show called ""Jazz from the French Market," to be broadcast on New Orleans' nonprofit, community supported radio station WWOZ. He says he grew up listening to the likes of Miles Davis and Donald Byrd...
Distracted by a controversial bounty scandal and without their primary head coach, the New Orleans Saints struggled through the 2012 season, posting a 7-9 overall record. With coach Sean Payton back this year, quarterback Drew Brees and the Saints hope to make their way back to the playoffs under their combined leadership. However, many questions still remain for the Saints in the...
We are come, my brothers and sisters, to the third installment in our four-part season predicting the outcome of every regular-season game for all four NFC South teams. Having demonstrated my evenhanded prognosticatory predilections with the Carolina Panthers and my fair and balanced overage of the Tampa Bay Buccaneers, it's time to cast the knuckles and divine [...]The post...
Who plays end, who plays outside linebacker, and who plays nose isn't going to be exact science at the moment with the team's switch to a 3-4. The Saints have some "tweeners" on their roster that could fit at multiple positions, which makes this exercise challenging. I'll rope the guys at the positions I think they likely stick (ie Will Smith at OLB) though...
The start of the 2013 NFL season is less than two months away. Along with that excitement, Fantasy Football chatter amongst the guys and gals only serves to entice the masses all the more.  Last year's statistics are being reviewed closely. What players will you choose in the hopes that your team will shut up that cocky guy in finance or your buddy who wins the big pot every...
The guard position is probably one of the most secure on the Saints' team, but also one of the most important. The Saints have spent much more money on this position than the tackle position, which suggests they value it much higher with Drew Brees at quarterback. Interesting, because traditionally tackle has always been more important to other NFL teams. Brees has great footwork...
This will be a short post because the Saints currently only have two fullbacks on their roster. They are incumbent starter Jed Collins, and one year vet Austin Johnson. The fullback position is used by the Saints infrequently, but still carries some value. Jed Collins has been an underrated part of the offense, providing great lead blocking and 14 receptions (2 touchdowns) as a safety...
Saints News

Delivered to your inbox

You'll also receive Yardbarker's daily Top 10, featuring the best sports stories from around the web. Customize your newsletter to get articles on your favorite sports and teams. And the best part? It's free!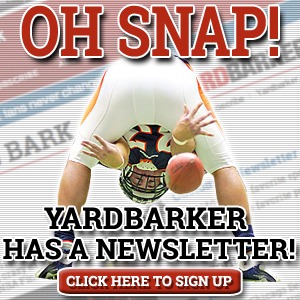 Latest Rumors
Best of Yardbarker

Today's Best Stuff

For Bloggers

Join the Yardbarker Network for more promotion, traffic, and money.

Company Info

Help

What is Yardbarker?

Yardbarker is the largest network of sports blogs and pro athlete blogs on the web. This site is the hub of the Yardbarker Network, where our editors and algorithms curate the best sports content from our network and beyond.